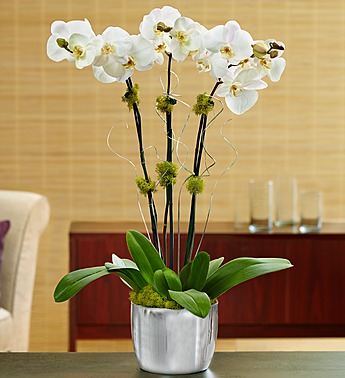 Administrative Professionals Day 2018 is coming up on April 25th! It has also been called Administrative Professionals' Week which begins April 23rd.—So all you secretaries, receptionists and office workers, get your headquarters ready: It's your time to shine! You are the people who make every business a success, and exceptional employees like you deserve to have an equally special work space. Here are some fun and creative ways to brighten up your office space just in time for the holiday!
Decorate Your Desk With Flowers and Plants
Whether you work in an office or a cubicle, accessorizing your space with flowers has lots of benefits. In office environments, where décor is typically minimal and, well, dull, a colorful bouquet of flowers or a pretty green plant will bring instant natural beauty to your workstation. But it's not just about the wow factor; flowers lift your spirits and make you healthier and more productive too! They allow you to enjoy the outdoors even on days when you can't leave the office, and studies show that plants remove toxins from the air and improve concentration. Check out the 1-800-Flowers.com Greenhouse to find out how this works and which flowers are best for purifying indoor spaces.
Create a Tranquil Space With a Water Fountain
Instead of listening to the monotonous clicking of keyboards all day, bring some zen into your cubicle with the calming sound of a desktop water fountain. It'll drown out other annoying sounds and it'll help you relax, allowing you to get your work done in peace. Just make sure the running water isn't so loud that it distracts you and your co-workers!
Transform Your Chair With a Cozy Pillow and Blanket
Your desk chair is your home for about eight hours a day (even more on late nights!), so you might as well make it as comfy as possible! If your chair isn't particularly cushiony, soften it up by placing a cute pillow on the seat. You can also wrap a pretty pashmina around the back of the chair: You'll make a stylish statement and you'll have something to wrap around your shoulders when the office gets cool.
Warm up Your Floor Space With a Pretty Rug
Get rid of those boring plastic floor mats sitting underneath your chair and replace them with a plush rug. Its fuzzy texture and bright colors will show off your personality and make your office visitors feel right at home! It's a small change that'll give your office space a big makeover.
Use Placemats to Bring Pops of Color to Your Desk
Think there's nothing spectacular about your plain white desk? Think again! Look at it as a blank canvas—it's up to you to bring it to life! Turn it into a work of art by sliding a patterned or brightly colored placemat under your computer screen, keyboard, file organizers, etc. You'll feel like you're sitting at a whole new desk!
Hang Curtains for a Homey Atmosphere
If you have windows by your desk that could use some sprucing up, make them more welcoming by decking them out with curtains. Make sure the curtains aren't too dark: You still want some of that natural light to shine through! Two sheer panels and a couple of cute tiebacks are enough to make your space the most inviting and desired real estate in the office!
Bring in a Softer, More Pleasant Source of Light
Bright overhead fluorescent lights can be much too harsh on your eyes, especially when you're reading from a computer screen for hours. Placing a lamp on your desk will tone down the atmosphere with more natural-looking light and give your eyes a rest. And with all those cool, creative lamps that are out there on store shelves these days, you won't have any trouble finding one that shines a spotlight on your unique personality!
Clear out the Clutter With Fun Storage Solutions
It's a proven fact: The more clutter you're surrounded by, the more stressed out you're going to be. When you work in a tiny cubicle, even the least bit of clutter can look like mass chaos—and as busy as you are at work, you know you don't need any extra worries. Storage solutions like file organizers allow you to neatly stow your stray office supplies, helping you clear out the unnecessary anxiety from your mind. Plus, with so many designs and color options, these storage supplies give your desk another splash of character.
Surround Yourself With Family Photos
When times get tough or when we need a little bit of inspiration, the first people we look to are our family members. You can do that at work too: Fill a few picture frames with your favorite family photos, and look at them whenever you need a quick boost in morale.
Put Some Artwork on Display
Crazy about sports? Always dreaming of lounging on a tropical beach? Whatever your hobbies or interests are, find some artwork in that theme and display it above your desk where you can see it. It'll automatically brighten your day and transport you to a happy state of mind every time you look at it!
Show off Your Accomplishments
Nothing revs you up for a day of work more than a visual reminder of all the great things you've accomplished in the past. Frame and exhibit your diplomas, awards and any other mementos from your proudest moments. Any time you feel slightly unsure of yourself, these triumphs won't let you forget what a true talent you are … and they'll give you the encouragement you need to seize the day.
Now tell us: What's your workplace like, and which tip will you use to brighten up your office?