It's a good thing April showers bring May flowers, because with prom, graduation, and wedding season officially upon us, we're going to need all the flowers we can get!
If this is your first time buying a corsage or boutonniere, or heck, the first time you're hearing these words entirely, have no fear! Their names may sound a bit intimidating, but they're somewhat of a right of passage to buy — so long as you know a few key things.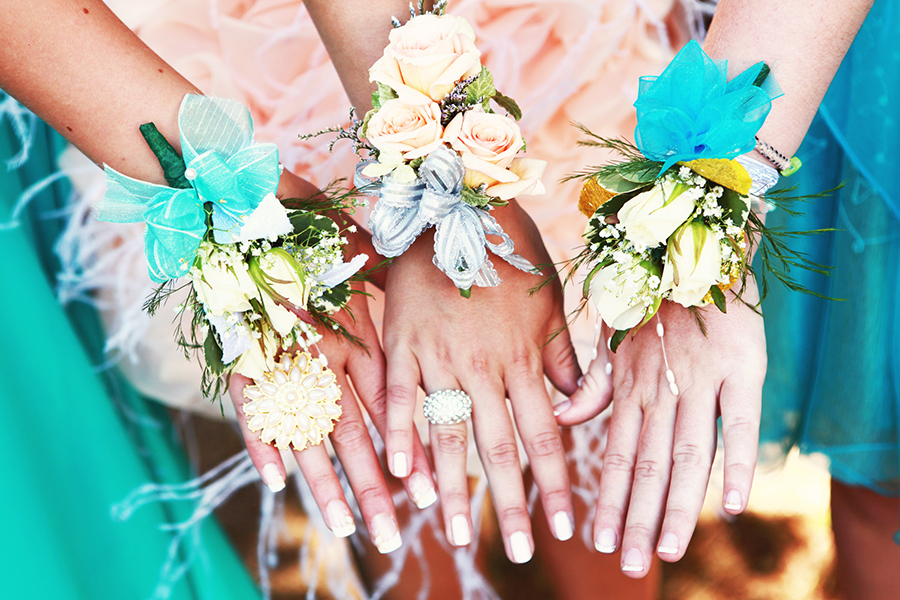 What's a Corsage?
A corsage is a small bundle of flowers that women typically wear pinned to their tops or around their wrist at special occasions. From bridal parties to prom-goers, corsages hit their peak popularity around May and June.
History
Accessorizing with real flowers is anything but a new idea. Ancient Greeks believed that fragrant flowers would ward off evil spirits, hence why brides carried bouquets down the aisle or pinned flowers to themselves.
Derived from the French words "bouquet de corsage," which translates to "bouquet of the bodice," corsages were originally worn by French women to weddings and funerals. At the time, corsages were most often pinned to the top of their dresses.
As we made our way into the 21st Century and sleeveless and "spaghetti" strap dresses became popular, corsages made their way down from women's chests and onto their wrists.
While corsages used to be a symbol of romantic love, they've become more of a fashion statement in recent years. Today, it's not uncommon for parents to buy a corsage for their daughter, for friends to buy them for one another, and even for people to buy them for themselves.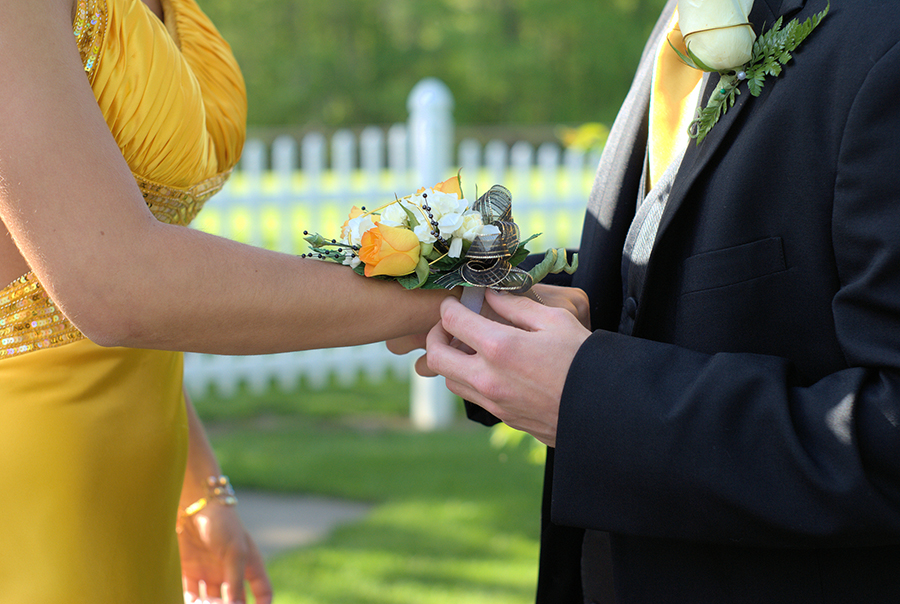 What's a Boutonniere?
While a woman's corsage typically contains several flowers and accessories, a man's boutonniere is a more simplified version of that. Men are more likely to only wear a boutonniere if they have a date with a corsage, but it's certainly not a requirement!
History
No one knows exactly how boutonnieres become so popular. Some believe pinning flowers to a man's chest originated during the English civil war, as a way of identifying who was on which side. We, however, like to go with the more cheery theory, which just suggests it was a way of identifying which two people at a formal event were coupled up.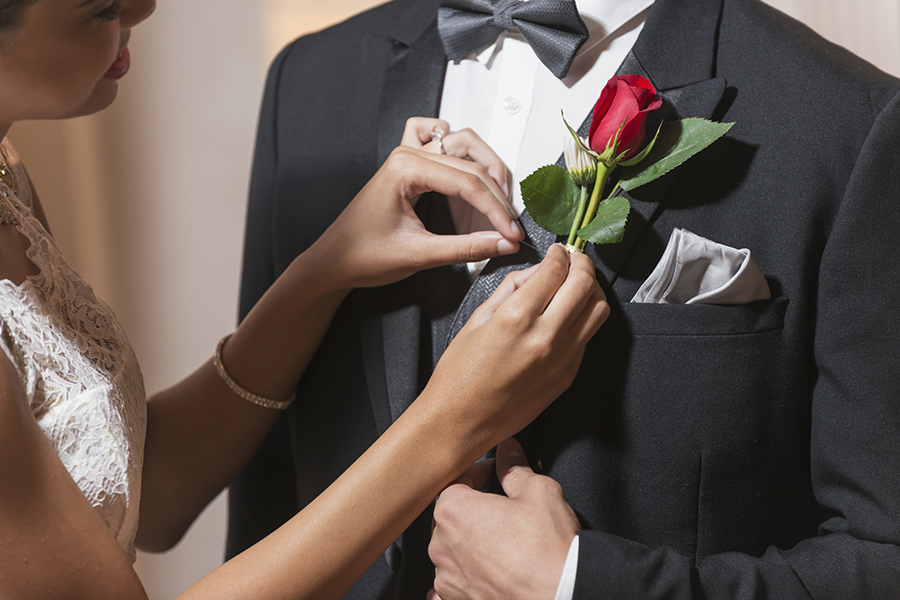 Who Buys What?
Typically, a couple would buy each other's accessories. This means a girl would buy her date's boutonniere and a guy would buy his date's corsage. When the big day arrives, the two exchange gifts.
The Dos and Don'ts of Buying Corsages and Boutonnieres
DO consider the color of your (or your date's) outfit. Just like you would match a necklace to your outfit, you should make sure the color and texture of your flowers compliments what you're wearing.
DON'T forget about the small details. Corsages and boutonnieres may be small, but they still deserve a lot of attention. While flowers make up the bulk of an arrangement, don't forget to add ribbon, leaves, and rhinestones for an extra special touch.
DO ask your date's opinion. If you're buying an arrangement for someone else, ask what their favorite flowers are or if they're sensitive to certain types of flowers.
DON'T throw them out at the end of the night. Like a full bouquet, corsages and boutonnieres can be preserved or used in craft projects.
DO experiment with fun ideas. Sure, corsages are typically placed around the girl's wrist, but that doesn't mean they have to be. Tiny blooms can be made into bracelets and even rings. Place flowers in your hair rather than on your wrist or opt for something a bit larger than a traditional corsage. Most importantly, just make it reflect your personality!
DON'T assume you need to match your flowers to your date's. Corsages and boutonnieres should compliment each other, not necessarily match.
DO let your flowers speak for themselves. Because different flowers symbolize different things, flower choice matters.