Those with August birthdays are true beach babies. After all, they were born during one of the hottest months of the year! Even their birthstone, the peridot—known as the sunniest gem on earth—reminds us of sea glass buried along the shoreline. So, if you're on a treasure hunt for the perfect birthday gift for a loved one with an August birthday, give them a piece of the ocean with these beach-themed August birthday gift ideas, inspired by the luminous peridot!
About the August Birthstone: Peridot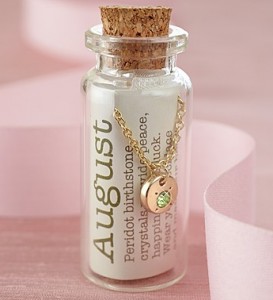 The ancient Egyptians were on to something when they called the radiant green peridot the "gem of the sun." Amazingly, this precious stone can be found not only in lava rocks, but also in meteorites, making it both a celestial and oceanic beauty. Throughout history, the mysterious jewel has been associated with supernatural characteristics, such as the ability to chase away bad dreams and evil spirits. As a result, peridot was used to accent church shrines and priests' jewelry in medieval Europe. Those who claim this out-of-this-world birthstone as there own are said to be blessed with abundant riches, great fortune and a future as bright as the August sun!
Beach-Themed August Birthstone Gift Ideas
Nothing is more romantic than filling a bottle with a sentimental note and sending it out to sea. For a birthday that she won't forget, take your special lady for a sunset stroll on the beach and surprise her with this August Birthstone Bottle Necklace. Once you place the beautiful vintage pendant around her neck and show her the sweet birthday note inside the bottle, tell her to write her own dreams down on a piece of paper and place it inside. When the message in a bottle is ready, throw it into the ocean. Soon all her birthday wishes will come true!
The best part of a relaxing birthday on the shore? Sinking into a big, comfy lounge chair with an ice-cold drink, of course! The Margarita Bouquet has all the ingredients the birthday girl needs for a day of fun in the sun. This floral cocktail comes with cheery carnations, spider mums, poms and hypericum in the bright green color of the peridot. And once the flowers are removed, your beach bunny can fill the reusable margarita glass with her favorite tropical drink.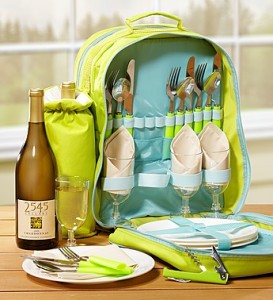 Why take her to a stuffy indoor restaurant when you could enjoy a breezy birthday dinner on the beach? With the Ultimate Wine Picnic Backpack, which comes in a fun green peridot color, you can pack all the essentials you need to enjoy an elegant picnic in the fresh, salty air. That's better than any swanky restaurant! It comes packed with enough partyware for four, including spoons, forks, knives, wine glasses, plates and cloth napkins. It even comes with a detachable bottle cooler bag for your wine, so you're all set to make a seaside toast to the one you love most.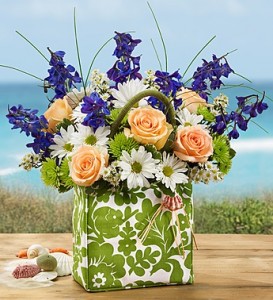 Every lovely lady wants to look great on the waterfront, so give her a birthday gift that'll help her carry all her swimming accessories in style. The Tote-ally Beachy arrangement isn't just your typical arrangement of gorgeous roses, delphinium, poms and bear grass. This arrangement comes in a chic and stylishly designed peridot-green tote. Made of sturdy canvas and accented with real seashells, this birthday gift will make your sweetheart the belle of the beach!
When the sun goes down, end the beachy birthday with a bonfire, some candlelight and lots of stargazing. For a gift that will light up the shore, go with the Coastal Garden arrangement and candle holder. This fresh and summery mix of hydrangeas, Gerbera daisies, roses and carnations comes in a shimmering mosaic candle holder that's speckled with dazzling green glass and sparkles like the peridot. Use the flowers as a centerpiece, or fill the candle holder with a tea light to add a warm summer glow to your laid-back celebration at sea.