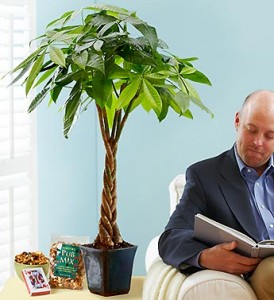 Looking for a thoughtful Father's Day gift doesn't mean you have to spend a fortune. With the help of 1800Flowers, you can still get your dad a clever gift for less than $50. By reading this blog post, you will soon learn that finding an affordable gift for Father's Day won't be so hard after all!
When choosing a gift for dad, keep in mind the great things that your dad does for you as well as his interests so you can choose a Father's Day gift that connects personally to him. With the list of gifts below all under $50, you will be sure to have a wonderful Father's Day!
1. Father's Day Plants
Is your dad Mr. Nature Man? If so, he will surely love a lasting Father's Day plant! With the help from 1800Flowers and its vast array of options, finding a Father's Day plant under $50 is simple. If dad likes Bonsai Trees, the Green Mound Juniper Bonsai is just $29.99. If your dad might like bamboo, get the Pyramid Bamboo tree for only $39.99. If he is a tree hugger, you can never go wrong with a classic Pine Tree for just $34.99.
2. Sweet Tooth Gift Baskets
Start dad's cookout early with delicious assortments from 1800Flowers.com gift baskets such as Cheryl's Father's Day King of the Grill Cookies for just $39.99. Treat him to his own special box of Cheryl's Father's Day Cookie Bundle Gift. At a price of only $27.99, that's a delicious treat that dad will be sure to love. Also for under $50 is Cheryl's Father's Day Tool Box & Gourmet Cookies . If you'd rather go the fruit route, #1 Dad Fresh Fruit & Exceptional Sweets Box is the choice for him for only $39.99. With these delicious gift baskets, let dad satisfy his sweet tooth any way he wants, whether with chocolate or fruit.
3. Gift Cards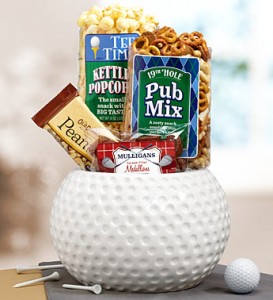 Gift cards are a great last minute gift that are always enjoyable. Pick a gift card for dad that you know he will get excited for. Make sure to get what he loves- whether it be for a restuarant that he enjoys or the electronics store with all those gadgets dad must have! Nothing says I know you well them letting him pick out his own gift!
4. Sports Lovers Gift
Sport crazy dads will be a big fan of this Happy Father's Day Golfer's Choice Snack Bowl. And only for $34.99- that sounds like a hole in one! Looking for a different sport? Score a touchdown with this football-inspired Yankee Candle called First Down (for $27.99).
5. Thoughtful Gifts
Dads always appreciate a homemade gift. Hone in on your Picasso spirit and create a masterpiece that dad will always cherish and display on his desk! Travel back in time with your dad by making a scrapbook of family photos or a decorated picture frame with a photo of you and him in it and revel in the nostalgia. With a little time and effort, you can make dad a gift this Father's Day that will always remind him of you.
6. Flowers that will be sure to Tickle Dad's Fancy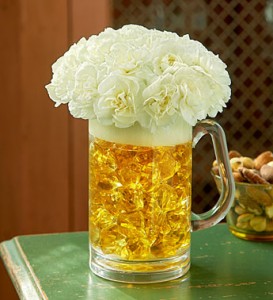 With the arrival of summer, what a better way to start off the season than with beautiful blooming Father's Day flowers. Beer Mug of Blooms is a perfect Father's Day gift that will tickle dad's fancy for only $29.99. Even the Sorbet Bouquet is a wonderful floral gift that will sure to make your dad grin from ear to ear, and only it's $39.99.
7. Meet Lovers Field Day
For dad's who deem themselves the master of the grill, get them Jim Beam BBQ Bliss Deluxe Grilling Kit for only $29.99. Let dad know he's the man on this special day with Happy Father's Day Smokin' Willies BBQ Set or even Budweiser's Grilling Steak Sauces for way under $50.
8. Dad Time
Sending dad a Happy Father's Day doesn't mean you have to purchase a literal gift. Spending time with him, like playing catch outside or going on a fishing trip, will make him the proudest father in the world. Get the family involved too by going on a family picnic or playing board games! Show dad that you love him by spending quality time with him this Father's Day.
9. Classy Gifts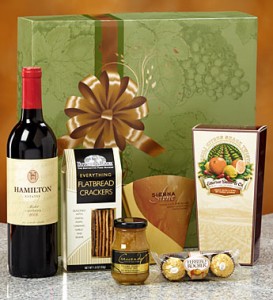 With help from 1800Flowers, give dad a sophisticated present for Father's Day. Make him feel classy with this Vineyard Select Red Wine Gift Box which includes a 2008 Hamilton Estates California Merlot, Brie Cheese Spread with Every Flatbread, Ferrero Rocher Chocolates, Sesame Honey Mustard Dip, and Chili Citrus Twists. All for a great deal of $39.99, this is a gift dad will be sure to appreciate. Or even try this Lucca & Sons Father's Day Deluxe Meat & Cheese Box for also $39.99.
10. Cook a Meal He'll Never Forget
Cooking dad a meal is a thoughtful way to fill both dad's heart and stomach this Father's Day. Whether making him a great breakfast in bed or taking him out to his favorite restaurant at night, make this Father's Day a delicious one! Along with the scrumptious meal and gift, spending time with your dad alone will give him a Father's Day that he will surely appreciate.
And keep in mind, to further reduce the tax on your wallet, you can always split the gift with your mom or siblings!
*Prices above do not include tax