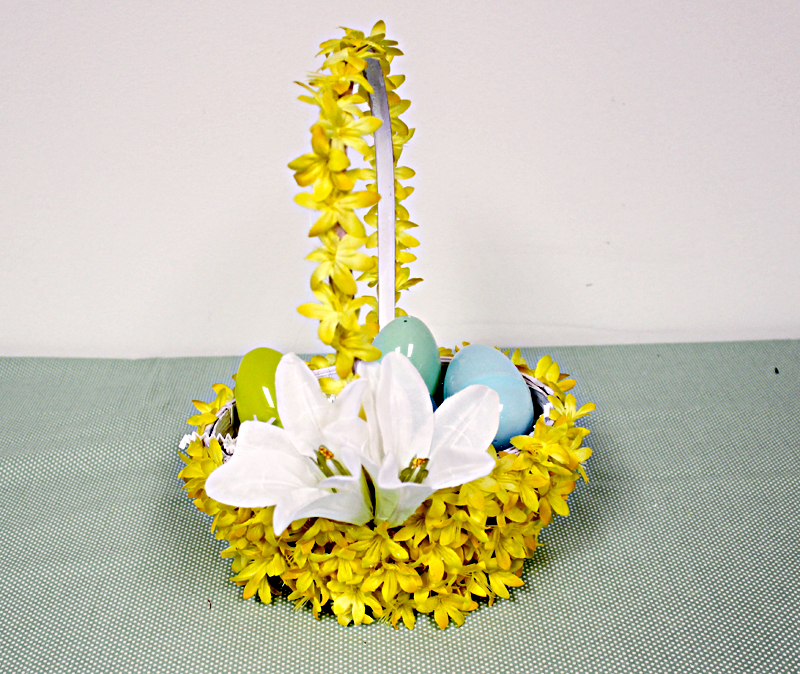 Whether you are expecting long-distance guests or simply celebrating with the family, adding touches of Easter colors and symbols is a great way to revitalize your space and add a feeling of excitement to the air. A simple way to add an instant Easter touch is by adding subtle yet festive accent and centerpieces throughout high traffic areas such as hallways, living rooms, and kitchens.
Using artificial flowers and a bit of glue, we created a stunning and sweet DIY Easter basket that can be filled with candies, chocolates, or even decorative Easter eggs.
Supplies for Floral DIY Easter Basket:

1 woven basket

Artificial flowers (we used

Easter lilies

and yellow tweedia flowers)

Scissors

Glue gun or similar adhesive

Floral wire (optional)
Directions for Floral DIY Easter Basket:
Prepare your flowers by cutting off the flower, leaving only about ½ to 1 inch stem.
Add a tiny dab of glue to the bottom of the flower, then poke the stem through a woven gap in the basket. Continue this process until the whole woven area is covered in flowers.
When you are finished with the woven area, it is time to cover the unwoven handle. For this part, fully remove the flower from the stem. Add a dab of glue to the handle and place the flower, holding down for 2-3 seconds to secure. Continue with this process until you are satisfied with the look.
Once the basket is fully adorned with flowers, add a dab of glue to the larger Easter lilies or similar flower and place, holding down again to secure.
Now your Floral DIY Easter basket is complete! Make several varieties and place around the room for an added festive touch!