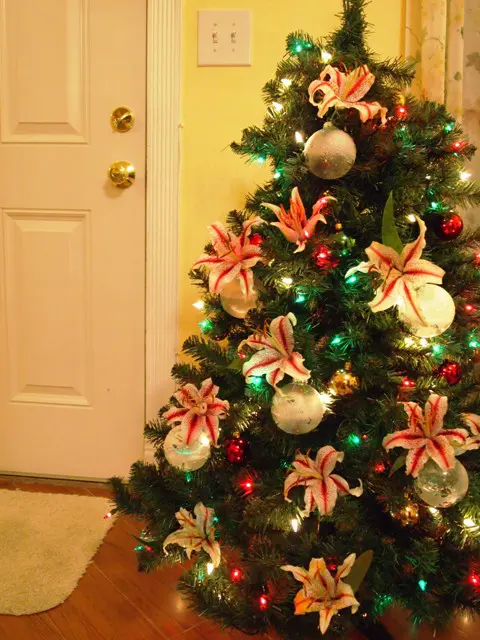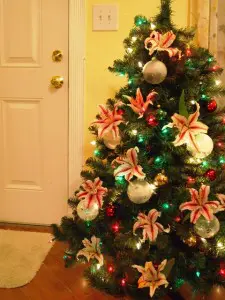 Oh Christmas tree, oh Christmas tree, how lovely are thy flowers! Bring your tree to life this season and decorate it with some beautiful fresh blooms. All you need is some festive Christmas flowers and a few clear glass ornaments to create a stunning and unexpected display that you won't be able to take your eyes off of. Here's how to make these mesmerizing fresh flower ornaments for your Christmas tree.
Materials Needed for Fresh Flower Ornaments
12 (or more) Candy Cane Lilies
12 (or more) clear glass ball ornaments
Scissors
Ornament wire
Canned snow
How to Make Fresh Flower Ornaments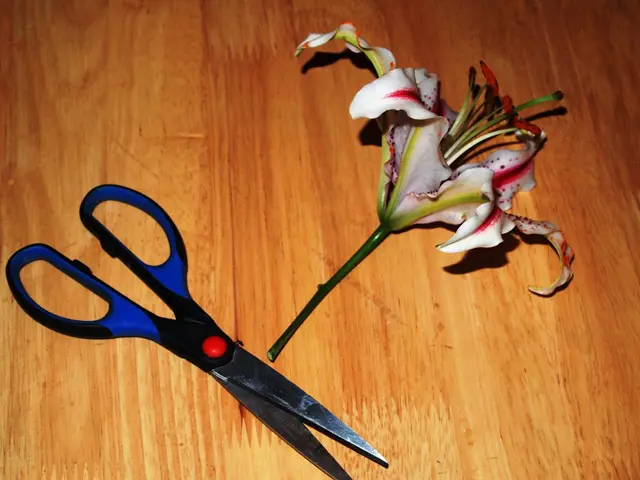 Trim the Candy Cane Lilies so that the stem extends 2-3 inches below the flower head.*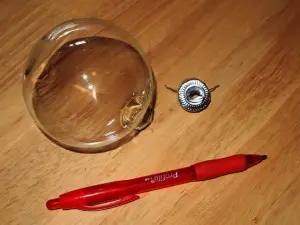 Take off the cap of the clear glass ball ornament. Using a pen, slightly widen the hole at the top of the cap.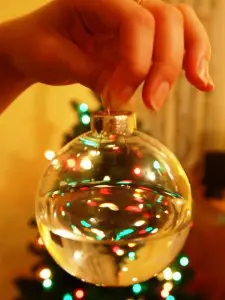 Fill the ornament halfway with water. Replace the cap and test it to see if it is strong enough to hold the water-filled ornament.**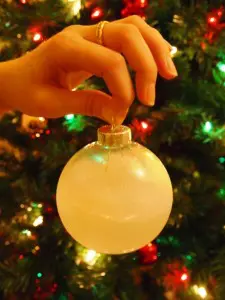 Spray the glass ball with as much canned snow as you desire.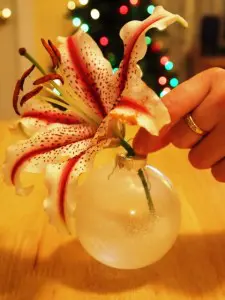 Place the stem of one Candy Cane Lily into the hole at the top of the ornament and immerse the stem in the water.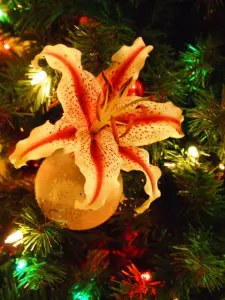 Using floral wire, tightly fasten the ornament to a branch on your Christmas tree.
Repeat step Nos. 1-6 for each ornament.
Once a week, replenish the ornaments with fresh water.
*Caution: Lilies and their pollen are highly toxic to cats. If you're a cat owner, use roses for this project instead.
**If you find that the cap isn't strong enough to hold the water-filled ornament, empty the water out of the ornament and remove the cap. Take the wire out of the cap and wrap floral wire around the neck of the ornament, leaving some extraneous wire that you will use to hang the ornament from the tree. Then, use super glue to glue the cap and the floral wire onto the ornament. Let it completely dry, and then fill the ornament with water. Then continue to step No. 4.
Will you be decorating your tree with fresh flowers this Christmas? Tell us your ideas!