Making your Fourth of July a patriotic one can be simple and sweet with these red, white and blue dipped strawberries. Follow these simple steps to make your sweet treat look decadent and delicious at your Fourth of July barbeque.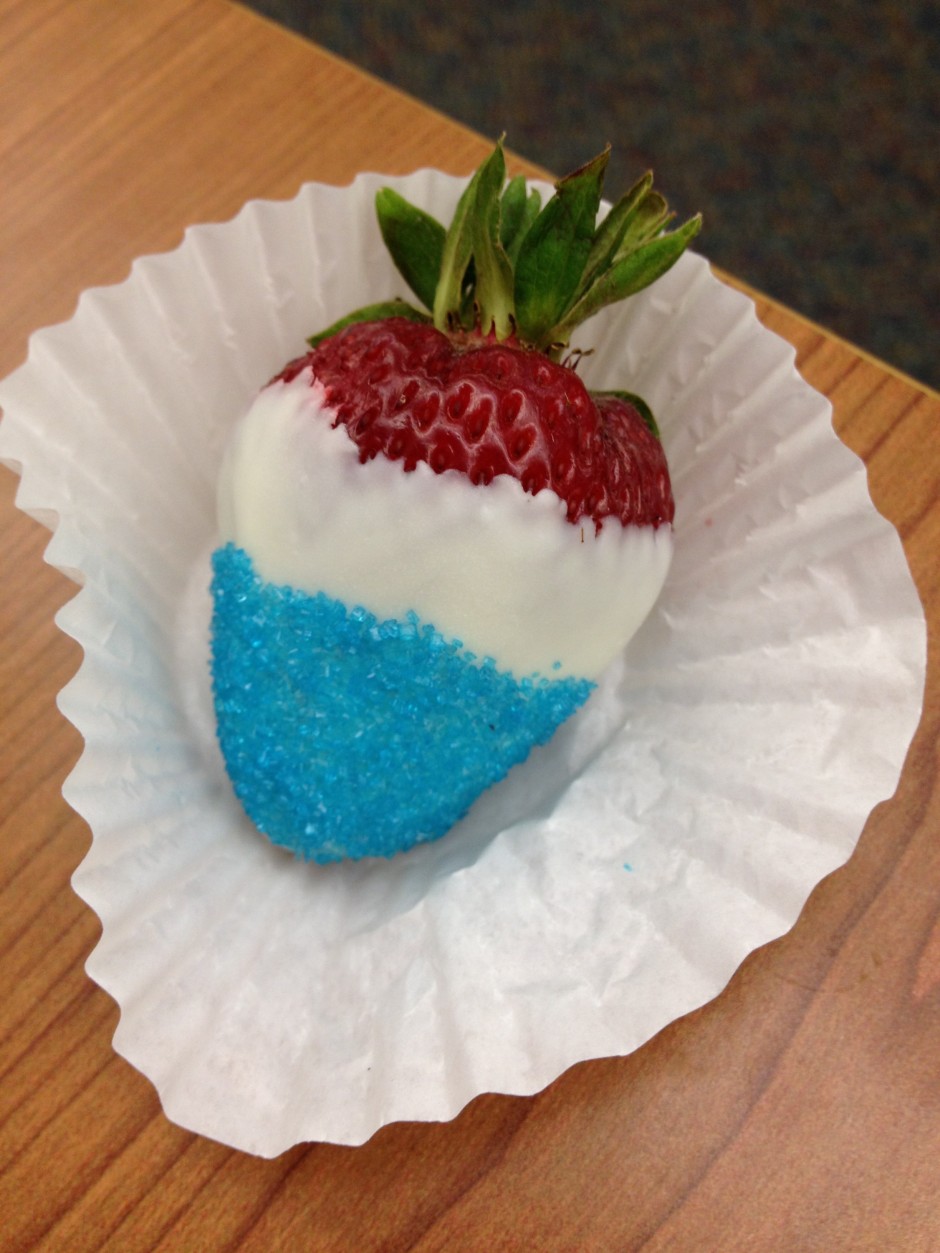 Ingredients Needed for Patriotic Strawberries:
• Container of Strawberries
• White Chocolate
• Blue Sprinkles
• Paper Towels to Dry Strawberries
• Wax Paper
• Spoon to Mix Chocolate
• A Microwave Safe Bowl
• A Small Amount of Vegetable Oil If Needed
Step 1:
Purchase a box/carton of strawberries at your local grocery store or fruit stand. Make sure that you pick a carton with minimal bruises. Once brought home, pick out the strawberries without any bruises and rinse them thoroughly.
Step 2:
After rinsing them, pat each strawberry dry with a paper towel to ensure that your strawberries have as little dampness as possible. If the strawberries are too wet, the chocolate will not stick and will wash off when you dip them.
Step 3:
After the strawberries are patted dry, it's time to prepare the white chocolate. Purchasing white chocolate is preferred for these particular red, white and blue strawberries. If changing the recipe to milk or dark chocolate, it's important to note the difference in heating between the different chocolates. The amount of chocolate used should be proximate to your number of strawberries. By simply using a microwave, melt the chocolate ever 20-30 seconds (depending on the heating power of your microwave), take out, stir, and repeat. Do this to avoid the chocolate from burning. Add a small amount of vegetable oil if need be to make a much more smooth consistency. *Reminder, if working with children, make sure they have parental supervision when handling the melted chocolate.
Step 4:
Once the chocolate is melted, use a candy thermometer to measure the correct temperature for dipping the strawberries. The temperature should be between 105-115 degrees Fahrenheit for perfect strawberry dipping (once again depending on which type of chocolate you use). If you do not have a candy thermometer, just make sure the chocolate cools for 5 minutes or so. You should be able to stick your finger in it without burning it.
Step 5:
Pat the strawberries down once more before dipping them in the chocolate. When dipping them, tip the bowl on a slant to get an even amount of chocolate on all sides of the strawberry. Make sure you leave enough red on the strawberry for the red stripe!!
Step 6:
Have your bowl of blue sprinkles ready and out. Right after you finish dipping the strawberry, twirl it around a little to shake off the excess chocolate, then immediately dip the tip into the blue sprinkles. Place on a decorative plate, and put it in the fridge to cool. And voila! Patriotic red, white and blue chocolate dipped strawberries ready to eat!!