'Tis the season to get festive! And since so many of us spend a lot of time in our offices around the holidays, why not put a little Christmas cheer into your cubicle?! Decorating the office for the holidays is a great way to put a smile on your coworker's faces, lighten the mood and help spread a little joy to everyone around. If you're feeling merry this month, here are some ways to add some winter wonder to the workplace: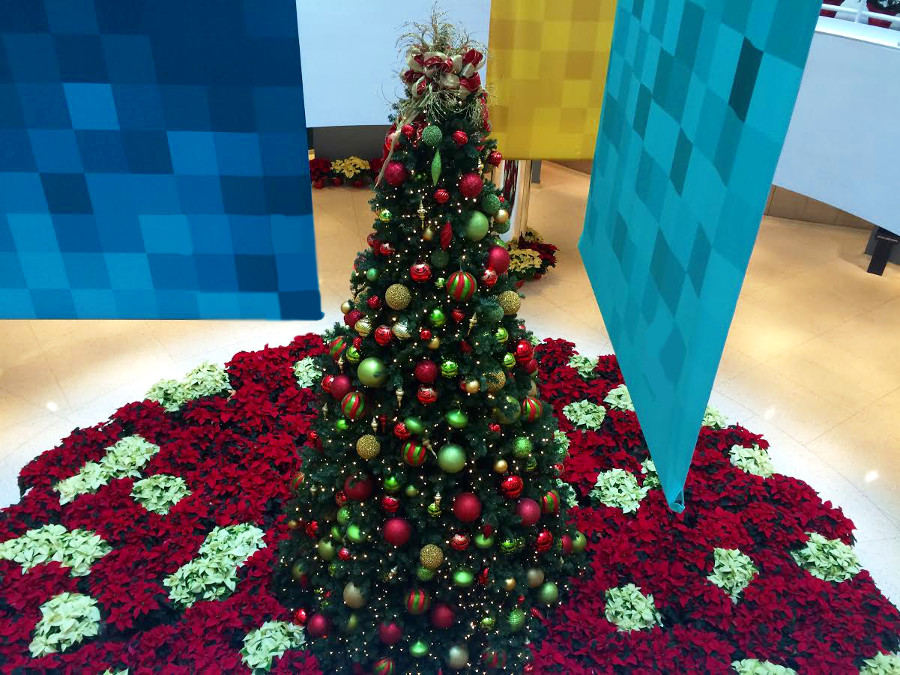 The Lobby
A lobby dressed up for the holidays instantly sets a warm and inviting mood to all of it's visitors. The size of your building will determine how elaborate you can get with your decor, but what lobby at Christmas time would be complete without a tree and some wreaths? Although decorating your lobby is an opportunity to let your creativity shine, there are a few rules of thumb that should be followed when planning your display:
Use good taste.
Think about safety first.
Don't wait until the last minute.
Keeping that in mind, these lobby displays will ensure that every visitor who stops by will be glad that they did:
Go Big Or Go Home
There's nothing quite like seeing a big Christmas tree all lit up to stop you in your tracks. The sparkles and trimmings will certainly put you in the Christmas spirit as you head into work and will even draw passerbys in just to get a look! Fix lights and ornaments to hang from the ceiling for that extra wow factor and holiday cheer.
Recreate Your Cozy Living Room
The holidays are a time for gathering with friends and family members and feeling a sense of comfort and home. Swapping the seating around, adding a cozy rug and placing wrapped presents under the tree will evoke a feeling of warmth and togetherness. You can even set up a hot cocoa bar or a fireplace projector screen for an extra level of added comfort.
Add A Pop Of Color
Christmas isn't just about decorating in red and green anymore! In addition to your traditional red poinsettias, and green trees, incorporating a pop of color, like deep purple ribbon or bright pink  bows will modernize your holiday decor and brighten up your space.
Use What You Have
If you already have great pieces in your lobby, adding a few small touches to the space will enhance what's already there. Large paper snowflakes, flameless candles or twigs of holly serve as a festive edition to capture the holiday spirit.
Get Creative
Now's the time to let your imagination run wild. If you want to see Santa on a sleigh, penguins ice skating or a reindeer flying through the air covered in falling snow, go for it! Unique displays will be sure to leave a lasting impression and have visitors looking forward to how you can top it next year.
The Desk/Cubicle
Staring at your computer screen for hours can make you feel lackluster during the most wonderful time of year. But have no fear–dressing up your desk with these ideas will have your coworkers thinking that Santa's elves were working overtime:
Add a Tabletop Tree
Placing a small tree on top of your desk will certainly add some glee–after all, you'll need a spot for Santa to drop his gifts!
Wrap It Up
Sometimes the simplest decorations are the best! Wrapping your desk and office furniture and dressing it with bows will turn your office space into a colorful present!

Let It Snow
Walk into a winter wonderland everyday by hanging paper snowflakes,angels, blankets of glittery snow and even Christmas villages to your desk!
Have A Very Chalky Christmas
Hang a chalkboard in your cube with a Christmas tree drawn on it. Then, as your coworkers and guests stop by, encourage them to add to the tree and sign their name for the ultimate company Christmas card!
DIY Stockings
Looking for a team building activity to get the whole office in a festive mood? Why not throw a stocking decorating party?! After all of the personalization is complete, everyone can display their merry masterpieces in their cubicles.
Make a Candy Wonderland
Turn your workspace into a delicious candy land by transforming  your desk into a gingerbread house. Cover your desk in brown paper and fill up bowls of peppermints, candy canes and lollipops to keep there. You'll be everyone's favorite coworker as they stop by for a sweet treat.