It was in 1882 that Edward H. Johnson, a friend and business partner of Thomas Edison, hung the first ever string of lights on his Christmas tree. With only a handful of homeowners having access to electricity, people traveled far and wide to see this 80 bulb string of red, white, and blue lights.
Fast forward to today and we're all still just as captivated by Christmas lights — though we think it's safe to say that light displays have become a bit grander than they were in the late 1800s. From California to New York (even going so far north as Alaska), Christmas light shows have taken the country by storm.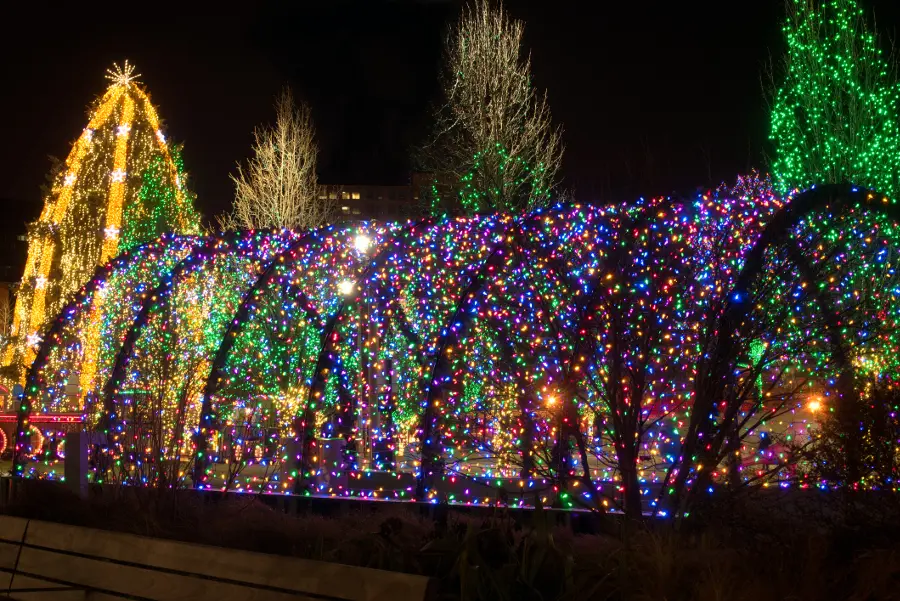 The Jones Beach Holiday Light Show
Where: Long Island, New York
Located on the South Shore of Long Island, Jones Beach is famous for its annual Holiday Light Show. Each year, thousands of cars drive through the 2.5-miles of flickering lights, making their way through Santa's workshop, candy cane forests, and even the illuminated countries of France and Italy. This year, Jones Beach is offering $5 off of your ticket price every Wednesday, when you donate an unwrapped toy to Toys of Hope.
An Old Time Christmas
Where: Silver Dollar City in Branson, Missouri
For more than two decades, Silver Dollar City theme park has been home to one of Missouri's most electric Christmas light shows. This parade of more than 6.5 million lights, enchanting special effects, and thousands of Christmas trees is the highlight of Christmas in Branson, so get there early for a good spot!
Trail of Lights
Where: Zilker Park in Austin, Texas
It's believed to take around 15,000 hours and the help of 1,500 volunteers to string up the millions of lights on display at Zilker Park. This 1.25-mile walking trail features hundreds of illuminated trees and dozens of animatronic light displays. Having already graced the state of Texas for more than 50 years, it doesn't look like the Trail of Lights will be powering down anytime soon.
Santa Claus' House
Where: North Pole, Alaska
You better believe that anyone who lives in North Pole, Alaska is bursting with Christmas spirit 365-days-a-year. The town loves Christmas so much that they've hosted a six-week long Christmas on Ice festival each year for more than a decade. Though the theme of the festival changes every year, you can always find amazing light displays and, in true Alaskan fashion, plenty of ice carving contests.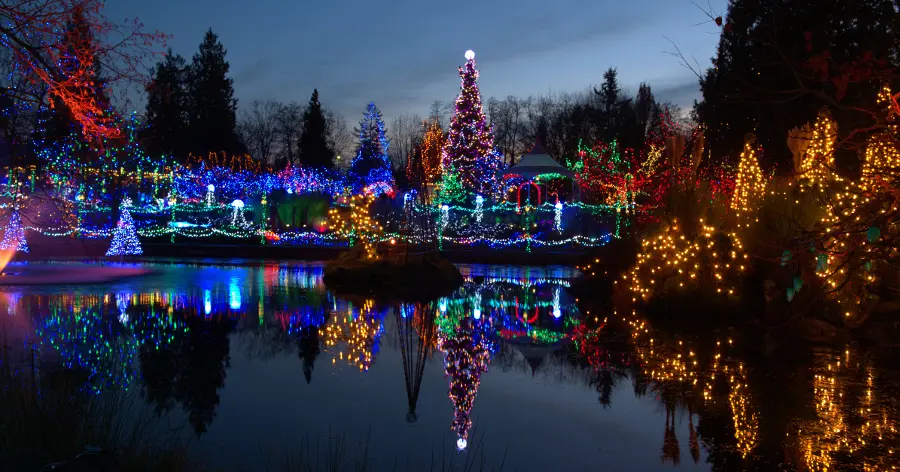 Christmas Town
Where: Busch Gardens of Williamsburg, Virginia
Christmas Town isn't just in books and fairytales anymore, it's real! Each year, Busch Gardens Williamsburg's Christmas Town welcomes millions of visitors through their gates, each wanting to experience the more than eight million lights on display. Claiming that it's the biggest Christmas lights display in North America, visitors' faces light up with excitement the minute they walk into town.
Dyker Heights
Where: Brooklyn, New York
If you're already heading into Manhattan to get a glimpse of the Rockefeller Christmas Tree, Macy's famous windows, or the Rockettes, you may want to also take your travels a little further south to the community of Dyker Heights. What started as a friendly competition among neighbors decades ago has grown into an all-out battle of the Christmas decorations. With nearly every house in the neighborhood decorated with thousands of lights, inflatables, and toy soldiers, you may find yourself heading to the store for more Christmas lights after seeing these homes.