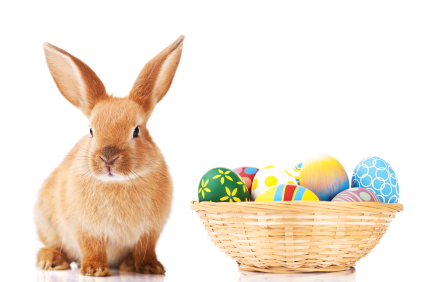 When Easter hops along, kids of all ages look forward to one thing the most: getting a beautiful Easter basket stuffed with Easter eggs, chocolate, candy, toys and more. Today, these little bundles of Easter treats aren't just a simple tradition; they've become an essential part of welcoming spring all across the country. In fact, according to the National Confectioners Association, 80 percent of adults plan on giving their children Easter baskets this year.
You probably already know exactly what your little ones want in their baskets, but do you know how this custom got started? Read on to learn all about the history of Easter baskets, and share it with your kids as they unwrap their springtime goodies!
The First Easter Basket
The Easter basket we know today has a mixed history: Over time, it's been influenced by folklore and religion. The earliest appearance of the basket has been traced back almost 1,000 years ago.
Since ancient times, spring has been considered the season of new life and fresh beginnings. In 13th-century pre-Christian Germany, people believed in multiple gods and goddesses, including Eostra, the goddess of spring and fertility. Her symbol was the rabbit (back then, the rabbit was known as an emblem of fertility), and legend has it that she carried a basket full of eggs as a sign of life and rebirth. Every spring, baskets of seedlings were brought to her temple as an offering in exchange for healthy crops and a good harvest.
Eventually, the story of Eostra evolved into the German myth of the "Osterhase," or the "Easter hare"—a white hare that would bring colored eggs to good children on Easter. By the 18th century, German settlers introduced the tradition of the Easter hare to the United States. And just like that, the modern traditions of the Easter basket, Easter eggs and the Easter bunny were born!
Religion and the Easter Basket
The use of Easter baskets has also been a religious tradition since the beginning of the Easter holiday. For Christians, the 46 days before the Easter celebration marks the season of Lent, during which Christians give up a beloved food, such as meat, eggs or dairy. A big feast is enjoyed on Easter day, when the fast is over. In the earlier days of Christianity, the Easter feast was traditionally carried to the church in large baskets to be blessed by the priest. And so the custom of celebrating Easter with treat-bearing baskets has been passed down to generations of Christians ever since.
What kinds of Easter baskets will you give to your kids this spring?