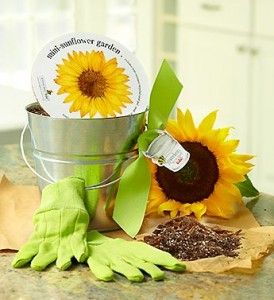 Spring is the time to celebrate nature's gift of sweet perfumes and vibrant blooms. Take advantage of this season's activities and grow some of your very own sunflowers with the kids in your life. This wonderful springtime craft is a simple and fun way to teach your children about nature, plants and the art of gardening. With a little love and nurturing care, your child will reap the rewards of responsibility and a little hard work. The easy instructions below to plant your own sunflowers should produce magnificently bright and healthy sunflowers that the whole family can enjoy.

1. Begin your project by having your child make some little pots to grow the sunflowers in. There are several ways to go about doing this. One option is to go to a ceramics place that will allow your child to use real clay to form a pot by hand. It can be fired in the kiln on-site. If this is not an option for you, purchase some terra-cotta pots and buy some ceramic paint so that your child can decorate pre-made pots for the sunflowers. Keep in mind that the painting may need to be sealed so that the outdoor environment does not weather the design away.
2. Now it is time to buy a packet of sunflower seeds from your local gardening shop. Select a sunflower variety that is suitable for your planting situation. Regular and miniature sunflowers grow well as potted plants.
3. Select a spot on the porch or near a window, where you can put your potted plants. They will need plenty of sunshine, so ensure that you have chosen a sunny place for your flowers to grow. If you do not already have soil prepared, you can purchase soil. Sunflowers can grow in all types of soil. Whether it is clay or sand, sunflowers will thrive as long as they have enough nitrogen. For best results, mix some peat into the soil prior to planting your seeds.
4. Sow the seeds into the soil. Different varieties will need to be planted at varying distances from one another. Evenly space six seeds into the soil of your pot. As the plants begin to grow, keep the healthiest ones and weed out the rest. Be sure that the seeds are planted about 1 inch below the surface of the soil. Less is more, when it comes to gardening. The more plants that you have, the more the plants will have to compete for nutrients, resulting in weaker plants.
5. Sunflowers love water. Give them a big gulp regularly to ensure that your sunflowers will grow to be full, lush blooms. Do not to overload them with too much water though. The soil should not be swampy.
6. Keep an eye on your plants. Baby plants should begin popping up about a week or two after planting, assuming that they have had enough sunshine and water. Be sure to get rid of any weeds that may sprout up around your sunflowers, because they will only steal nutrients away from your plants.
7. Plant your seedlings in the ground. If the pots will be too small for the mature sunflower, you'll have to replant the seedling directly into the ground. If you bought large, pots you can skip this step.
8. Place stakes in the soil to tie your sunflowers upright. This is especially important for sunflowers, as they tend to grow very tall, making them top heavy. They can easily fall over with strong winds.
After three months' time, the sunflowers should be fully mature. The blooms will radiate, like rays of the sun, drawing the attention of all who pass them. The fun does not have to stop here. Continue this sunflower project by harvesting the sunflower seeds from the head of the flower for a healthy snack. The sunflowers will return each year as a happy reminder of the experience that you and your child shared together. Enjoy this great spring craft. Planting your own sunflowers from seeds is fun for everyone!