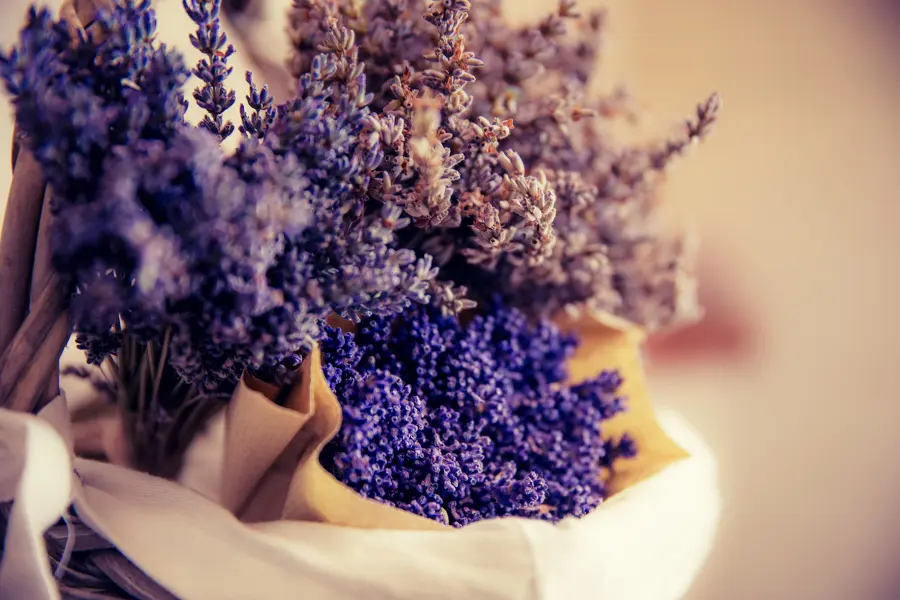 Fragrant, graceful lavender, with its silvery-green foliage and spikes of purple, pink, or white flowers, is a perennial shrub and belongs to the mint family. Though grown throughout the world today, it's native to areas surrounding the Mediterranean and countries east of India.
If you've ever looked out over a lavender field, you know the hypnotizing elegance of lavender flowers. But aside from the beauty that the purple blossoms bring, did you know that lavender brims with meaning and has a multitude of uses?
Lavender meaning
Lavender flowers represent purity, silence, devotion, serenity, grace, and calmness. Purple is the color of royalty and speaks of elegance, refinement, and luxury, too. The color is also associated with the crown chakra, which is the energy center associated with higher purpose and spiritual connectivity.
Lavender uses through history
Lavender has been used for more than 2,500 years for fragrances, therapeutics, and cooking and as an ornamental shrub. Egyptians used lavender oil in embalming, and the Greeks benefited from its medicinal properties for easing headaches, gastritis, and sore throats. It was also used extensively by the Romans, who brought it with them throughout the Empire.
The word "lavender" comes from the Latin lavare ("to wash") — the Romans used the fragrant oil in their baths. From the Middle Ages and Renaissance right up to modern times, lavender has been used in perfumes, toilet waters, potpourris, and sachets. As an aromatherapy oil, it relieves stress and induces sleep. The oil's antiseptic properties are also known to heal wounds and burns and to ward off disease. Taken internally, lavender preparations have been used to ease digestive complaints and headaches.
Lavender benefits today
Constantly shaking your fist at foraging deer and rabbits that eat up your flower, vegetable, and herb gardens? Plant lavender! Lavender plants are effective critter repellents, and they can be planted in containers or used as cut flowers to ward off pesky insects.
In the kitchen, the flowers lend a light, floral taste to meats, seafood, desserts, or summer drinks — but be sure to buy a variety of culinary lavender (L. angustfolia), since other types can be too strong and sharp.
Of course in addition to all the wonderful benefits of the oil, lavender is an excellent garden ornamental. It is breathtaking in a mass planting, a rock garden, a container, or as a border plant. And since it is a perennial shrub, lavender can be clipped into a low hedge.
Popular ways to use lavender today
Lavender is valued for its physical beauty, soothing fragrance, and healing properties. Here are some ways to enjoy it.
Dried lavender tea
Tea made from lavender leaves has been said to help relieve insomnia. Drinking this relaxing, calming tea before bedtime can reduce stress and help you doze off into a peaceful slumber. Lavender tea is also used to treat gastrointestinal issues, such as digestive problems or a nervous stomach.
Essential lavender oil
Lavender's medicinal benefits and pleasant aroma make it the most used essential oil in the world. That familiar scent is a combination of fresh, floral, clean, and calm notes. Research suggests that the continuous use of lavender oil provides antioxidant protection, helps balance blood sugar, heals cuts and burns, improves acne, and alleviates headaches. And the healing properties don't stop there: Dabbing essential lavender oil on your temples is said to alleviate tension headaches and migraines, and it is commonly used in relaxing massages and skin-care and bath products.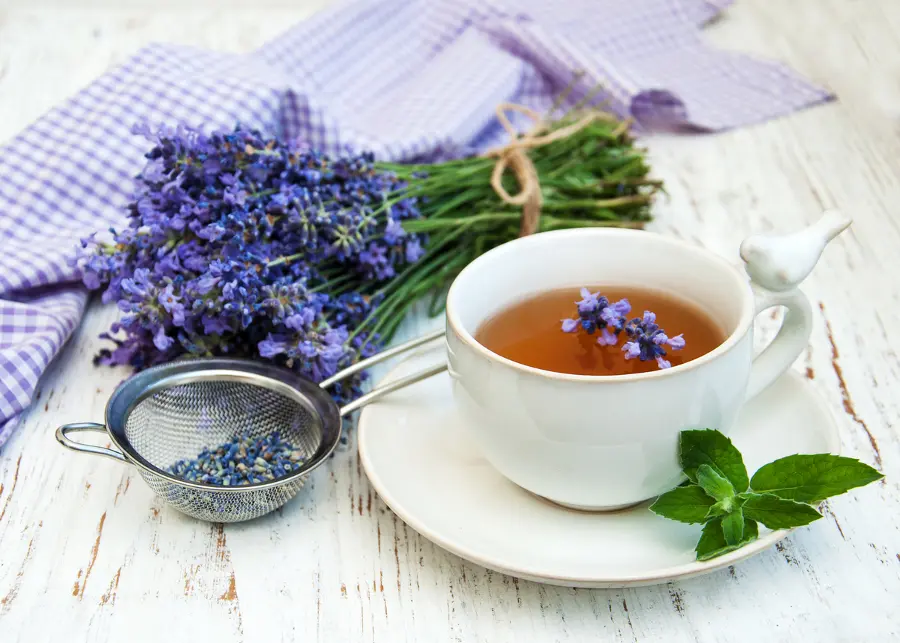 Lavender lotion
Lavender lotion does double duty: It moisturizes your skin, and the scent has a calming effect. No wonder it's a popular gift!
Lavender in the kitchen
Culinary lavender is a versatile herb. It belongs to the mint family, so it adds freshness to any recipe, and its floral, slightly sweet flavor delivers a tasty boost to many dishes. Add lavender flowers to salads or meat dishes for a beautiful burst of color. Lavender lemonade mimosas are just one of the popular and delicious cocktail options.
Lavender potpourri, spray, and scented candles
These are all great ways to enjoy the scent of lavender in your home. Use them to freshen clothes drawers or to add a touch of zen to a room.
Types of lavender
A whopping 45 recognized species of the lavender plant (Lavandula) grow throughout temperate regions. The five most popular types of lavender are English, French, Portuguese, Spanish, and Lavandin.
English lavender or common lavender (Lavandula angustifolia)
This 2-foot-high, compact woody plant with spikes of purple, lavender, pink, or white flowers blooms from late spring to midsummer. It is highly fragrant and grows in well-draining soil. English lavender is excellent as a border plant, in rock gardens, and in containers, and it has been a favorite as a low hedge in ornamental gardens since the Renaissance. It is the most commonly cultivated type, and its high-quality aromatic oil is used in perfumes, soaps, sachets, and potpourris, and as a flavoring.
French lavender (Lavandula dentata)
This species has light flowers with a mild scent and sharply aromatic toothed leaves. It grows from 12 inches to 36 inches high and blooms all the way from spring to fall. It is not a cold-weather shrub, and it thrives in warmer climates. French lavender is grown for perfumes, sachets, and potpourris.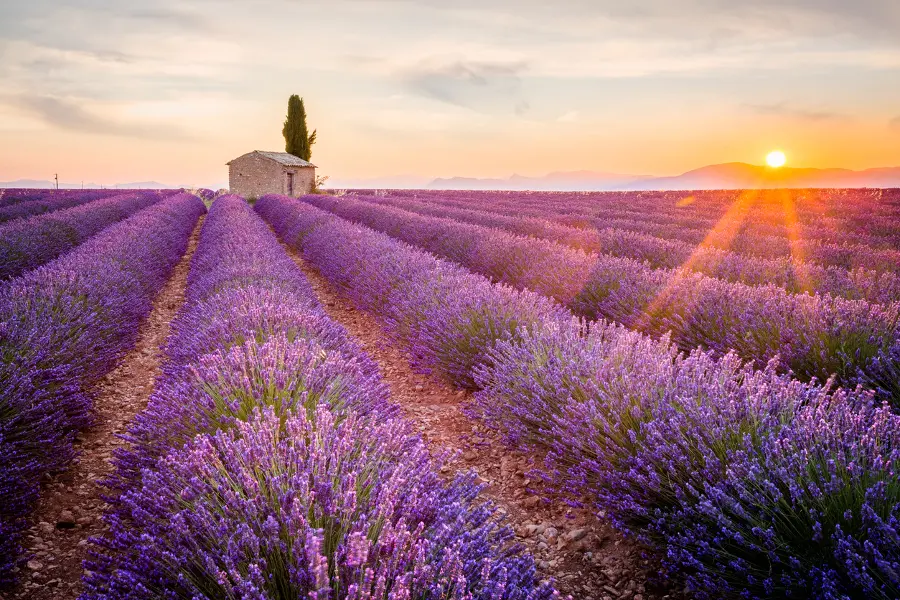 Portuguese or spike lavender (Lavandula latifolia)
Possessing a stronger scent than its English cousin, Portuguese, or spike, lavender has pale lilac flowers that sway on long stems and bloom from late spring to late summer. The plant grows from 1 foot to 3 feet high. The oil from Portuguese lavender is prized as an antibacterial, antifungal, and antiviral.
Spanish lavender (Lavandula stoechas)
This plant is characterized by distinctive white flowers with long petals (ears) arising from the top of the flower head that fade to pink and deep purple as the plant matures. Only the leaves are fragrant in this species, and they are used for essential oils and potpourris. The plant grows in an 18-inch- to 24-inch-high mound and blooms from mid-spring to late summer. It can tolerate more humid summers than English lavender. Spanish lavender is used in mass plantings and in containers, but it's not the best choice for culinary purposes.
Lavandin (Lavandula × intermedia)
A hybrid of English and Portuguese lavender with strongly fragrant flowers and leaves, lavandin grows in mounds up to 30 inches high and blooms from mid- to late summer in USDA hardiness zones 5 to 9. It is popularly used as hedges, in rock gardens, and for perfumes and potpourris, but not for cooking.
How to care for lavender
Once established, lavender is easy to maintain in your garden. It's possible to grow the plants from seed, but since they take a long time to germinate and sometimes are not successful, it's best to buy plants from a nursery. Be sure to determine which type of lavender will grow in your USDA hardiness zone. Lavender requires full sun and well-draining, alkaline soil. If your soil is hard-packed, mix in organic material so that the roots can extend and the water can drain. Water the plants deeply, then allow the soil to dry before watering again. Deadhead any spent flowers to encourage reblooming, and prune the plants in the fall, making sure to cut out any dead branches.
---