In our opinion, there's no better way to spend a beautiful Spring day than by heading outdoors and enjoying all that nature has to offer – that includes surrounding ourselves with some of the season's most beautiful blooms! Now, while you're probably most likely to bask in the beauty of flowers seen in your local parks and gardens, the world outside of your immediate surroundings has so much to offer as well. If you're ever feeling adventurous, here are a few of the top spots you need to visit to see some of the most beautiful Spring flowers:
The Netherlands
Keukenhof, also known as The Garden of Europe, is said to be one of the largest flower gardens in the world. Here, there are approximately 7 million bulbs planted each year, which you can bet makes for a pretty amazing sight. The tulip festival here lasts for about two months each year, and this year, over 800 different varieties of tulips can be found!
Italy
Roseto Finischi, a rose garden in Central Tuscany, is a must-visit destination for anyone visiting this beautiful country. In fact, the garden is known to contain more cultivars than any other private rose garden in the world, so if you want to see some of the finest, you can bet that you'll find them here. Not to mention, it smells amazing!
France
France has a few hot spots to view Spring flowers, but one of our favorites is Monet's Garden in Giverny. Monet's Garden is made up of two different parts – a flower garden (known as Clos Normand) and a water garden. Both equally breathtaking, visitors can take a guided tour individually or in groups to learn about the beauty before them.
Although some of the best places to see Spring flowers are located outside of the U.S, there are plenty of other places right here that you can travel to. Here are a few that we recommend:
Washington D.C
Washington D.C is known for the cherry blossoms that bloom each Spring – did you know that some of the very first cherry trees planted here are still alive and well? For all you history buffs out there, this is the perfect destination to see some of our nation's greatest monuments AND enjoy nature while you're at it!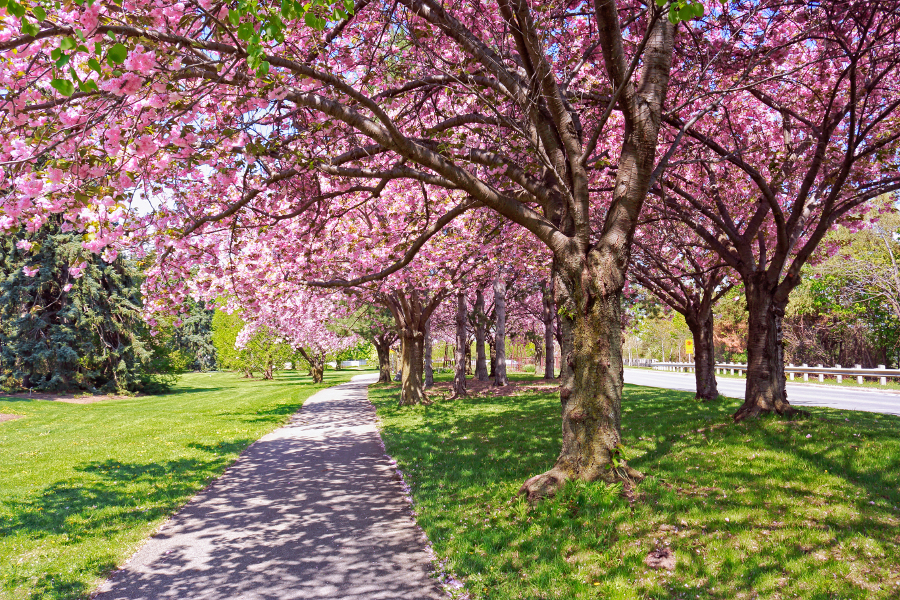 California
For our friends out on the west coast, the Antelope Valley California Poppy Reserve is a fine place to see some of the state's most beautiful orange poppies. With eight miles of trails throughout the hills, visitors will have the opportunity to see an awesome array of Spring blooms and even some wildlife!
Dallas
Beginning in March, the Dallas Arboretum and Botanical Garden showcases a ton of different flowers – specifically, over 100 during its Spring festival (known as Dallas Blooms)! Some of the blooms that can be viewed are tulips, daffodils, pansies, poppies and violas, and in addition to enjoying the flowers, there are also a ton of activities that visitors of every age can enjoy.
Whether you choose to take a trip overseas or stay within our country's borders, there are so many opportunities for you to see some of the best blooms of the Spring season – where will you go first?