From tulips to chrysanthemums, our series "Flower Care" explores everything from fresh flower care tips to flower symbolism and meaning. Wilting blooms don't have to be a sad occasion, give arrangements a second life with fun and easy-to-do methods to preserve flowers.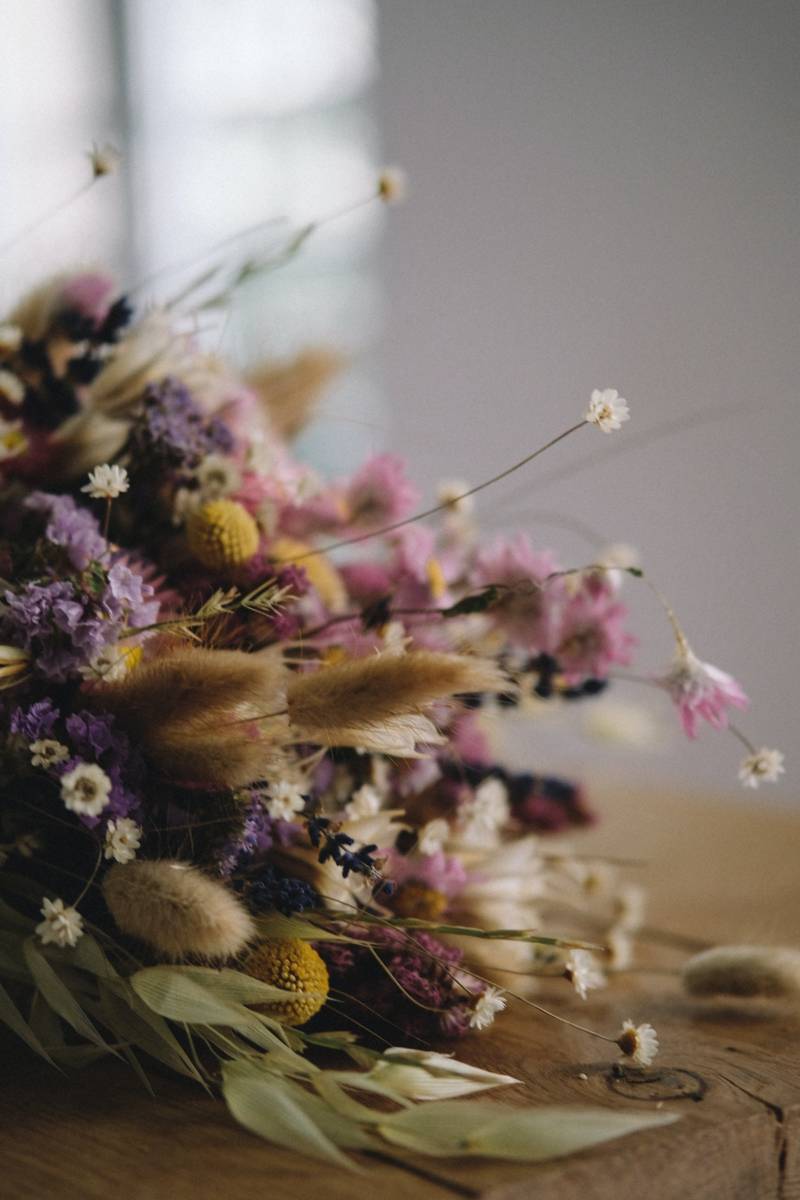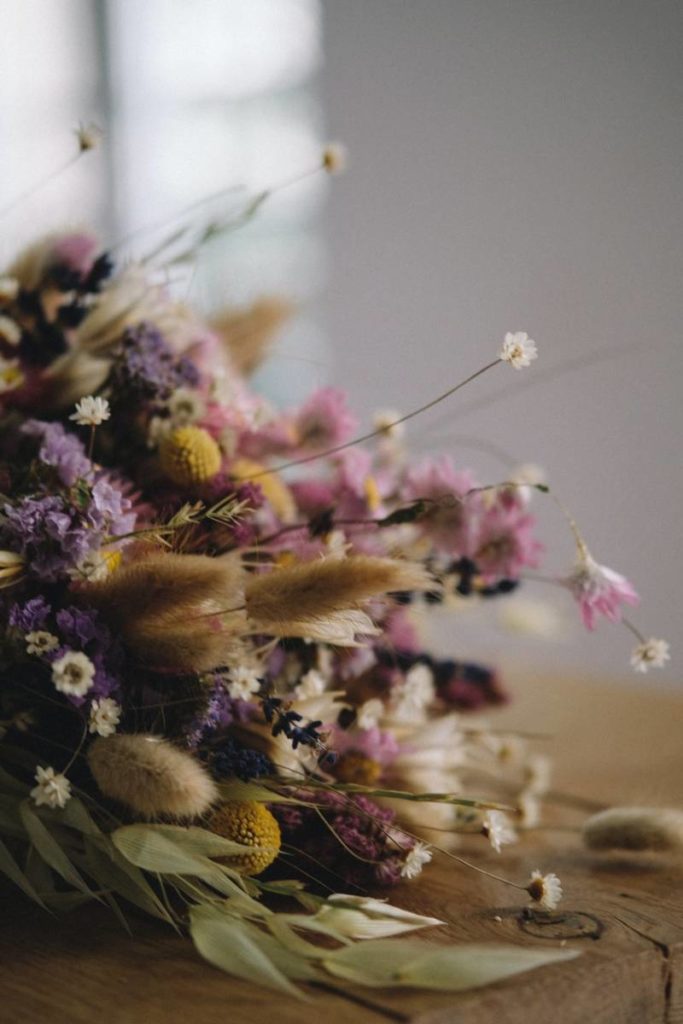 Few things are more delightful than a beautiful bouquet of fresh flowers. They're fragrant, colorful, and bring a smile to everyone's face — especially when gifted on a memorable occasion like a birthday or holiday. And while the event itself fades into memory, your flowers don't have to. These simple treatments cherish that special day by preserving the blooms that made it memorable. Once the flowers are preserved, there are myriad ways to enjoy them as keepsakes and objets d'art in home décor; repurpose them in crafts, sachets, potpourri; or use them in herbal teas or oils.
While it's possible to preserve nearly every type of bloom, some flowers stand the test of time better than others. Baby's breath, lavender, carnations, hydrangea, and the ever- timeless rose are among the flowers that preserve well. Garden blooms and herbs, including pansies, salvia (sage), larkspurs, yarrow, strawflowers, and ornamental grasses also are ideal for long-term preservation.
Here are the most popular ways to preserve your flowers:
Hang dry
The most popular method to preserve flowers is drying. And if you're short on time, air drying flowers is as quick and easy as it gets.
1. Just before the flowers start to wilt, remove them from their vase and gently press out any moisture from the stems with a paper towel. Remove dead leaves or petals; then cut the stems, leaving several inches intact, and bunch them together. Secure with a rubber band or floral wire.
2. Hang the bouquet upside down in a cool, dark closet, hallway, or another area away from direct sunlight. Gently coax the blooms downward if they are bent or twisted. Then leave to dry for about three to four weeks.
3. Once dried, use a clear finishing spray (available at most craft stores) or unscented hairspray to set the blooms in place. Conceal the rubber band with a pretty ribbon or twine and display them as you like — popped into a vase, hung on a door, or laid on an end table.
Pressing
The art of pressing flowers by flattening florals in between two hard objects dates to ancient Egypt but is perhaps best associated with the Victorians, who enjoyed pressing blooms as a regular hobby. Pressed flowers are perfect for framing, embellishing wax candles, or using them in crafts. And how fun is it when you open an old book after the passage of time and a delicate little bloom drops from the pages?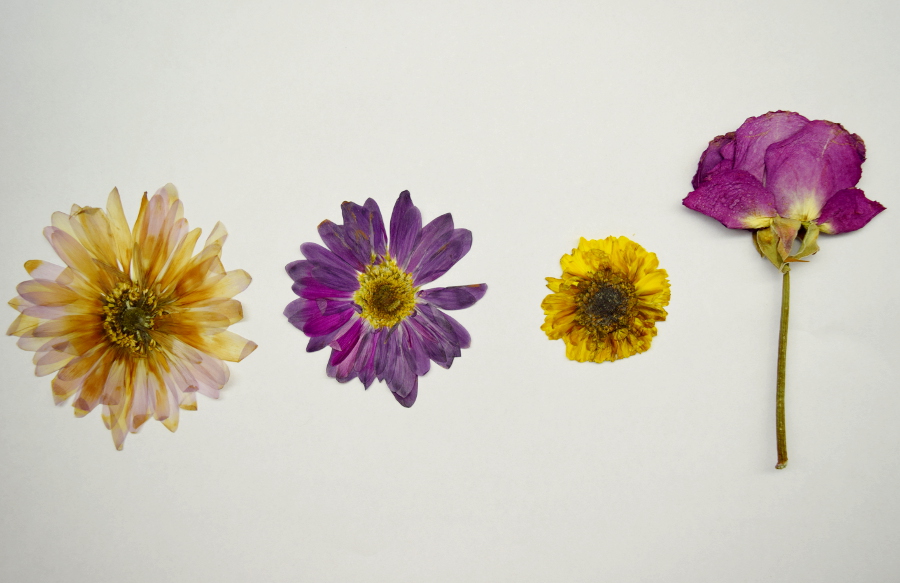 1. Separate your flowers so each bloom is isolated. If flowers have been immersed in water, snip off the wet stems and then use a paper towel to gently press out any additional moisture.
2. Place blooms a few inches apart between pieces of parchment paper. Then lay the parchment-protected blooms inside the pages of a heavy book, opened to about the halfway point. Oversized dictionaries and encyclopedias work well for this. Close the book.
3. Add additional weight by placing a few more heavy books on top of the book containing the flowers. Allow several weeks for the flowers to press.
Silica Gel
Silica Gel is available at craft stores and is ideal for when you simply want to dry flower heads as opposed to entire stems.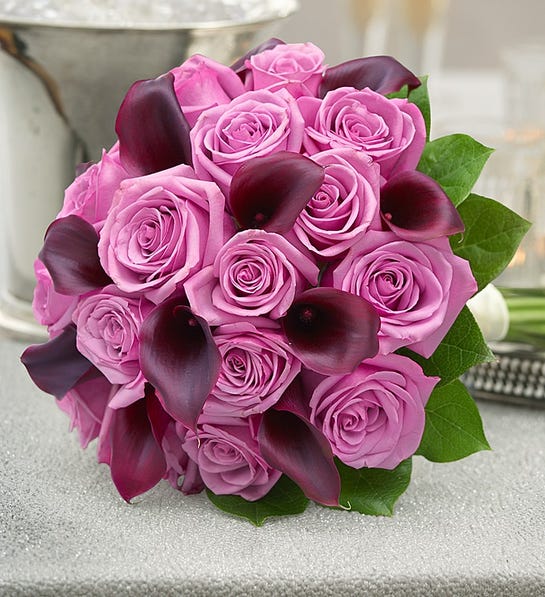 1. Snip stem from the flower head, leaving about ¼ inch at the base.
2. Fill a microwave-safe container with silica gel, covering the bottom up to 1-2 inches. Place blooms face-up in the gel. Once positioned, gently pour another inch or so of gel over the flowers.
3. Place the uncovered container into the microwave and set it to the lowest heat setting. Microwave for 2 minutes to start; then check the flowers. Continue to microwave for two-to-three minutes at a time until you are satisfied that the flowers are dry.
4. Remove the container from the microwave and cover with a lid or foil, leaving a tiny opening for the flowers to vent. Allow resting undisturbed for at least 24 hours.
5. Lift the blooms from the gel and gently shake or tap them to remove any remaining grains.
For more serious flower preservation, there are additional methods to consider, including soy wax, epoxy resin, glycerin, or professional freeze-drying—which is ideal for protecting extra special flowers like wedding bouquets or bridal-party boutonnieres.
With so many creative ways to preserve flowers, it's easier than ever to remember and cherish those special moments in your life again and again.