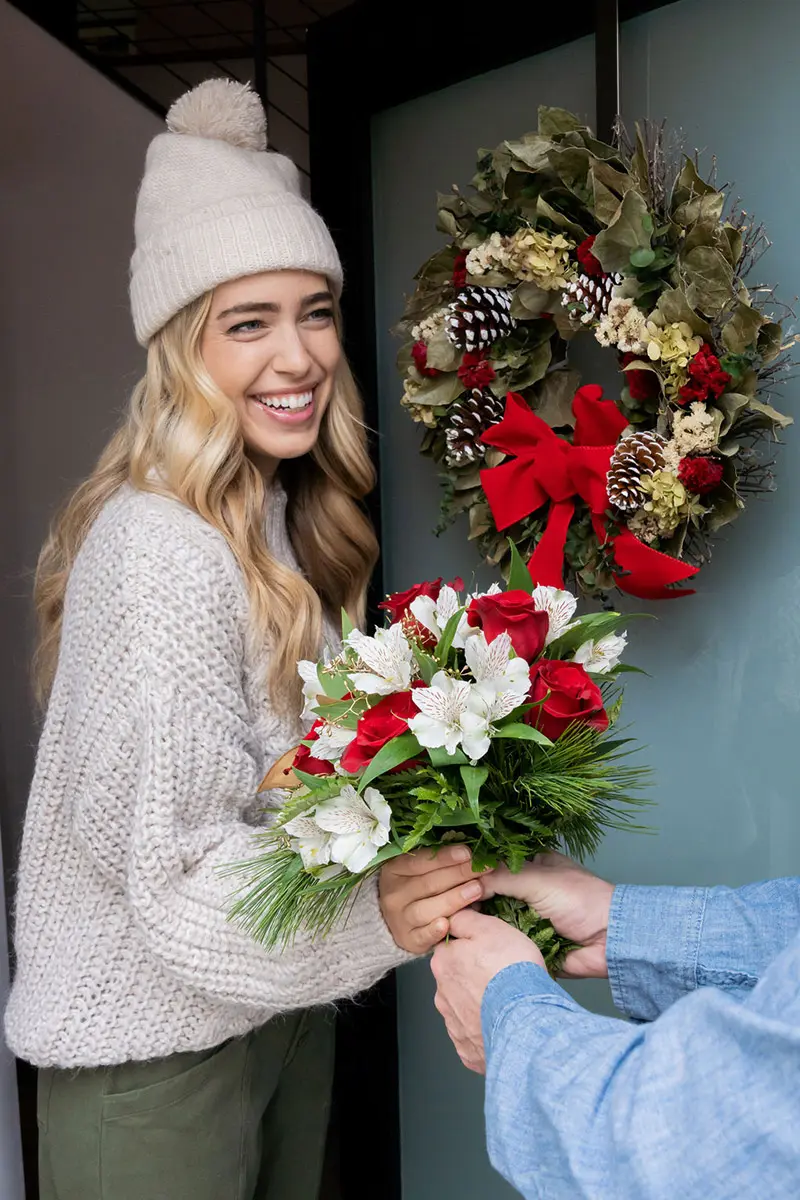 In warmer months, you might take for granted the lush gardens and green trees surrounding you. During the winter, however, the presence of greenery, live plants, or a lush bouquet of colorful blooms can literally change your life. In scientific studies and anecdotal evidence, the presence of greenery and flowers has been shown to boost one's mood, reduce depression, and create a sense of joy and well-being.
Flowers around the house
Whether your winter flower power comes from a garden greenhouse or gift of cut roses in a vase, the joy and satisfaction you will feel are hard to beat. Ever heard of a Duchenne smile? That's the kind of smile with no pretension — it is huge and bright and lights up your whole face. Researchers Jeanette Haviland-Jones and her husband, Terry McGuire, found that people gave a "Duchenne" smile more frequently upon receiving flowers than any other kind of gift. What's more, the adjunct feeling of well-being lasted for three days.
Inside the house, cultivate those Duchenne smiles by decorating with indoor plants and colorful arrangements of flowers. You may not have anything growing in the yard this time of year, but you can indulge in a few small bouquets from the florist and augment them with seasonal greenery, such as bittersweet, eucalyptus, or ivy.
When your bouquet begins to fade, don't toss the whole thing out. Instead, pick out the flowers that still have some life in them and combine them with interesting branches you may find on your walks. Your purchased flowers will bring enjoyment twice as long.
Indoor plants are a fantastic way to keep away the winter blues. You have hundreds of plants from which to choose, and you'll have a great time arranging them on your windowsills and mantel, and brightening corners in hanging pots. Dedicate an entire side table to potted coleus, ferns, and inch plants. Cluster tiny pots of succulents together on a rustic wood tray or hang them in macrame plant holders near windows.
Plants have provided nourishment and care to humans for millions of years. Instinctively, we feel better in our surroundings. Celebrate this ancient bond when the cold winds start to blow.
Indoor pretty pots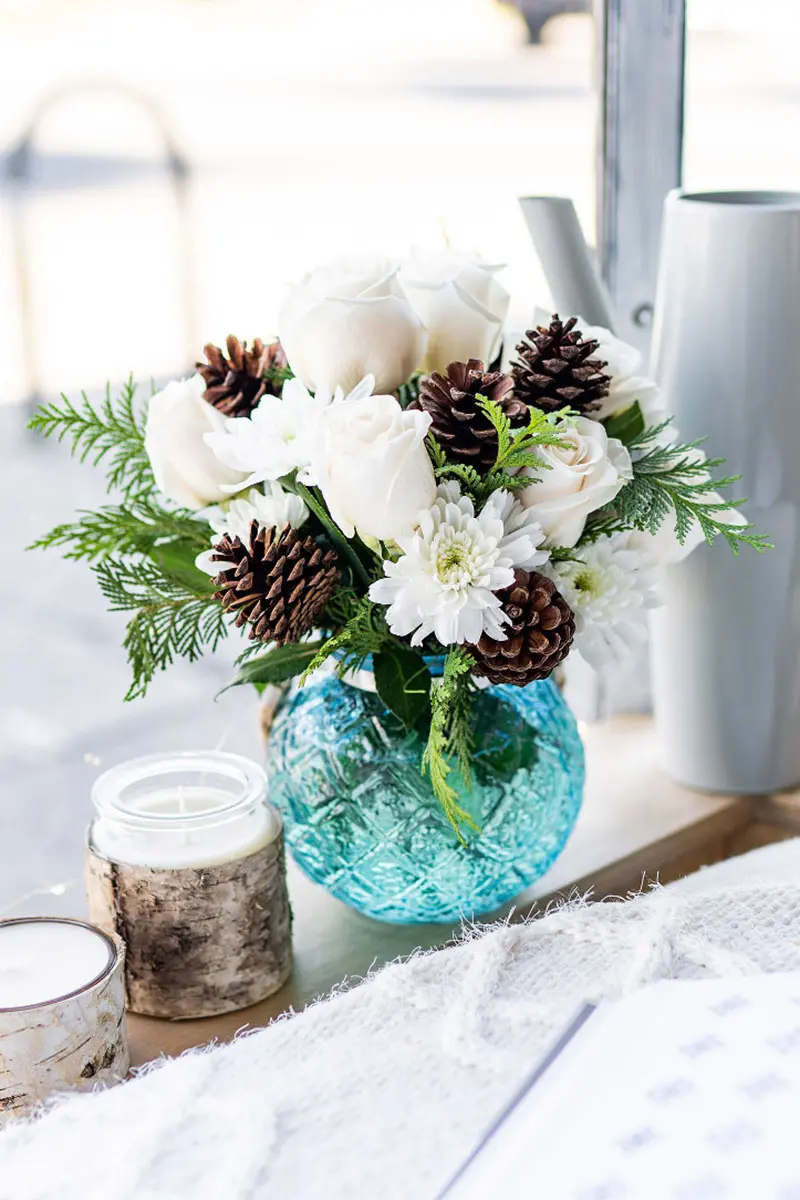 Surround yourself this winter with some lush green indoor plants. The following list includes easy-to-grow options that will thrive in most growing zones.
ZZ plant — A large tree-like plant that looks wonderful next to your sofa or in the foyer.
Hoya — Striking plants that can live for a long time, hoyas also produce small, fragrant flowers. Place a saucer of water and gravel under them for a bit of humidity.
Maiden Hair Fern — Its pale and lacy foliage may look fragile, but the maidenhair fern is very happy in low light and cooler climates.
Sansevieria — This "architectural" plant looks wonderful in modern-style spaces.
Cactus — Probably the most popular indoor plants of all time, succulents are nearly indestructible and very versatile as decoration.
Scindapsus Pictus 'Exotica' — This vining plant, with its stunning heart-shaped leaves with silver markings, makes a statement in your bedroom or even the bathroom.
Philodendrons — One of the hardiest houseplants around! Choose from vining and non-climbing varieties.
Sheds for support
Stacey Weichert knows the importance of winter flowers. An avid gardener and blogger who lives in Janesville, Minnesota, where winters are long and harsh, Weichert's salvation comes inside a warm and quiet garden shed. There, she finds solace in sprouting seeds during the winter to use for her gardening in spring. Garden sheds and greenhouses are ideal solutions for people in regions with long, cold winters. Not only do they keep people connected with their backyards and gardens throughout the year, but they also help nurture and protect plants.
Winter is the ideal planning time for next season's garden, and sometimes the planning itself provides mental stimulation. How? Simply by visualizing the masses of color that will emerge in borders, planters, and cutting gardens. If you don't have a shed, decorate your spare room or writing desk with botanical prints, potted plants, and a basket for garden magazines.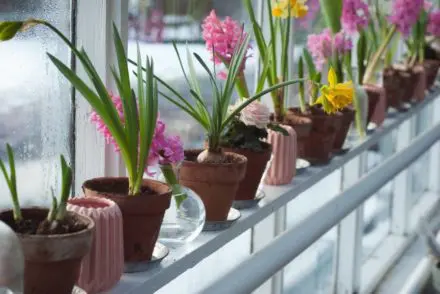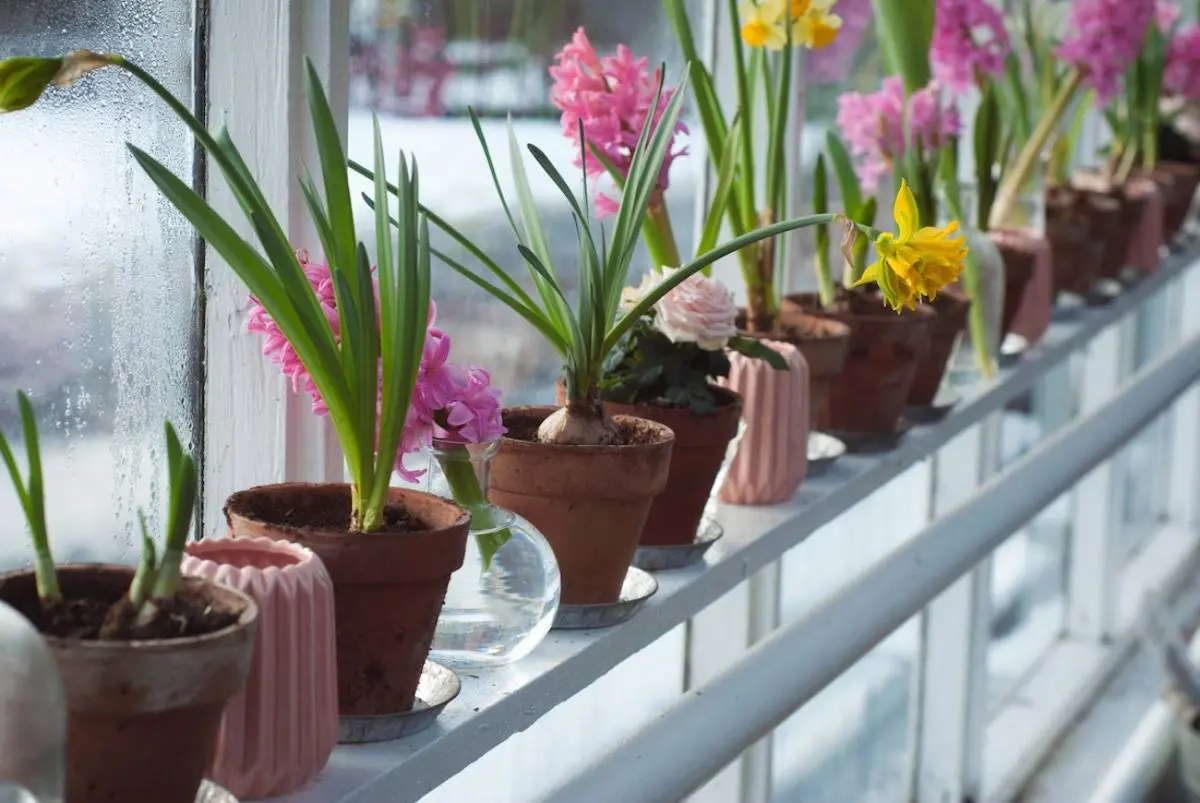 Winter gardening
Just because it's freezing outside doesn't mean you have to go without flowers and plants. In fact, winter gardening can be very satisfying, and it also gives you a great head start for spring and summer.
Here is a trick to keep yourself surrounded by flowers all winter long: Grow geraniums. Kim DeCamp Robinson, a self-taught gardener in Lakebay, Washington, discovered the joy of keeping colorful geraniums in vibrant pinks and purples around her almost year-round. She overwinters her many geraniums in pots within her iconic potting shed by gently pulling them out of their outdoor pots before the first frost. She waters and prunes them carefully to be ready for planting in the spring. Geraniums can be successfully overwintered in the house, too.
Weichert spends a great deal of time in her greenhouse during the winter. "A quick walk through a warm greenhouse on a cold, winter day can be just what you need — soak in the green colors," she says. Looking at flower catalogs, seed packets, and photos from previous gardens also keep the spirits bright. "Be sure and take good photos of your garden throughout the year," Weichert advises.
Flowers by the month
Just like the requisite video subscriptions or gym memberships, flowers are also available for a guaranteed monthly presence. Choose from one of three floral subscriptions, and then select how often you want a creative and fresh arrangement to be delivered right to your home. That way, you receive the benefits of winter flowers with just one simple order.