Did you know that Responsible Dog Ownership Day is in September? For all you dog moms and dog dads out there, we know that you probably view every day as an opportunity to give your pet the best possible care there is. But in honor of this observance, we're touching on one more task you may not have given much thought to before – gardening with your dog.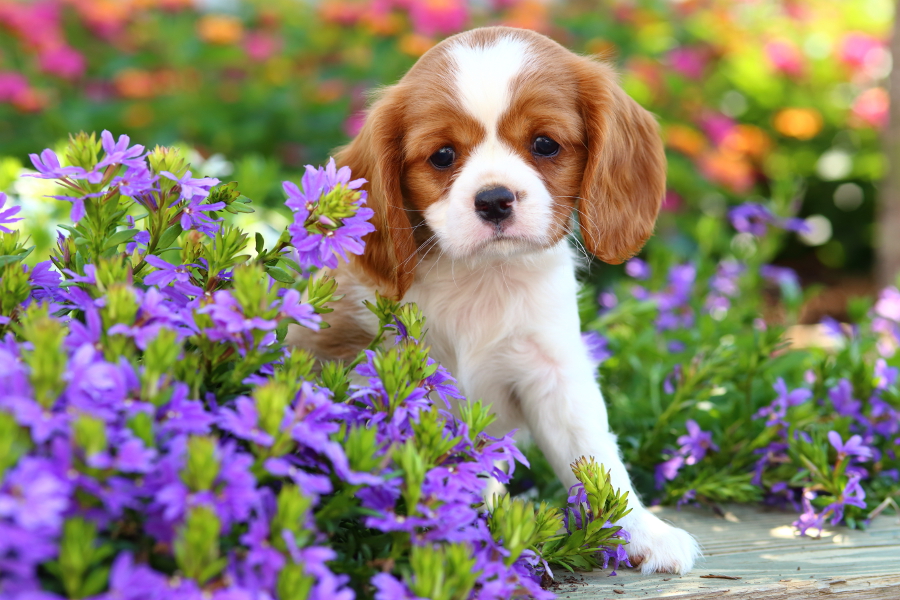 Even though the summer is coming to an end and you may not be spending as much time in your garden as you did in the past couple of months, there are certainly plants and flowers that thrive in the fall – if you're like us, that means you'll definitely head out to the garden at least a few more times before the cold really sets in! And should your a-DOG-able pet be joining you as you head outdoors, here are a few tips to help keep them safe:
Be mindful of fertilizer:
Of course your plants need food to thrive, but just like you wouldn't indulge in theirs, neither should your pets. In fact, if your dog consumes any of the fertilizer you put down in your garden, it could really take a toll on their stomach. As a result, your best bet is to keep dogs away for a while after tending to your plants and flowers – your garden and your dog will thank you!
Steer clear of cocoa bean mulch:
Although this type of mulch is known to produce a chocolate-like smell (yum!) and looks great in any garden, it too can cause trouble for your furry friends. Known to contain theobromine, which is toxic for dogs, this gardening product could lead to health problems (such as vomiting and muscle tremors) in your pets.
Clean up after yourself:
Always make sure to put all gardening tools back in their proper place. Even though some may be small, they can still be sharp and harmful to dogs – ouch! Same goes for the plants and flowers themselves. If you haven't finished with your work but plan to return to it later, store leftovers at a height that your pets can't reach; even if they are pet safe plants, plants and pets may not always be a good mix if you'd like to avoid a mess!
Research plants and flowers first:
Last but certainly not least, one of the most important things you can do to ensure your dog is kept safe in your garden is by researching which plants and flowers are safe for pets. While you may be a fan of azaleas, hyacinths or larkspur, it's important to realize that certain parts of certain plants may be poisonous for dogs. Therefore, if you have a dog at home, your garden should always be filled with pet safe flowers and plants only!
At the end of the day, we know gardening with your dog – or any pet for that matter – can be a fun way to spend some time with the animals you love the most; just ensure their safety by keeping the above tips in mind!