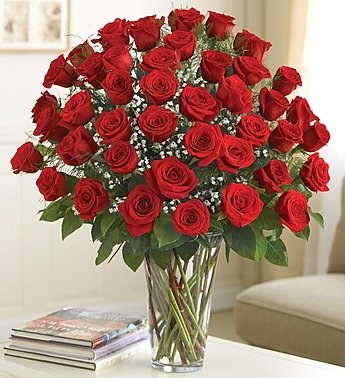 The better you care for your roses, the longer you will enjoy their beauty. Roses can be purchased from many sources, but the best place is from a professional retail florist. Rose care starts at the farm and ends with you; it's what happen in between that makes the difference.
How to Care for Roses Delivered in a Gift Box
If you receive your roses in a box, open the box immediately and place the roses in a vase with tepid water until you're ready to arrange them. If the roses arrive already arranged, carefully unwrap and check their water level. The vase should be at least 3/4 filled; add water if needed.
With boxed roses, check to see if there are guard petals of the rose. "Guard petals" are protective petals on the outside of the rose head. They may appear as a green/white section of the petal. If unappealing to your eye, carefully remove these petals. New research states that by removing the guard petals, the rose may open faster than normal.

Rose Water & Cutting Tips
While gently handling the roses, remove any of the leaves that will be below the water level of the vase. Cut the stem at an angle, at least 1-inch from the bottom, and place it in your vase. Leaves or foliage of any kind will cause bacteria in the water and clog the newly-cut stem.
When removing foliage from a rose, clip off the leaves, rather than pull them off. Pulling off the leaves may scar or cut into the bark of the rose which would not allow for proper water absorption.
How to Add Flower Food (And How to Make Your Own!)
Now, in a clear vase, add warm water (bath temperature) ¾ full and add your flower preservative. If for some reason you didn't get flower food, make your own: one capful of household bleach, one capful of mouthwash and 1 tsp. sugar. (One capful of non-diet lemon-lime soda works just as well as sugar. The bleach keeps the water bacteria-free as well as clear. The mouthwash keeps the acidity of the water stable, and the sugar acts as a nutrient for the rose.
Arrange your long-stemmed roses in the prepared vase one at a time. Cutting them under water or not, is disputed by some. I prefer cutting the roses under water. After you have arranged all the roses in your vase, finish your rose arrangement by adding the filler and foliage you received with your flowers. Remember to keep all foliage above the water line to keep your roses lasting longer.
When no one is at home to enjoy them, keep your roses in the coolest room, out of direct sunlight. This can be done at night as well; this practice will add days to the life of your roses.
How to Keep Your Vased Roses Lasting a Long Time
To keep your roses as fresh as possible, you will want to make sure to change the water and re-cut the stems after two days or so. Cut the roses one at a time not disrupt the design. If you notice any of your roses starting to bend at the neck, re-cut it and place it back in the vase, or go to our blog on "Bent Neck Of A Rose" to find out how to save roses with bent necks.
Remember, another way to spell love is R-O-S-E, no matter the color!


If you liked this article, you may also be interested in some of our other Petal Talk articles from 1-800-FLOWERS.COM Expert Jerry Rosalia:


· DIY Mother's Day Crafts: How to Make a Mother's Day Floral Arrangement
· How to Make an Easter Floral Arrangement
· How to Make A DIY St. Patrick's Day Floral Arrangement
· Winter Plant Care Tips: How to Care for Plants in the Cold Weather
· Keeping It Green: How To Keep Plants Alive
· How To Repot A Plant
· How To Arrange Flowers With A Gridded Vase
· Rose Care: How to Save Roses with "Bent Necks"
· How to Make a DIY Halloween Flower Arrangement with Halloween Candy
· Learn more about Jerry Rosalia and his 58+ years of experience in the flower and plant industry!