Ever find yourself writing an email, a thank you letter, a birthday card, or a congratulatory note and stop before you even have one word written down? Or maybe you've gotten through everything but feel stuck just as you're about to end things. Depending on your relationship with the person you're writing to, we know it can get tricky when deciding how you'll address them at first and sign off at the end. But don't worry – we've got a list of salutations and complimentary closings that you can refer to if you ever get stuck again!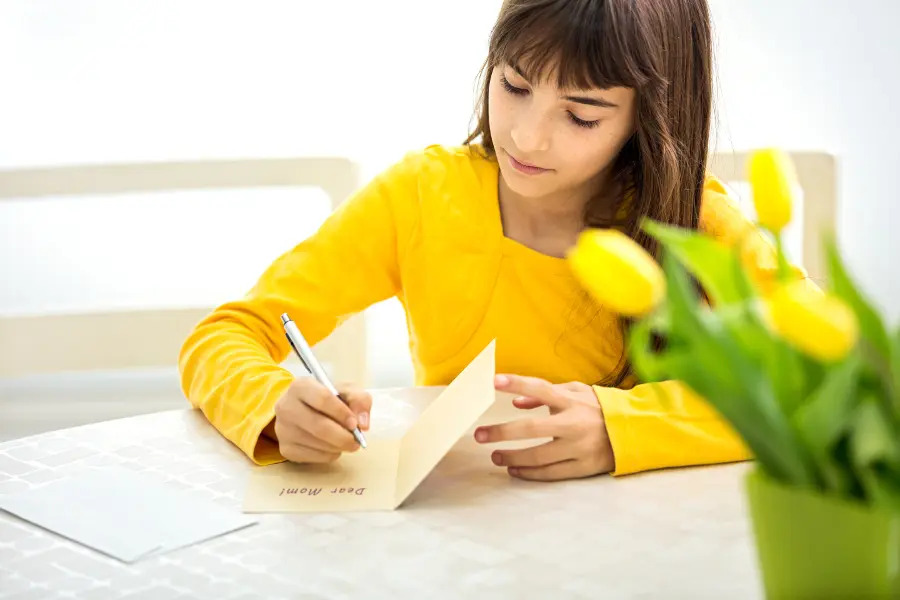 Business
Regardless of whether you're writing to your boss, a prospective employer, a client, a customer – anyone in the business world, really – you'll want your opening and closing statement to reflect your professionalism. When you first address your recipient, consider one of the following:
Dear [Name],
Dear [Name]:
To Whom It May Concern,
Good Morning/Good Afternoon [Name],
Hi/Hello,
Then, when it's time to finish your email or letter, choose from one of these closings:
Thank you/Thanks,
Best,
Best regards,
Warm regards,
Sincerely,
Bonus tip: When addressing someone in business, carefully consider whether you should use their first or last name – this you can determine based on your professional relationship.
Thank You
We say thank you for a lot of reasons, and one of the most important things to do in a thank you card or letter is to be sincere! We'd recommend similar opening greetings for thank you notes as we did for business communications (see above), but here are some different closings you may want to choose from:
Many thanks,
Yours truly,
With gratitude,
Kind thanks,
With thanks and appreciation,
Love and Romance
Love and romance cards, notes and letters allow you to get a bit more personal. While you may prefer to stick with the classic "dear [name]" as you address your recipient, some other openings that work well under this circumstance are:
My Beloved [Name],
To the One I Love,
Dearest [Name],
To My One and Only,
My Dear Sweet [Name],
After you've put together the body of your love letter, here are some sweet and romantic options for signing off:
Love always,
Always and forever,
All my love,
Xoxo,
Hugs and kisses,
Sympathy
Sympathy cards can be some of the most difficult to write in general, and considering the situation, you want to make sure that your opening and closing statements are sincere and considerate. Under these circumstances, you'll want to stay away from casual greetings such as "hi" – instead, stick with salutations such as "dear," "dearest," or even begin just by addressing your recipient by name. Once you're ready for your closing, here are a few suggestions to choose from:
With sympathy,
With prayers and sympathy
Thinking of you,
God bless,
My sincere condolences,
Congratulations
From graduations to engagements, weddings, babies, and more, anytime there's a reason to celebrate, why not put your excitement in writing? Your greeting will have a lot to do with who you're celebrating – for example, if it's a loved one, you'll likely choose a salutation from our "love and romance" section. However, if it's a co-worker you're writing too, you'll want to keep things more professional and choose a salutation from our "business" section. Then, regardless of who you're writing to, select one of these closings:
Best wishes,
Warmest congratulations,
All the best,
All life's best to you,
Congratulations and best wishes,
Birthday
Last but certainly not least, we couldn't forget about birthday cards! We suggest you follow the same advice here that we gave in our "congratulations" section – if you're addressing a close friend or family member, you can get more personal, but, if you're addressing a co-worker or someone that requires you to be more formal, stick with greetings such as "dear [name]." For your closing, we suggest one of the following:
Warmly,
Lots of love,
Best wishes,
Love,
From,
Remember, as we've said a few times, the most important thing to do when choosing your opening and closing is to think about your relationship with the person as well as the situation – these two factors all heavily impact the nature and tone of your communication!