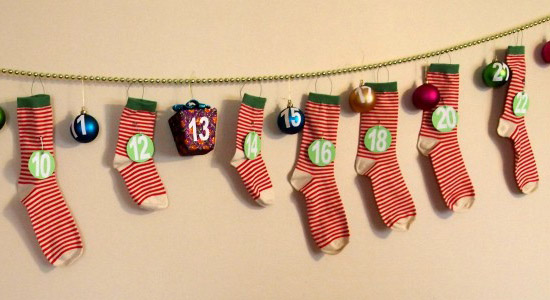 For some people, Christmas starts when they wake up on Dec. 25 and start exchanging presents with loved ones. But, as with the best things in life, it's the journey, not the destination, that counts.
We believe that the granddaddy of all holidays isn't just one day but comprises a full 25 days of merrymaking! And one of the most fun ways to count down to the big day —and make the most of the season — is by crafting a DIY advent calendar.
But this isn't just any advent calendar; it's made with, get this, socks! Festive red and green Christmas socks, to be exact, just like the kind the elves wear.
The best part is, the whole thing takes just four easy steps to put together…five if you're starting with dirty socks. Wash them first!
Materials needed for DIY advent calendar
9-foot string of beaded garland
White and green cardstock
Scissors
Glue
Pack of 12 regular-sized Christmas ball ornaments
One oversized ornament in a fun shape of your choice
6 pairs of Christmas socks
12 safety pins
Floral wire
How to make a DIY advent calendar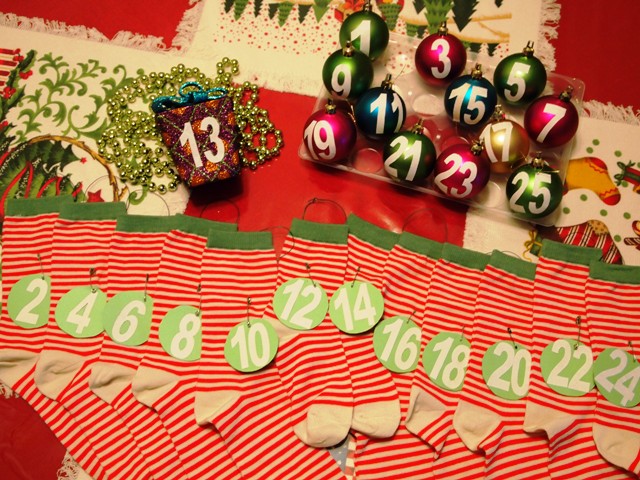 Step 1
Using scissors and white cardstock, trace and cut out the shapes of the numbers 1 through 25. Glue the number 13 onto the oversized ornament and each remaining odd number onto a smaller ball ornament. Then, glue each even number to a piece of cardstock cut into the shape of a circle and attach it to a Christmas sock with a safety pin.
Step 2
String up the garland across a bare wall or fireplace mantel. Make sure it is secure enough to hold up all the ornaments.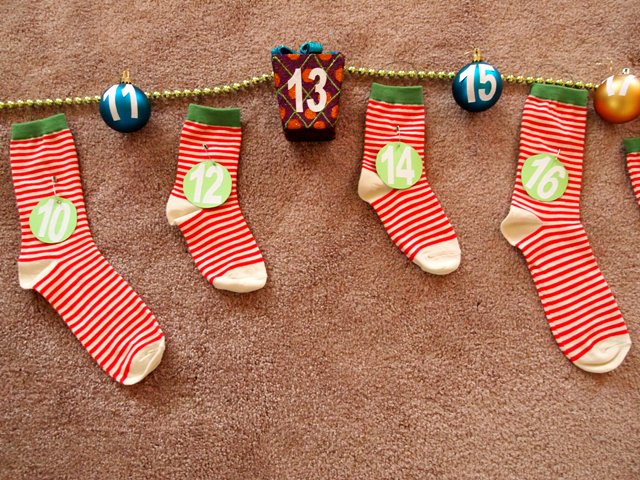 Step 3
With floral wire, hang each ornament and sock on the garland in numerical order. Start with the number 1 at the left end of the garland and work your way up to the number 25. The order of the ornaments and socks will alternate, with the oversized ornament sitting directly in the middle.
Step 4
Fill each sock with candy or a small trinket for each member of the family.
---
And there you have it: A daily countdown that will fill Christmas — all 25 days of it — with even more joy, excitement, and anticipation.