Good news if you enjoy having friends and family stay overnight: This season your guest bedroom can be revamped so it's more than a place to store that unused exercise equipment (ahem). In fact, as entertaining for the holiday season ramps up, it's the perfect time to show your spare bedroom a little love.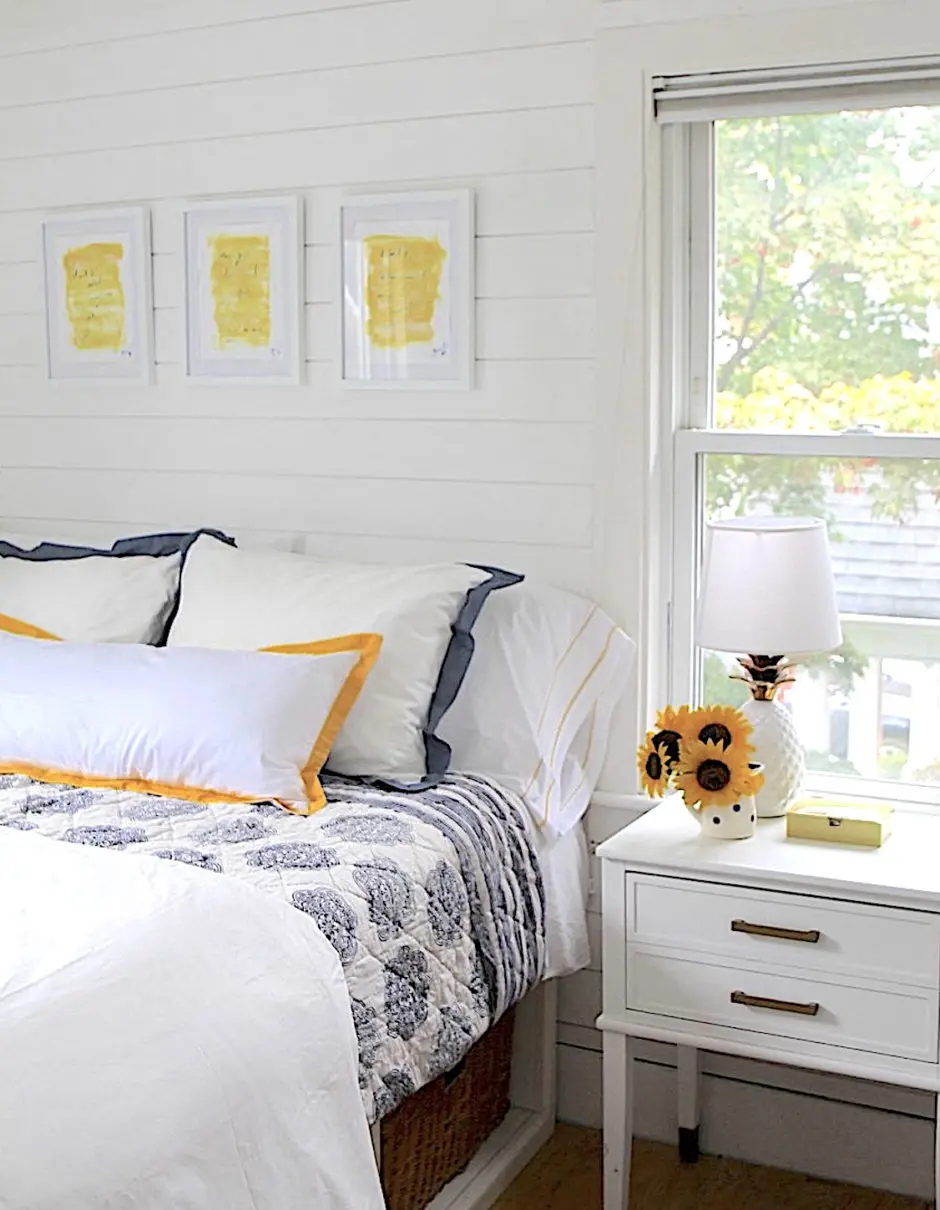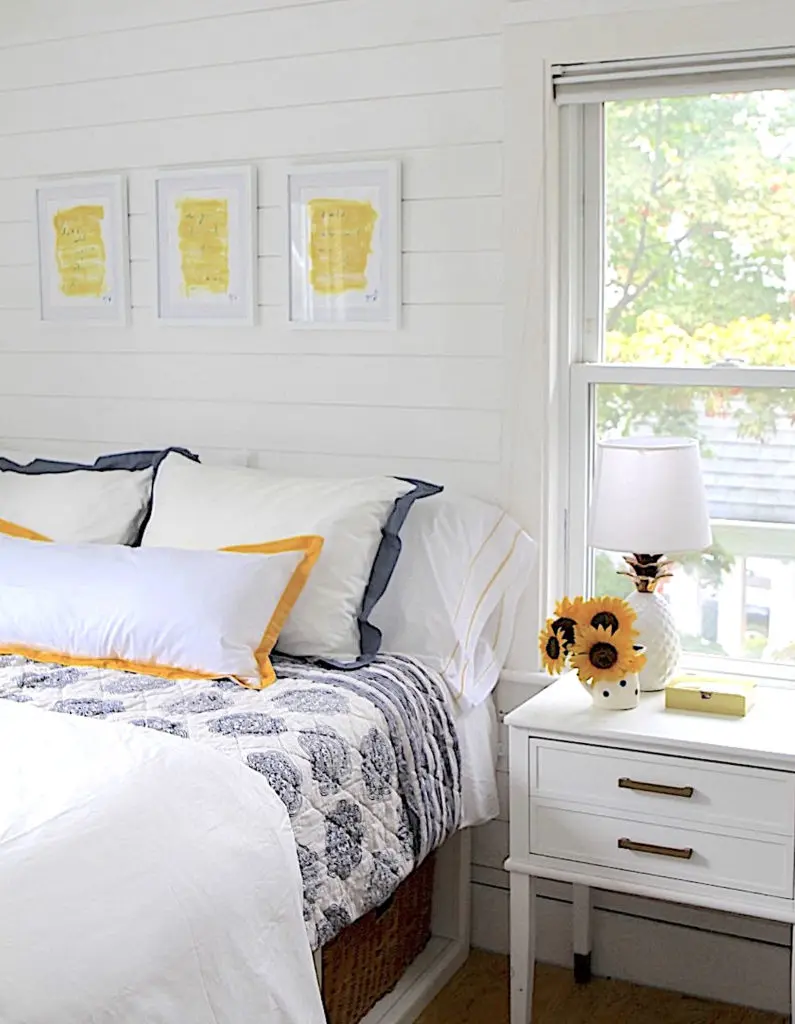 The design of a guest bedroom can be a challenge, since your guest's comfort has to be front and center, and you want them to feel at home. It should have a balance of cozy touches while also being clutter-free. Use a hotel room as inspiration when creating the ideal guest sanctuary: The best hotels masterfully address a visitor's needs while adding welcome personal touches like flowers and spa robes. Here are simple guest bedroom tips for creating a well-designed and comfortable haven:
1. Design
Start planning your guest bedroom by finding inspiration in your go-to social media home decor feeds and interior design magazines and on websites. Create a mood board of your favorite styles, then begin by sourcing needed pieces or finding ways to use what you have to create the desired look. Don't want to shell out for a major redesign? Simply update existing furnishings with a thorough clean and fresh paint.
2. Edit the room
The uncluttered design of a hotel room spotlights the amenities on offer. Use the minimalistic hotel design formula as inspiration for your guest room's scheme. Keep the room pared down to essential furnishings (no personal knickknacks that make a guest feel like, well, a guest), and make sure all accessories serve a function or add decorative detail, like plants.
3. Furnishings and accessories
If you are buying new furnishings, it's important to consider style and organization. End tables are handy for added storage if they come with drawers, and they are essential for placing a bedside lamp, glass, notepad, and clock. Perhaps consider a television set for late-night viewing. If you have room, include a desk to create a makeshift workplace. An empty closet and bureau are also essential so guests can stow their belongings, and a lined trash bin is another must. Add a stunning piece of wall art to anchor the room, selecting a piece with colors or patterns that match the room's design. A unique ottoman is perfect for placing a suitcase or as impromptu seating.
Pro tip: A full-length mirror is useful for guests, and mirrors also add to the design, create the illusion of more space, and brighten the room.
4. Keep to your home's design
The itch to experiment with trends in your guest bedroom design is enticing, but don't create a look that's a complete departure from your home's style. It would appear out of place if you have an edgy, ultramodern room in a traditional home, for example. The best way to sample trends is with artwork, linens, and other nonpermanent accents.
5. Linens
Bedding is an opportunity to add color, pattern, and comfort to the room. Choose linens that are both durable and cozy. "There are so many great bedding options available now that you can affordably buy quality sheet sets," says Jodi Lahaye, owner of Hedgehouse, which sells fine linens. "I'm not a slave to thread count, but 200 is where I start, and Egyptian cotton percale is my favorite."
Boost the bed's comfort factor by including a variety of sheets and blankets for a layered, relaxing feel. A throw at the foot of the bed brings in a warm detail. And talking of warmth, keep an extra blanket stashed in the closet in case temperatures drop and there isn't a thermostat for your visitor to adjust.
6. Pillows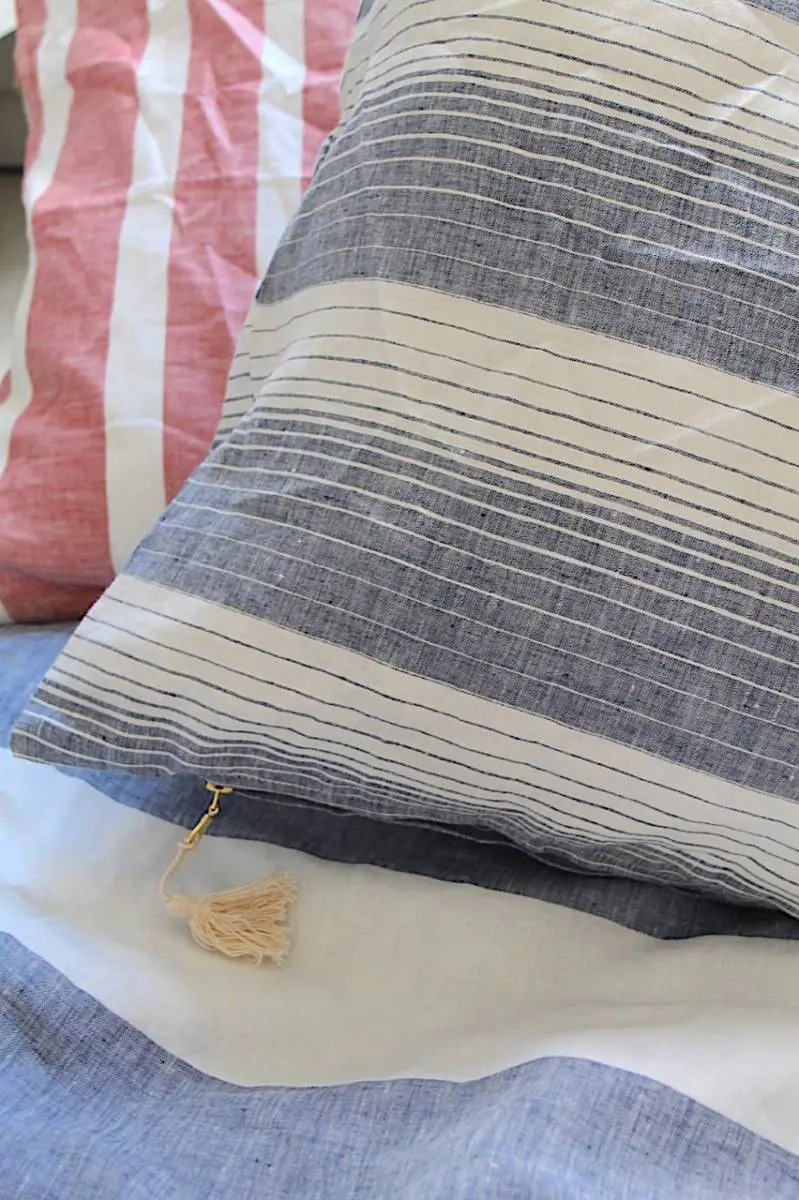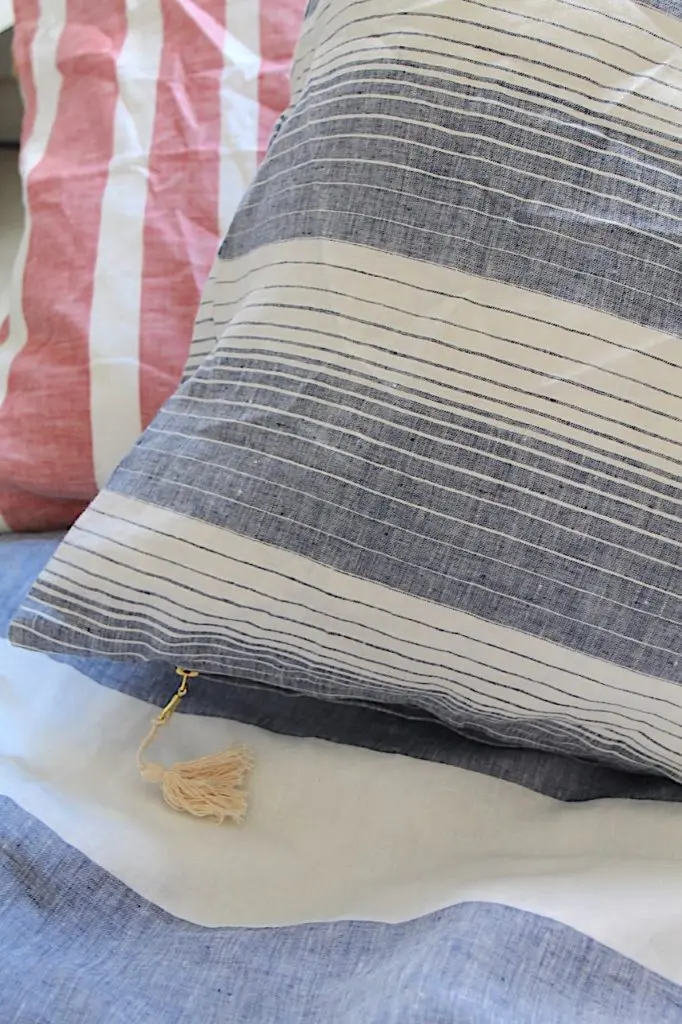 Since your guest bedroom may have limited space, create a hybrid seating/sleeping area using the bed. Back to that hotel room: Their beds are made with two or three rows of different-size pillows. Follow their lead, and place the larger pillows against the headboard followed by standard-size pillows, with a decorative pillow in the front. A variety of sizes adds comfortable options and also creates a decorative effect. Here's a handy pillow size guide to help you place orders:
Euro: 26″ x 26″
King size: 20″ x 36″
Standard size: 20″ x 26″
Decorative throw pillow: From 12″ x 12″ to 18″ x 18″
Lumbar: 14″ x 22″
7. Towels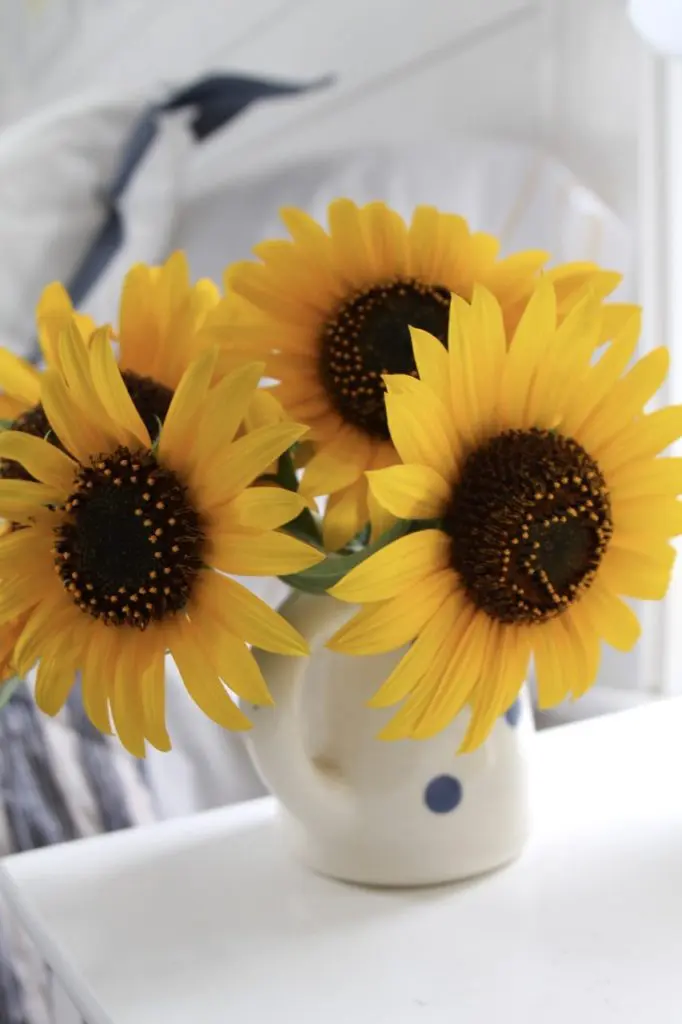 Provide a full set of towels, which includes a finger, hand, and bath towel. If the guest is staying more than one night, have a laundry basket for used towels. An added luxury: Keep a hotel-grade bathrobe and reusable slippers in the closet.
Pro tip: Heat towels in the dryer, so guests have warm towels when they arrive.
8. Fresh flowers
We're willing to bet that the first detail a guest will notice when they arrive is a stunning flower arrangement. Flowers are that added detail that shows care, thought, and an appreciation for beauty. They'll also make for a great conversation piece and stunning prop in your photos together.
9. Lighting
Keep window shades open. Natural sunlight creates an inviting space and makes the room appear larger. Supplement with a good overhead light and bedside lamps. Window treatments let guests adjust the light to their preference.
Pro tip: Clean windows with a mixture of vinegar and water. Just spray onto the windows and use newspaper to rub away the solution. It removes the smudge!
10. Spa experience
Let your guests indulge in a spa experience. Provide a spa kit, candle, and diffuser to encourage relaxation. Interested in massages? If you know of a local masseuse who makes house calls, provides their cards or contact information — it could prompt a fun activity!
11. Snacks & beverages
Leave a tray with nourishing light bites and beverages. Travel works up an appetite, and guests will appreciate the beautiful arrangement of delicious snacks. A combination of both healthy foods and a sweet chocolate treat appeals to even the finickiest of eaters.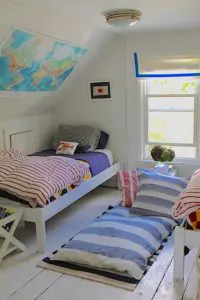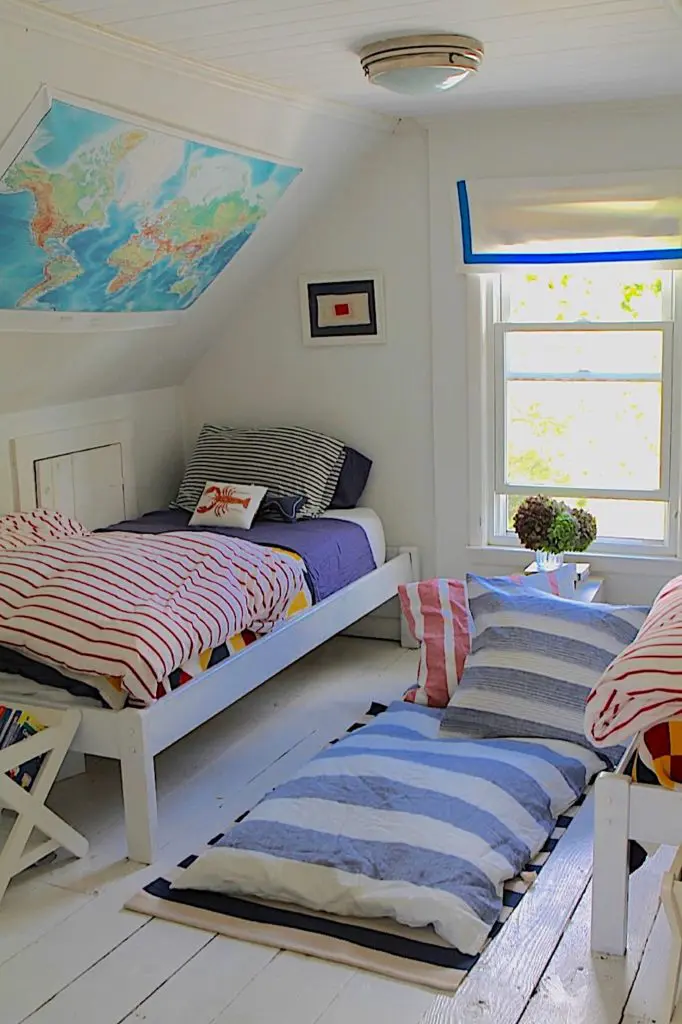 12. Leisure amenities
Store classic entertainment pieces like puzzles, games, reading materials, and notepads out of the way in the bottom drawer of a bureau or media cabinet. Let guests know that they are welcome to use and enjoy them.
13. Creative sleeping quarters
Expecting a large number of guests who need to be accommodated? Be creative with your space and design alternative sleeping quarters that are inviting and cozy. Sure, the air mattress is a convenient option over the spare sofa, but some may want to sleep on something with a little less bounce. A comfortable, grown-up option is a feather throw bed strewn with large soft pillows. "I'm always referring to the throw bed as the Swiss Army Knife of home textiles," says Lahaye of Hedgehouse, which is known for its ultra-comfy throw beds with durable washable covers in simple striped patterns or denim.
Pro tip: Add string lights above the bed for an enchanting effect.
14. House notes
In a notebook, pad, or emailed document, list important information such as Wi-Fi codes, rules (and quirks) of the home, and any helpful details, like suggestions for cool coffee shops or parks and museums. This simple gesture will help your guests feel both at home and on vacation. They may feel so pampered, don't be surprised if they ask for another invite!