Written by our Founder and CEO, our Celebrations Pulse Sunday Letters aim to engage with our community. From sharing stories to welcoming your ideas, we want to help you to express, connect, and celebrate the important people in your life.
In recent weeks, we've written about best friends and the power of friendship. Today, we're focusing on a unique kind of companion – pets!
Whether your pet is a dog or cat, a rabbit, a lizard, or a turtle, you've probably felt the benefits of animal companionship. Besides being loyal and uncritical, pets have been shown to decrease loneliness and stress, help us get out of the house and exercise, and lower stress, blood pressure, and cholesterol.
Last month, we asked our community to send us stories about their pets. And once again, we were humbled by the number of responses. To celebrate National Dog Day this Friday, we're sharing a few tails of canine companionship. (We're saving stories about cats, turtles, hamsters, and others for a future letter!)
A Greyhound racer
Mary, a community member from Virginia, shared the story of Penny, a Greyhound that she and her daughter rescued. Penny participated in dog races in Arizona, and when that track closed, there was no place for the dogs to go. A greyhound association jumped in and connected Mary and her daughter with Penny.
Penny's care became a group project that strengthened Mary's relationship with her daughter. During the day, Mary, who is retired, took care of Penny while her daughter worked. And when her daughter returned from work, she took over care of Penny until she had to return to the office.
Mary said Penny was truly a love and provided much pleasure, companionship, and devotion. Unfortunately, Penny developed an infection and after six wonderful years, Mary and her daughter had to put Penny down.
A rescue from Puerto Rico
John from New York also praises the love and devotion of rescue dogs. He and his partner had one picked out when the rescue agency called to say that the dog was no longer available. But the caller said another rescue had become available – a dog named Freddy that had been discovered in Puerto Rico cornered in an alley as teenagers threw rocks at him.
When the agency sent a picture, Freddy looked so sad, so we agreed to adopt him on the spot. It was the best decision we've ever made!

– John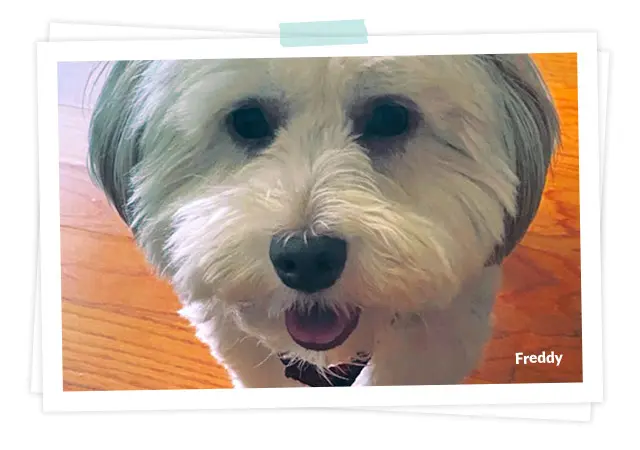 John says it's obvious how much Freddy loves and appreciates them for saving his life. Freddy is remarkably behaved and loving to a fault. He does, however, have problems with strangers, and John surmises that it's because Freddy was probably brutally bullied. That said, Freddy is fiercely protective of his daddies.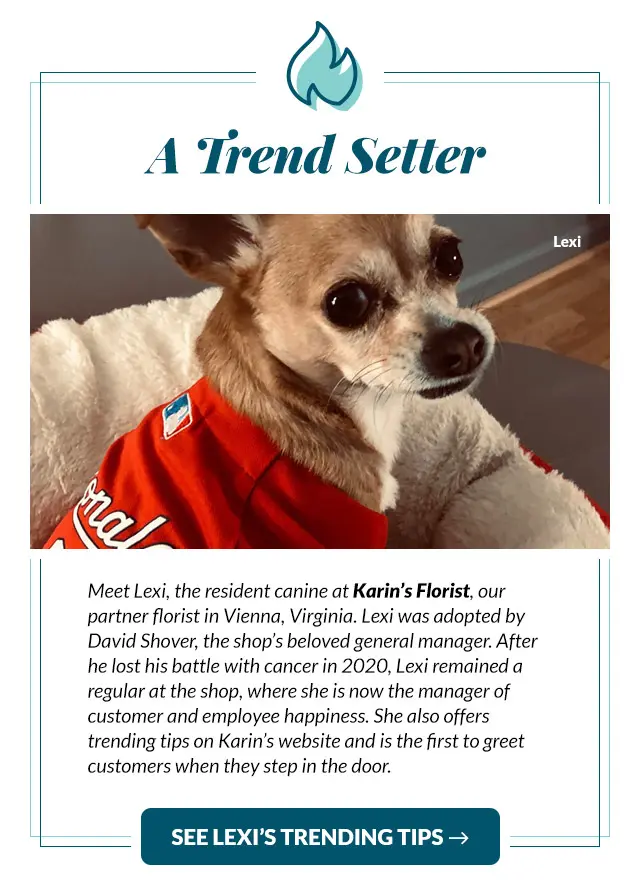 Canine Companions
Anne wrote to us about Canine Companions, a wonderful program that we mentioned back in July. The organization is the leader in the service dog industry, and its dogs are trained so that others can live with greater independence. They provide service dogs to adults, children, and veterans with disabilities.
Anne explained that she and her husband have had many pet dogs over all our years. However, their lives changed when they learned about Canine Companions back in the 1990s. They became puppy raisers and are currently raising their 14th pup, Anchor. This month, Anchor will return for advanced training before he's placed in service. Anne says their 15th pup will come next month.
Anne said that these dogs have changed their lives in many ways, and that she and her husband have met a whole group of new friends and family through Canine Companions. She added that each pup has gone on to graduate and then has introduced Anne and her husband to his/her new family since graduates often keep in touch with puppy raisers.
Anne and her husband have two pet dogs which were pups that they raised that did not become service dogs. She said all the pups have had a major impact on their lives.
Supporting Canine Companions
In the months ahead, the McCann family expects to be working with Canine Companions to sponsor a future service dog. Over the next two years, we'll share updates on the dog's progress, from its birth and training to its final placement with a person in need of a service animal.
What Canine Companions does is remarkable. The benefit to the individuals who receive these dogs is remarkable. I think that everyone who touches this process along the way is doing really good and important work. We want to shine a light on it and share this family activity and life lessons with our broader community.

– Jim
We hope you enjoy this McCann family adventure in upcoming editions of the Celebrations Pulse. And if you have ideas for what to name the puppy, please share them with us.

Thanks to everyone who reached out to tell us about your special furry friends. And this Friday, on National Dog Day, do something special for that special dog in your life. They will be sure to jump up and down and give you plenty of kisses in return.
All the best,
Chris and Jim