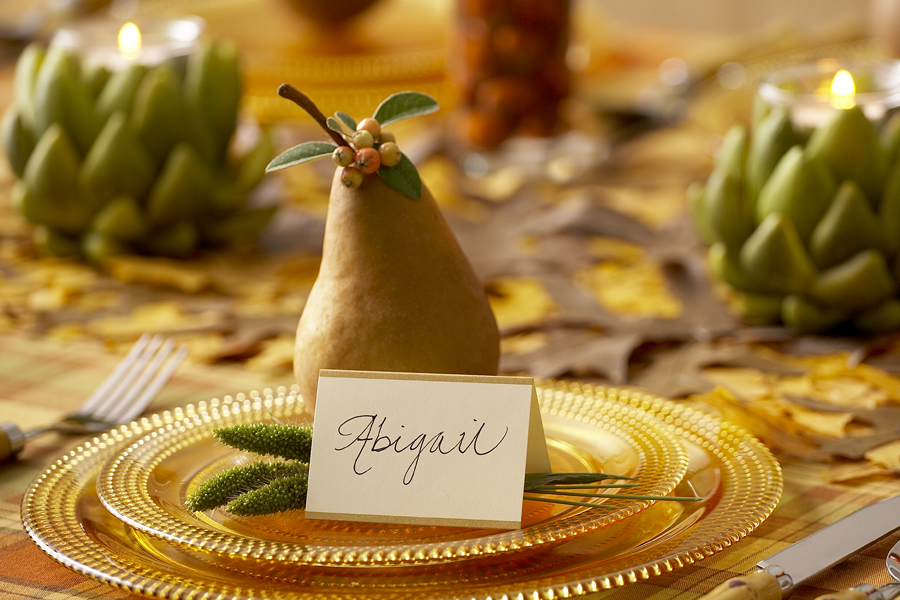 Think of your tabletop as a blank canvas on which you will create your "tablescape" art. You choose your mediums as any artist would—your surface, linens, flowers and candles. The layering of colors and textures, adding personal touches, all play a part in the delight and ambiance that a beautifully designed table brings to a special occasion. Go as big or as simple as you want! This is your masterpiece, and should represent you and tell the story that you want told.
Let's start with simple! Here are a few easy, creative and inexpensive ideas that I hope will provide some inspiration to get you started on your tablescape art.
Fresh Flower Wreath Centerpiece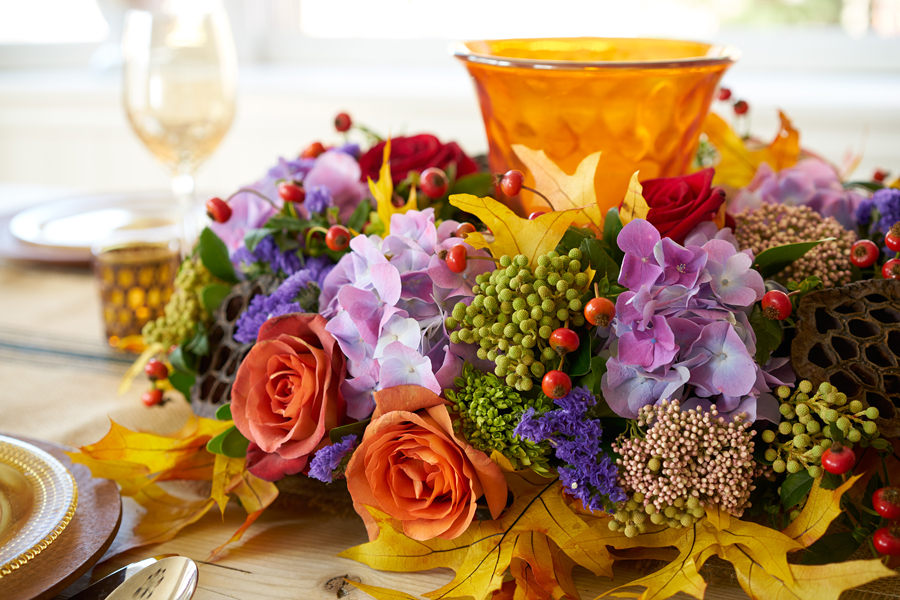 Wreaths are one of my favorite design styles for a more traditional centerpiece. Having the center of the wreath open provides endless opportunities for additional personalization. Here I used a beautiful amber Fenton glass vase as a candleholder. I think the amber glow is the perfect complement to the rich hues of the seasonal flowers in the wreath.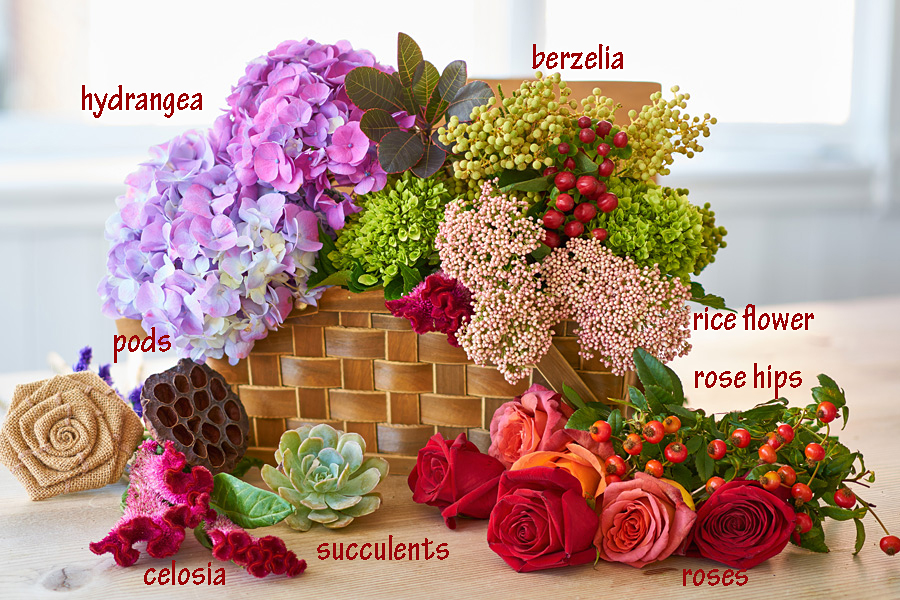 When creating a fresh floral wreath I like to use flowers that air-dry nicely. Using flowers such as the varieties featured in this photo can extend the "life" of your centerpiece by weeks.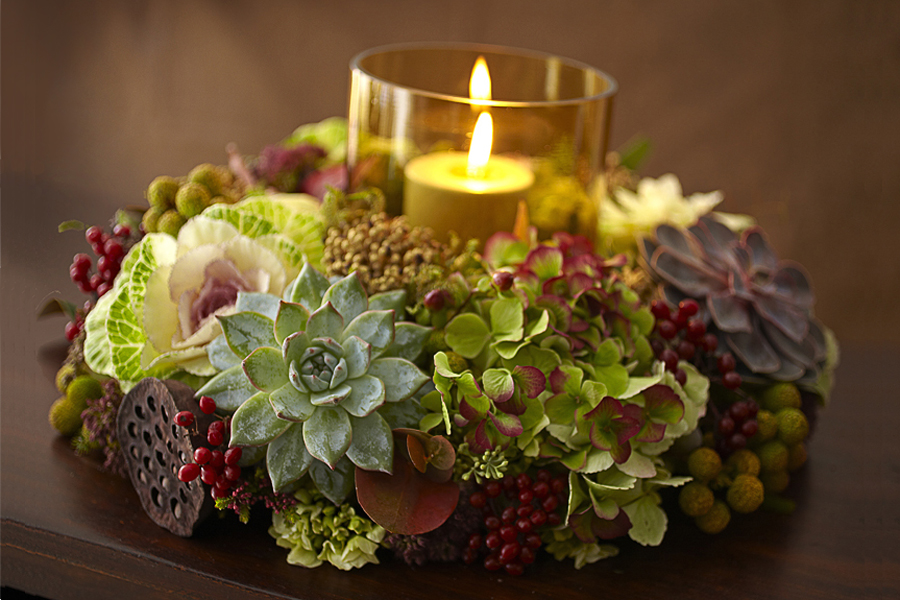 Some varieties of hydrangeas dry better than others. The variety that dries the best and is featured in the wreath pictured above is known as an "antique hydrangea". It is typically soft moss green with burgundy edging and works beautifully with all of the rich colors of autumn.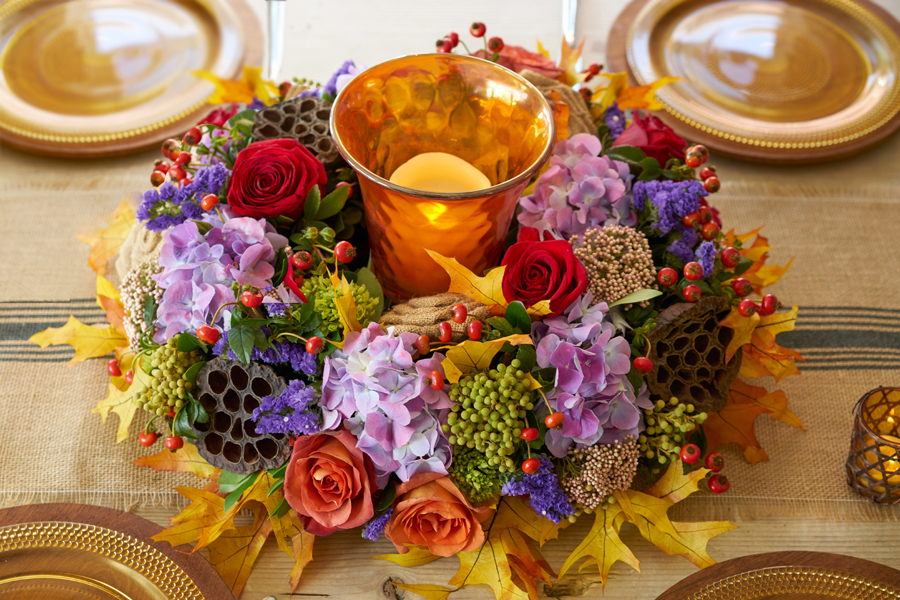 This wreath is all about the vibrant and saturated colors of the season. In order to create the perfect backdrop for this intensity I chose to keep everything else very neutral. A burlap table runner on a natural wood farm table and wooden chargers holding amber depression glass plates let this centerpiece take center stage!
How to Make your Flower Wreath Centerpiece: