Our series "Get Crafty" gives you the inspiration for creating inventive DIY projects during the holidays and year-round. These DIY crafts combining butterflies and blooms create a spring vibe that will last until summer and are perfect decorations for spring gatherings.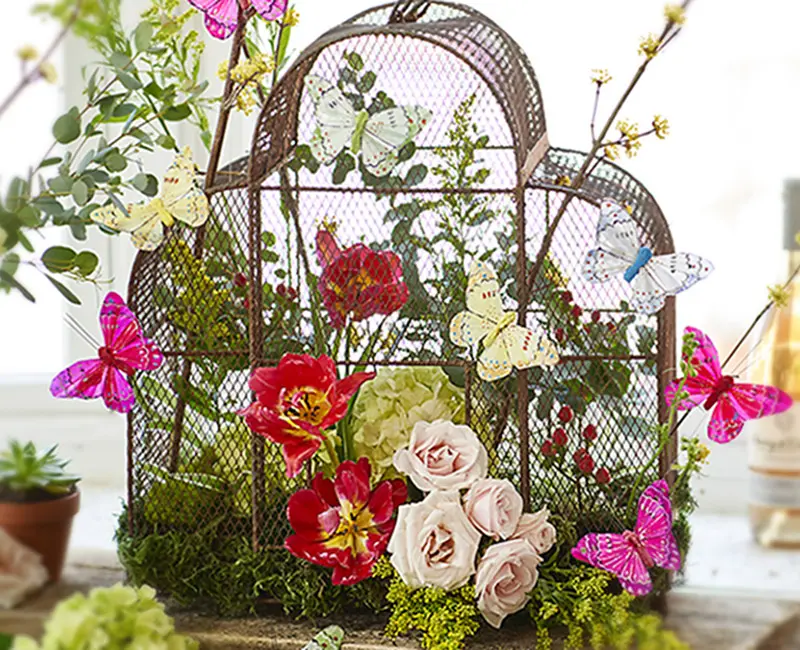 Butterflies and blooms have a lot in common. Alone, each is a symbol of rebirth and resurrection — like spring itself. As the first crocus of spring breaks through the cold, hard ground after many months of winter, we see the triumph of the spirit and soul over the physical world. And then the hyacinth and tulips sprout, and everything turns green and blossoms all around us. This metamorphosis, like the one that occurs when the colorless caterpillar turns into the beautiful winged butterfly, represents transformation and hope.
Butterflies and flowers have what is known as an "ecological relationship." They are affected by each other; that is, changes in one lead to changes in the other. Butterflies depend on flowers for food, and flowers depend on butterflies to reproduce.
So, the next time you are creating a floral display, why not add a few butterfly touches to your arrangements to complete the look? See how a butterfly placed here and there brings the display to life and makes it feel more alive and whimsical!
You can go all out and create a "Butterflies and Blooms" vignette, like the one here, or take a cue from this rustic garden vibe and add just one of these DIY crafts to your table or bar.
Butterflies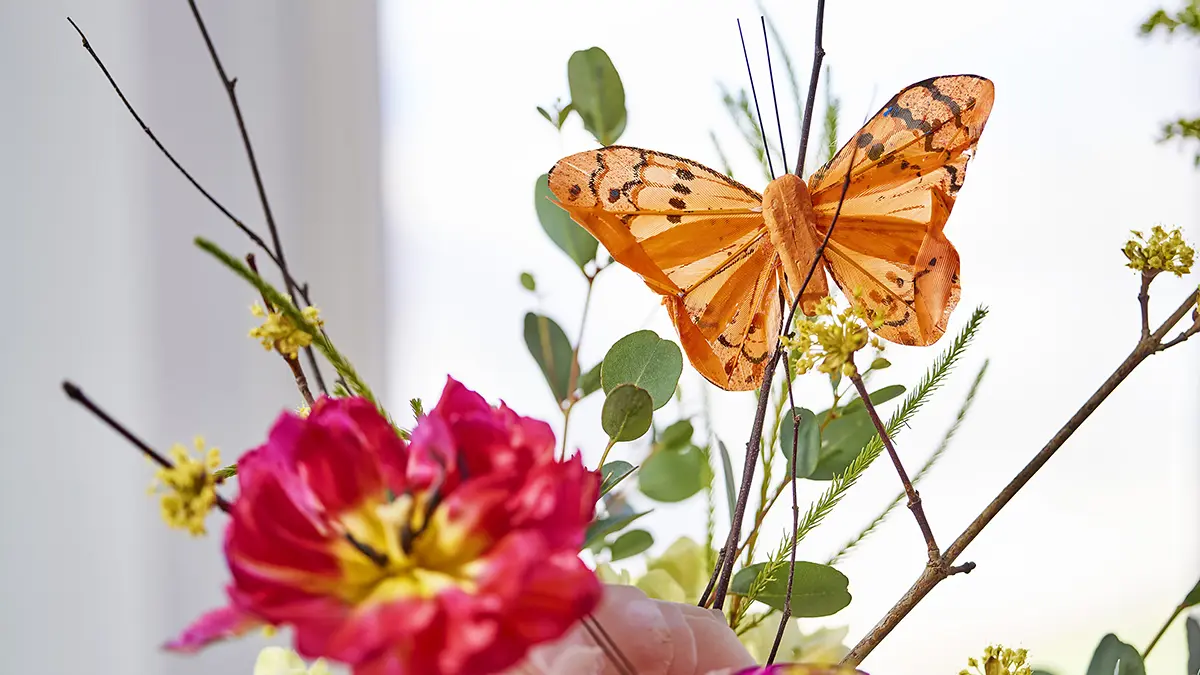 Pretty faux butterflies are inexpensive and easy to find. I ordered a few different sizes and colors online, as well as ones with two kinds of attachments: pre-wired and clip on. You can also use a little adhesive with either version if you need to.
Birdcage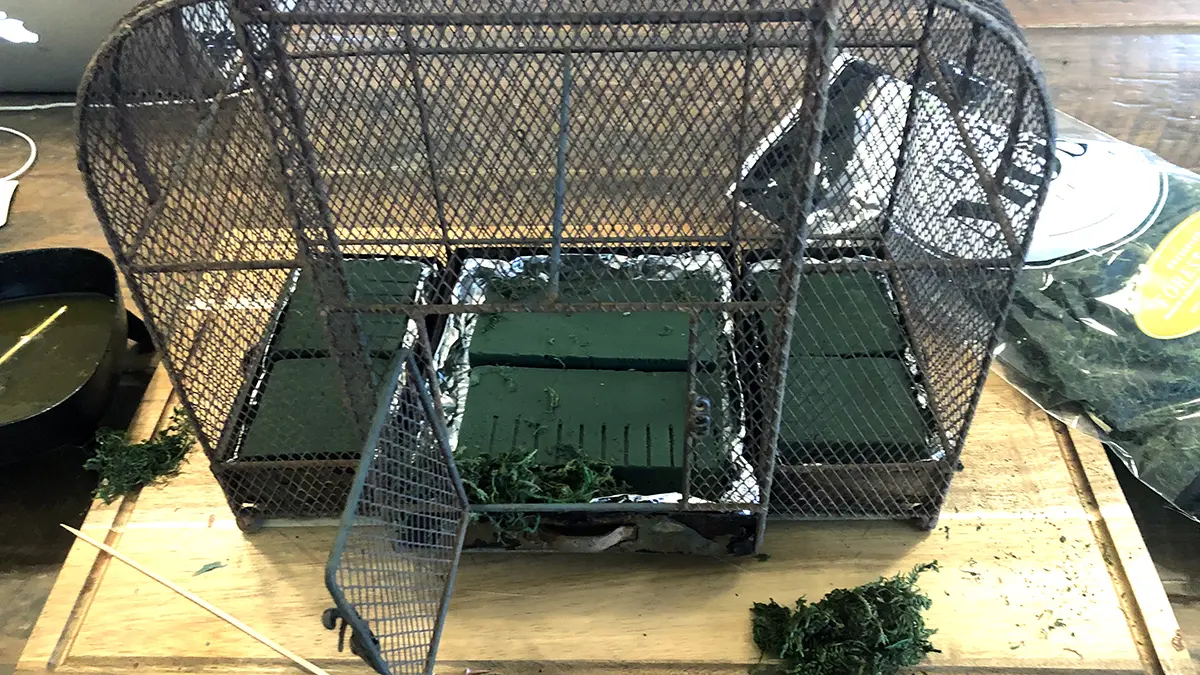 I have a hard time throwing anything out — including this rusty, old birdcage!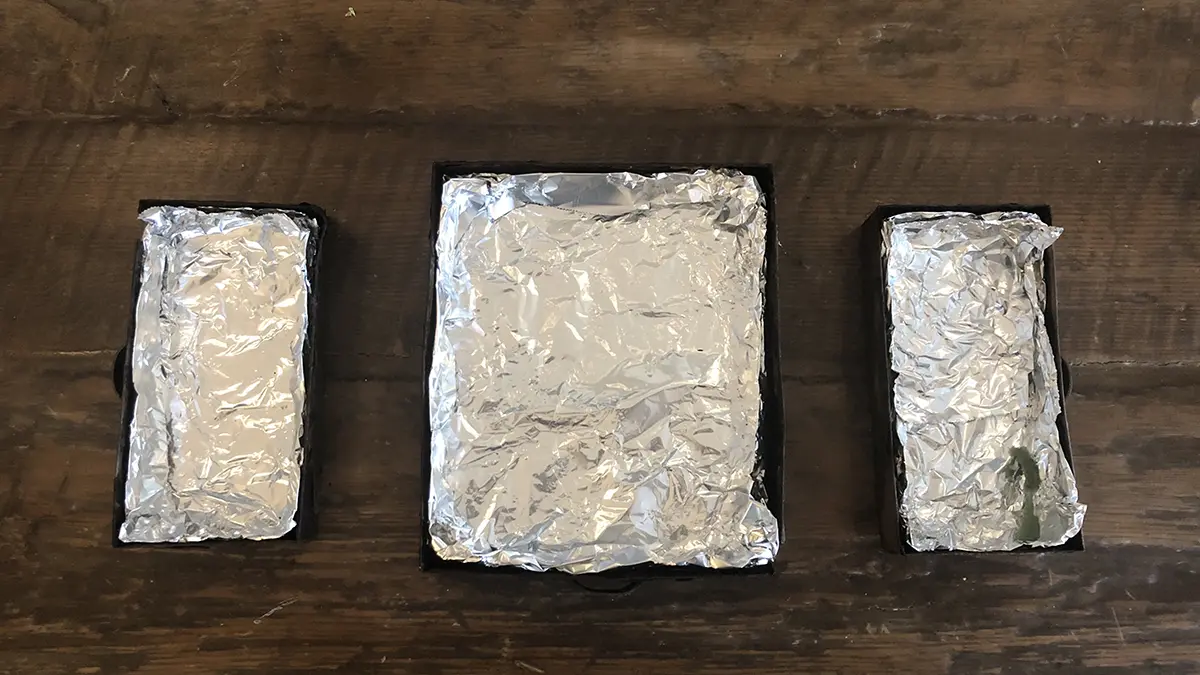 Due to their sitting in my garden all year, the trays have large holes in them. To prep them to hold water and floral foam for the flower arrangement, I lined each one with aluminum foil.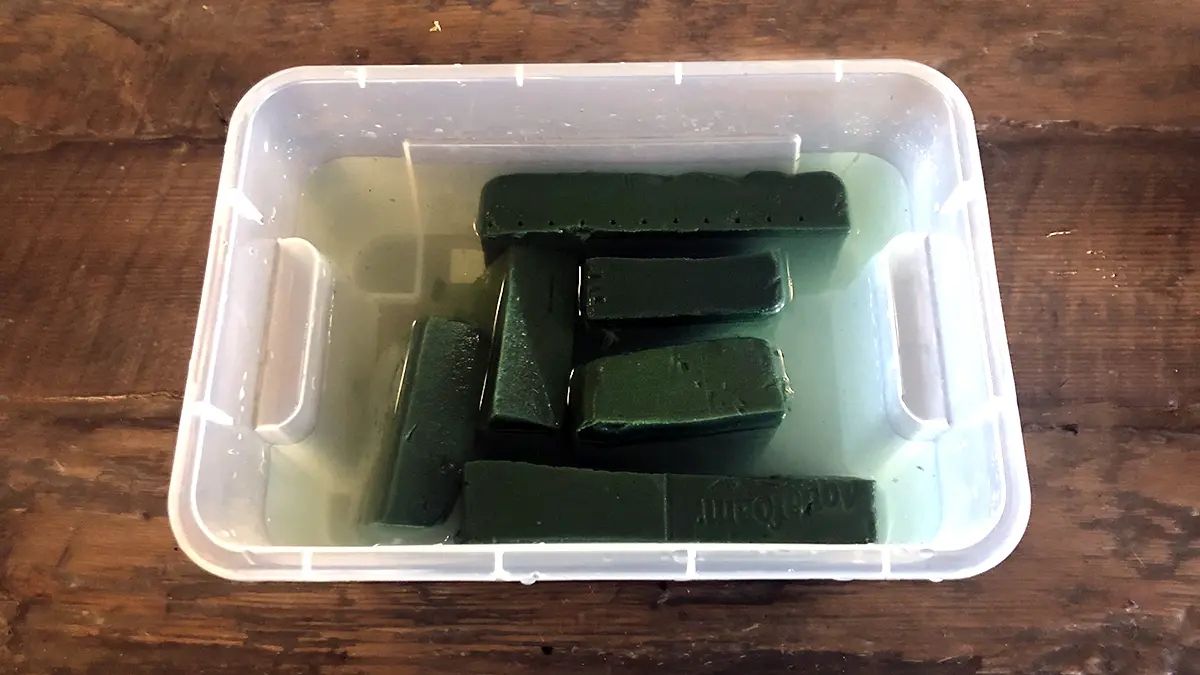 I pre-cut pieces of floral foam, to fit snuggly into the trays, before soaking them in a bucket (or sink).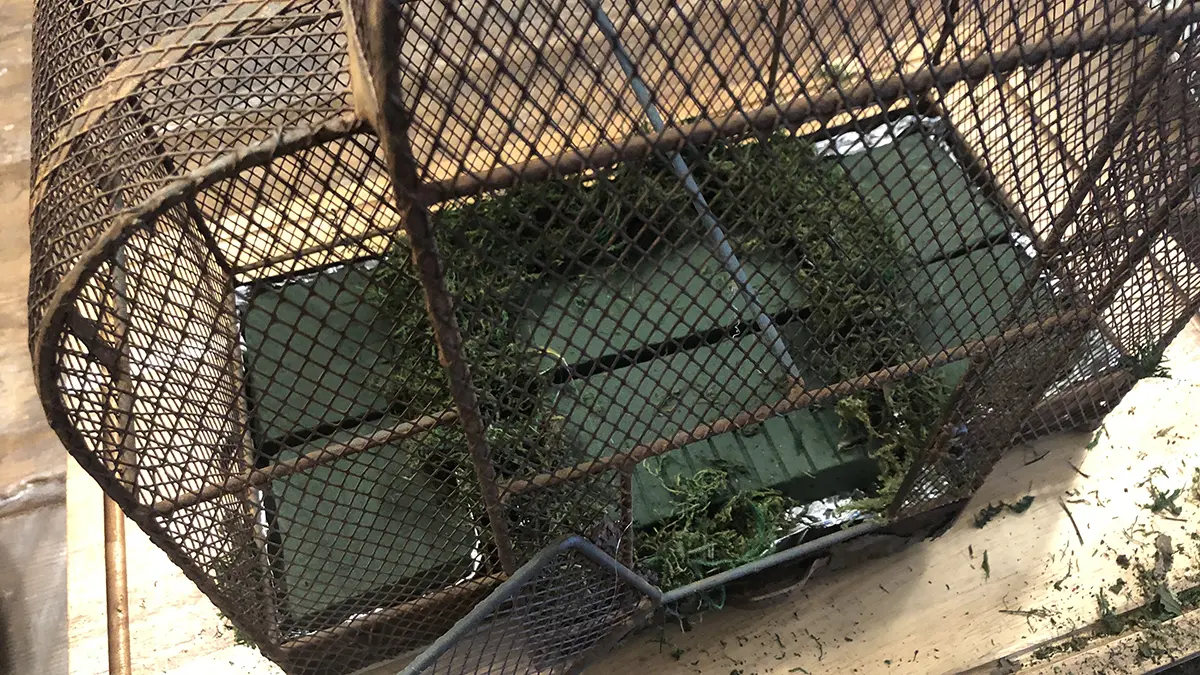 I placed the trays back in the birdhouse and then added the thoroughly soaked pieces of foam to them by going in through the opening in the front of the cage.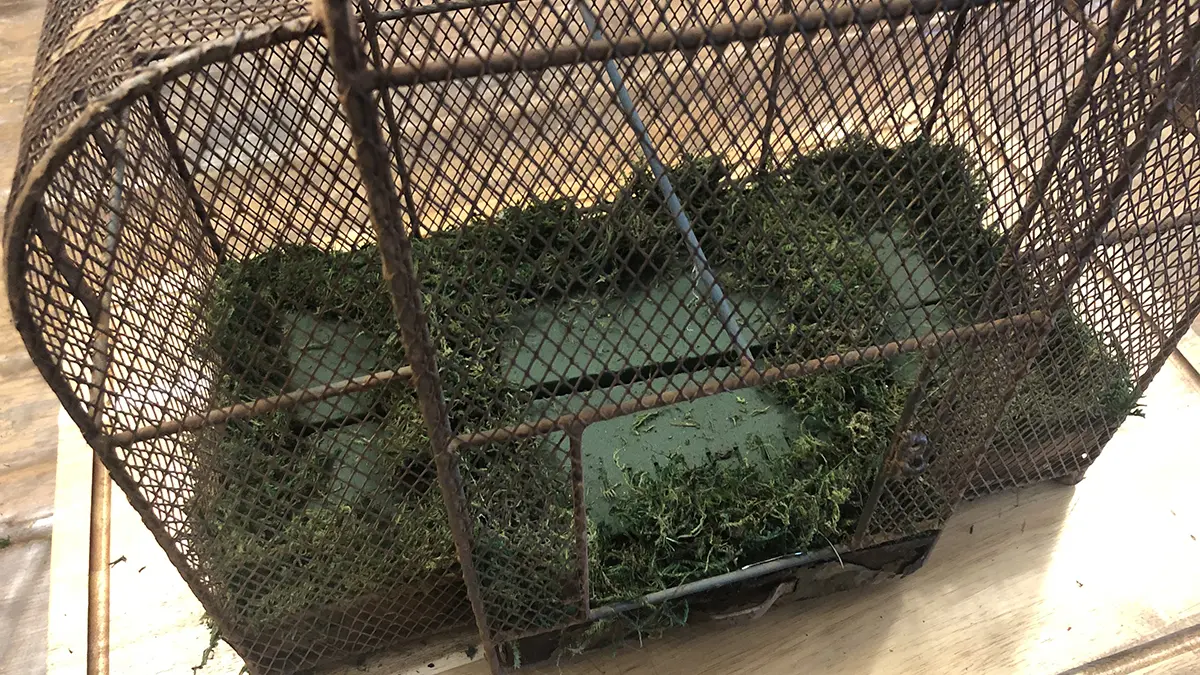 Next, I added some moss to the spaces in between to cover the foil and any openings.
I added all the foliage and cut flowers — eucalyptus, hydrangea, tulips, roses, solidago, and hypericum — through the front opening as well. Then, I inserted forsythia branches and some solidago through the wire grid at the top of the cage, being careful to get the end of each stem and branch into the foam so that it stayed hydrated as long as possible. I created a design that has the look of flowers spilling out of the birdcage, when in reality all the floral is securely anchored in the foam.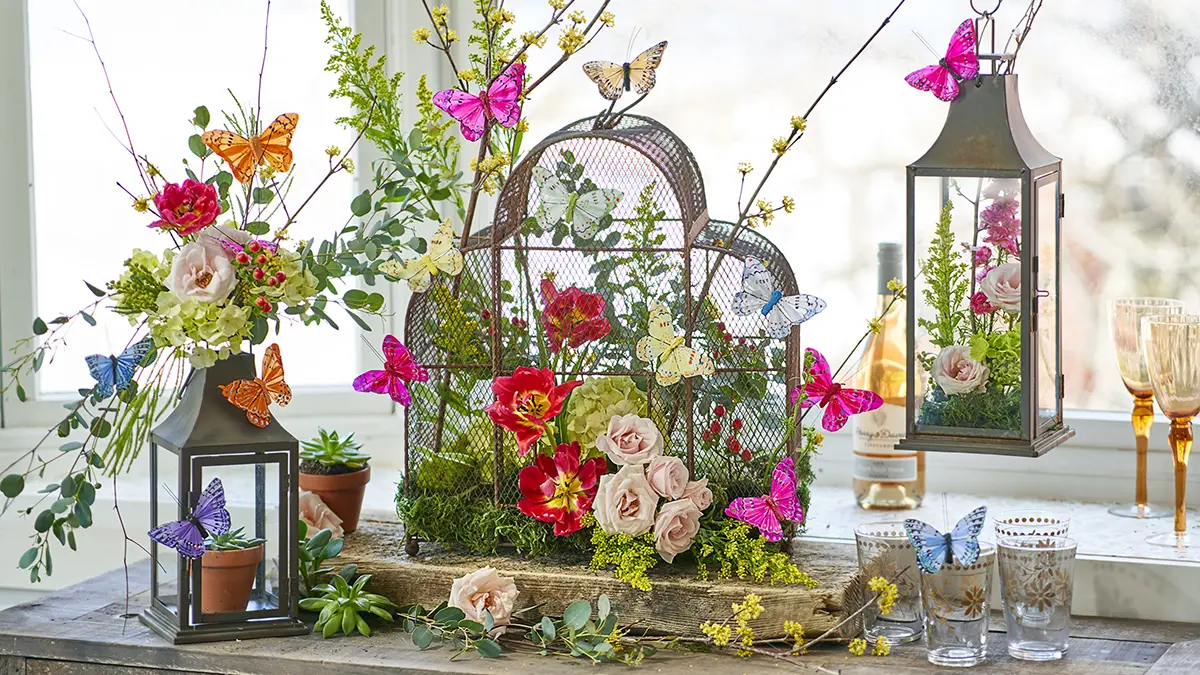 I then placed the butterflies as if they were fluttering all around the outside of the cage. Perhaps coming over to have a look and see what's going on? The butterflies on the thin wires really do look like they are flying around in your little garden.
Lanterns
Lanterns have so many different purposes besides just holding a candle, and they can be used to decorate outside as well as inside.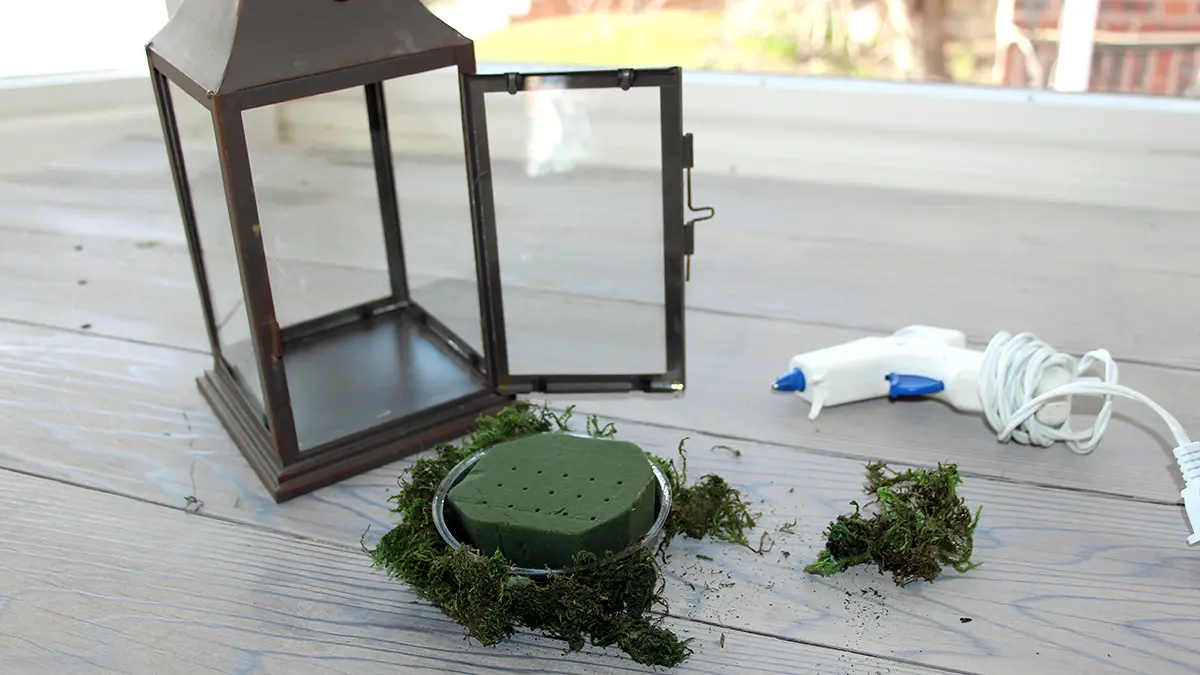 A mini plant or succulent looks great nestled inside the lantern, as does a small arrangement of fresh cut flowers. Basically, all you need to do is follow the same steps as the birdcage but pare it down!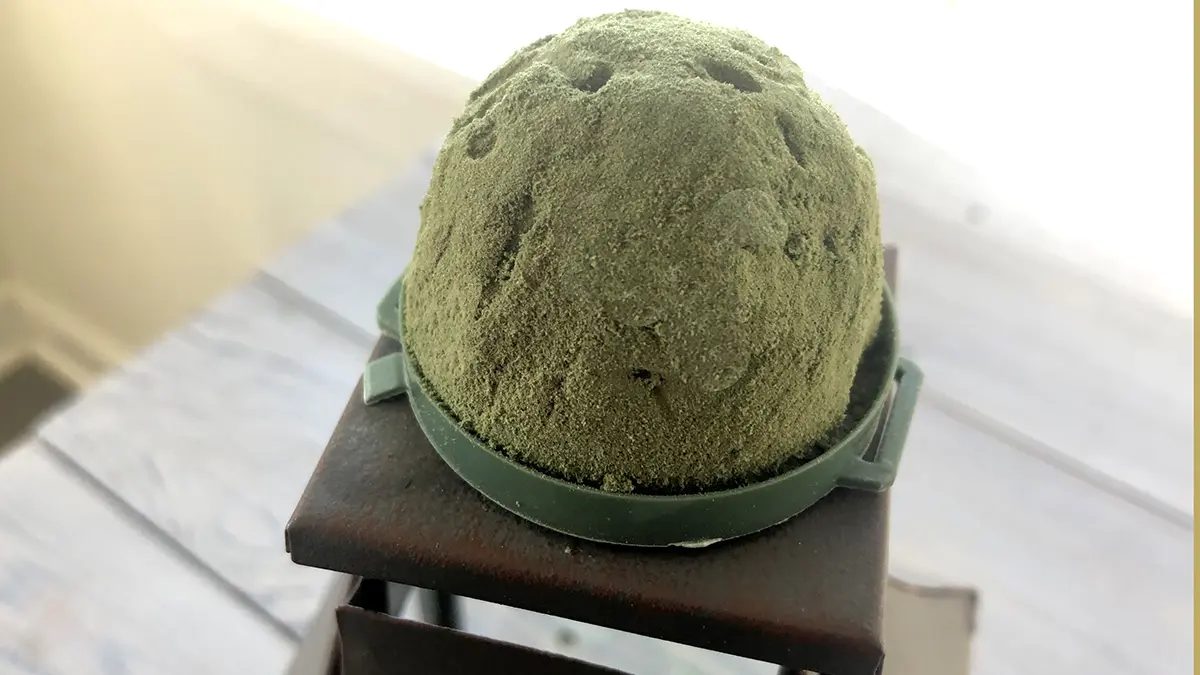 To decorate the top of the lantern with fresh flowers, use a floral igloo. You can find these at your local florist or hobby shop, or online. These are nothing more than small pieces of floral foam attached to a plastic tray. Just think of the possibilities!
'Butterflies and Blooms' popcorn station
With butterflies being such a popular theme right now, The Popcorn Factory has a whole line of Butterflies and Bloom gifts that are perfect for any occasion.
I ordered the Butterflies and Blooms bow box, which is filled with three different flavors of popcorn — butter, cheese, and caramel — and a packet of chocolate-covered pretzels.
I loved the pretty pattern on the box so much that I decided to make it the design for a popcorn station!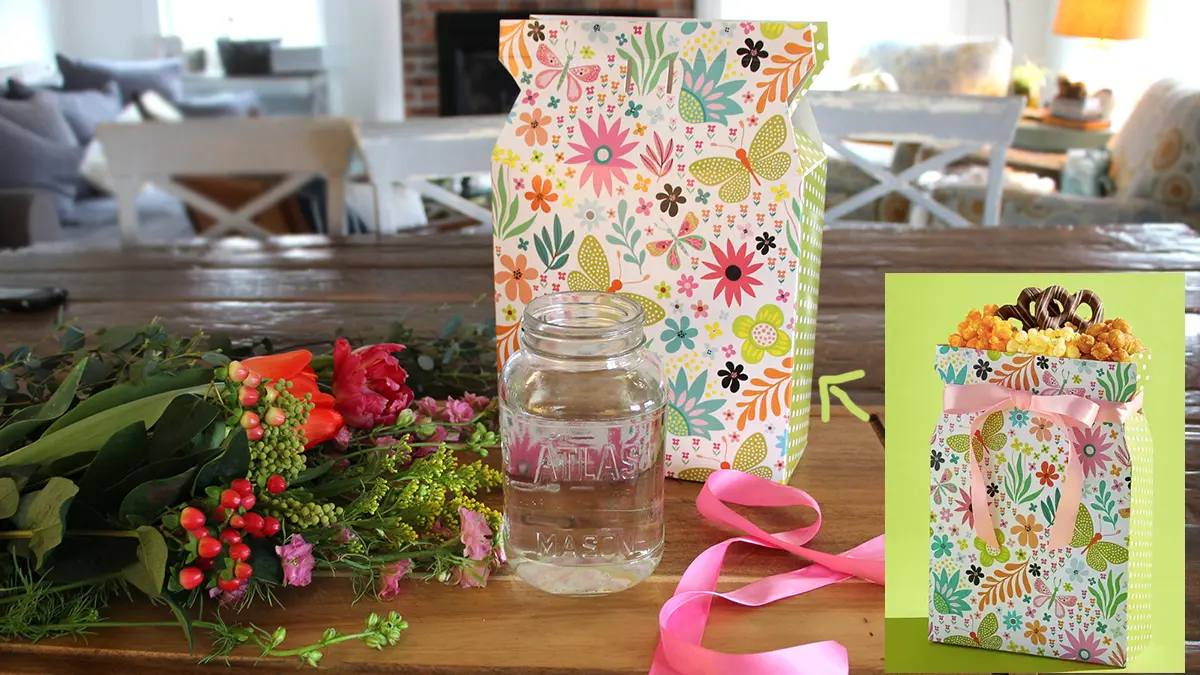 I started by emptying the goodies from the box, which I then used as the base for a fresh-cut flower bouquet, picking up all the bright spring colors in the design. All I did to turn the box into a vase was place a mason jar filled with fresh, clean water in the box and arrange the flowers.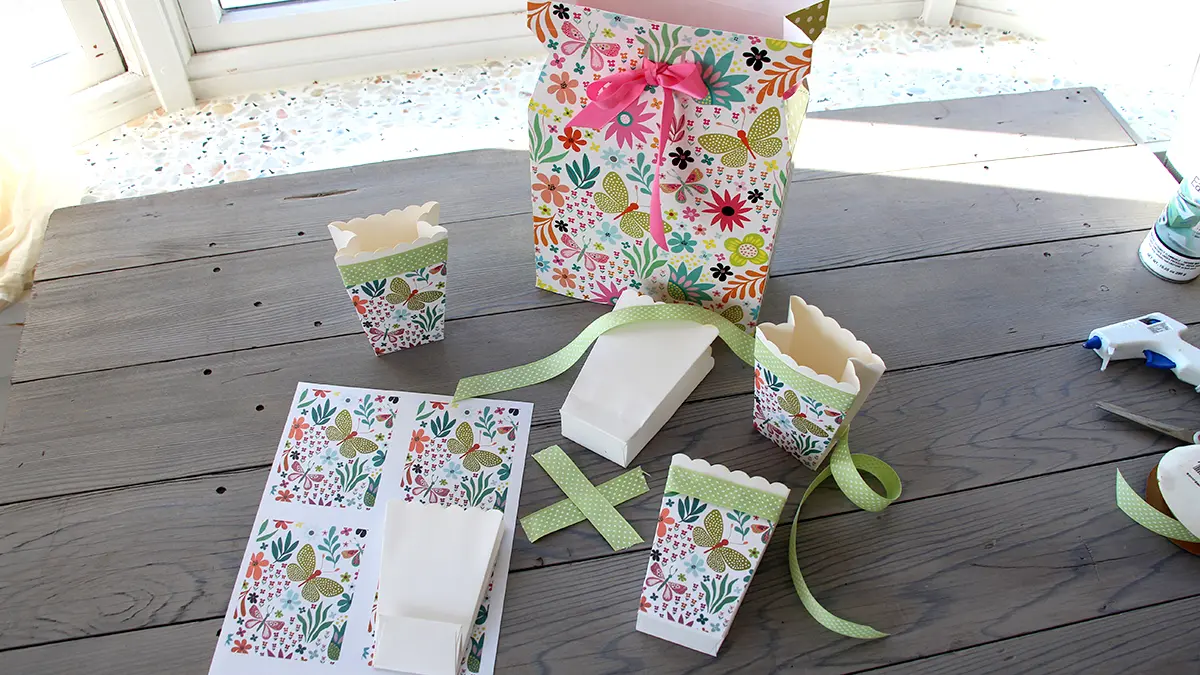 I simply took a photo of the front of the box, sized it to fit the front of the popcorn holder, printed it out, and glued it to the container while it was still flat (unfolded or filled). And, as luck would have it — or because I never throw anything away that I might have a use for later — I had a roll of matching green dotted ribbon to use as a finishing touch. Again, I just measured it to size and glued it on.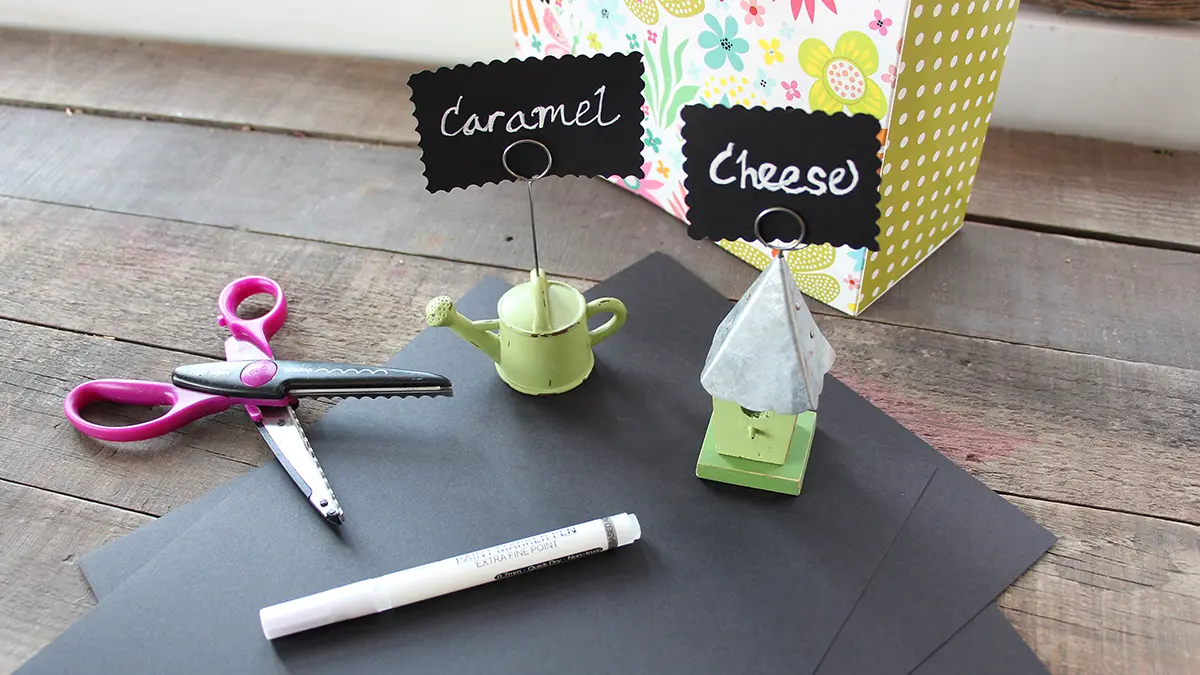 I made signage for the various popcorn flavors using black card stock paper and a white pen.
And that's it. These DIY crafts are so easy to make, and they're on trend to boot. Now you're ready for spring entertaining!