Make A Touch Down At Your Super Bowl Party!
A Super Bowl party is not the time to fuss too much with decorations – food, drinks, and of course the game will take precedent for this occasion. However it's still a theme party and what's a theme party without themed decorations! Just keep it simple and make it fun. I decided that in honor of the sport I would use only white "football" mums. White flowers will work with all color schemes, whether you decide to go with the official navy blue and bittersweet orange colors of Super Bowl XLIV or your favorite team colors. Game Day Parties has a great selection of Super Bowl XLIV paper goods, as well as, solid blue and orange so you can mix and match. These Super Bowl party ideas
DECORATIONS
Bloomin' Football Koozie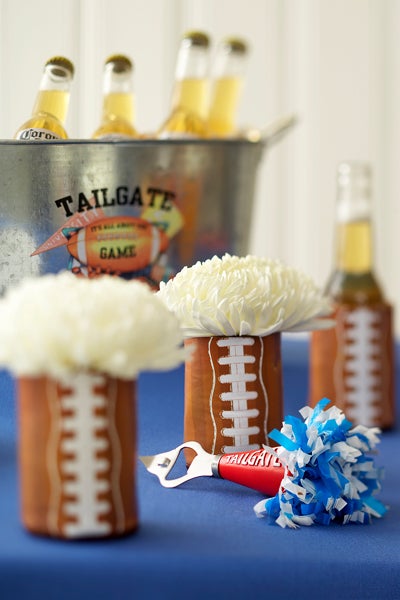 These fun little arrangements are so inexpensive and you can put them all around the house, on the buffet, even in the bathroom. The container is an actual can or bottle koozie that I found. I lined the koozie with the bottom half of a disposable water bottle. You can even give one to each guest at the end of the party as a parting gift!
Beer Mug Arrangement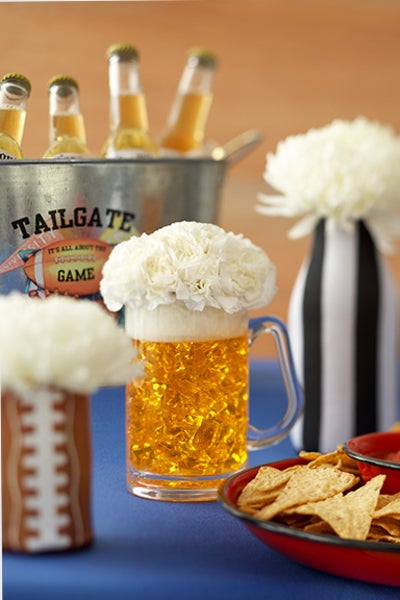 Can you believe that this mug of beer is actually an innovative fresh flower arrangement? You can find this Beer Mug of Blooms at 1-800-FLOWERS.COM. It would be a great, unexpected gift to send to a friend that you are unable to be with on Super Bowl Sunday. Let them know that you are together in spirit!
Did you notice the arrangement in the background using the referee bottle koozie? Fun, simple, inexpensive, and easy – that's the way I like it!
Super Bowl XLIV Centerpieces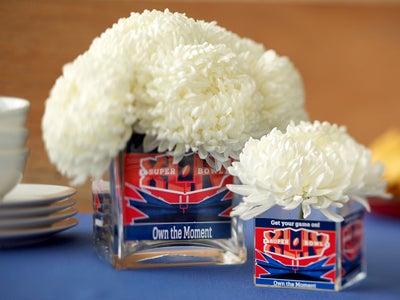 I love the graphics and the colors for this year's Super Bowl. To create these themed vases, I scanned the image on the napkins that I ordered from Game Day Parties and sized the image accordingly for the glass cubes. For the smaller version with the single football mum, I used double-sided tape and attached the image to the four sides of the cube. With the larger version I had a smaller cube inside the larger one and placed the super bowl image on each side between the two vases.
Superbowl Food
I am trying not to think too much about all of the Super Bowl type food right now. I am trying to eat healthy and in moderation (of course I am – it is still January), but I still love all of the chili cheese dogs, hot wings, nacho type of food that is standard Super Bowl style grub. What I plan to do is make a few of my favorite dishes healthier. For example a quick, easy, and delish dip is:
Chili Cheese Dip
Ingredients:
1 – package of cream cheese softened
1 – can chili
1 – 8 oz. cheddar cheese
Directions:
Spread the cream cheese around the bottom of a baking dish
Top with the chili.
Cover with shredded cheddar cheese.
Microwave for 2 minutes or until cheese is melted
Serve with tortilla chips.
This year I am going to use fat free cream cheese and cheddar cheese, salsa in place of the chili, and baked pita or tortilla chips. There are so many sources for making your traditional Super Bowl food healthier. Websites like Weight Watchers and Hungry Girl, as well as, new books from Bethenny Frankel and Rocco Dispirito are a few to check out.
Football Cake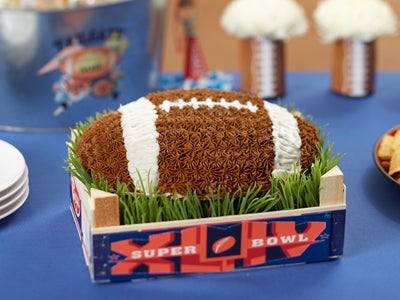 For a dessert that is as much fun to look at as it is to eat, make a football cake using a football cake pan. To display the cake, I used a Clementine crate. The ends of the crate reminded me of goal posts. I reshaped the scanned image of the Super Bowl XLIV napkins and scaled it to fit the sides of the crate. You can fill the crate with wheat grass or green paper shreds to mimic the football field. And if you wanted to continue with the lower calorie versions of your favorite recipes, you can try a diet soda cake recipe. I've never actually tried it myself, but I have heard that it is quite good!
Additional Super Bowl Party Tips:
Play CD's from The Who to get everyone psyched up for the group's performance during the half time show.
Order yourself something football themed, yet feminine to wear to the party. The NFL Shop has a nice selection of clothing, including a few hot items from Touch by Alyssa Milano. You could encourage your friends to order something for themselves and put on your own half-time fashion show!