Fourth of July celebrations (and decorations) are the best! Whether you're celebrating America's birthday with friends and family on the beach or in your backyard, here are some fun DIY floral 4th of July craft ideas to add little patriotic touches of red, white, and blue to your party.
4th of July craft No. 1: Mason jar American flag vase
Is there anything you can't do with a few mason jars? I took three small, clear mason jars and painted them in a stars and stripes tribute to Old Glory. One stem of blue hydrangea in each, and you have a beautiful, fun, inexpensive centerpiece. You could paint a couple more while you're at it and use them to hold cutlery or straws, or even tea lights, creating a festive look for evening festivities.
What you need
Clear mason jars
White acrylic spray paint
Blue and red acrylic paint
Paintbrushes
Rubber bands
Paper
Pencils
Scissors
Instructions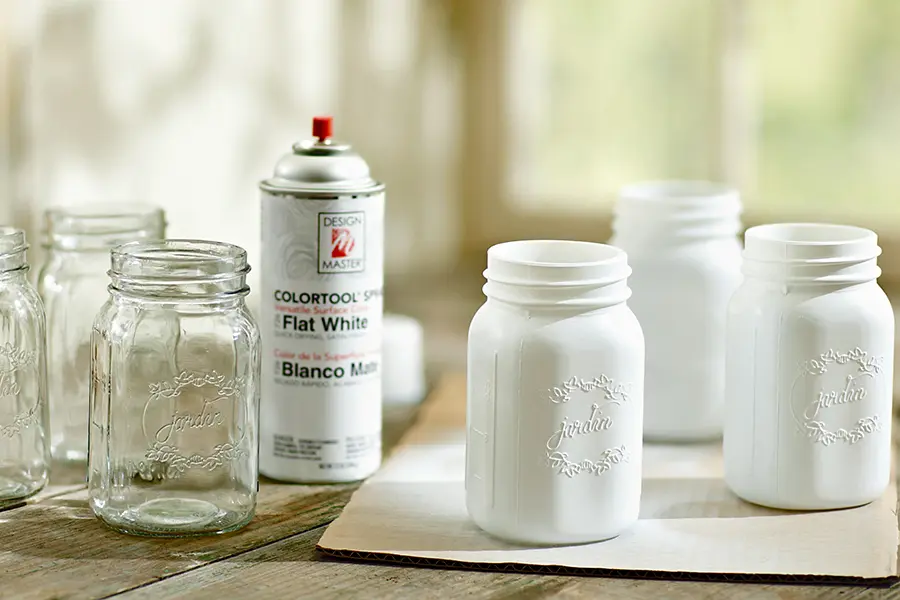 In a well-ventilated space, spray paint ONLY the OUTSIDE of your mason jars and let dry thoroughly.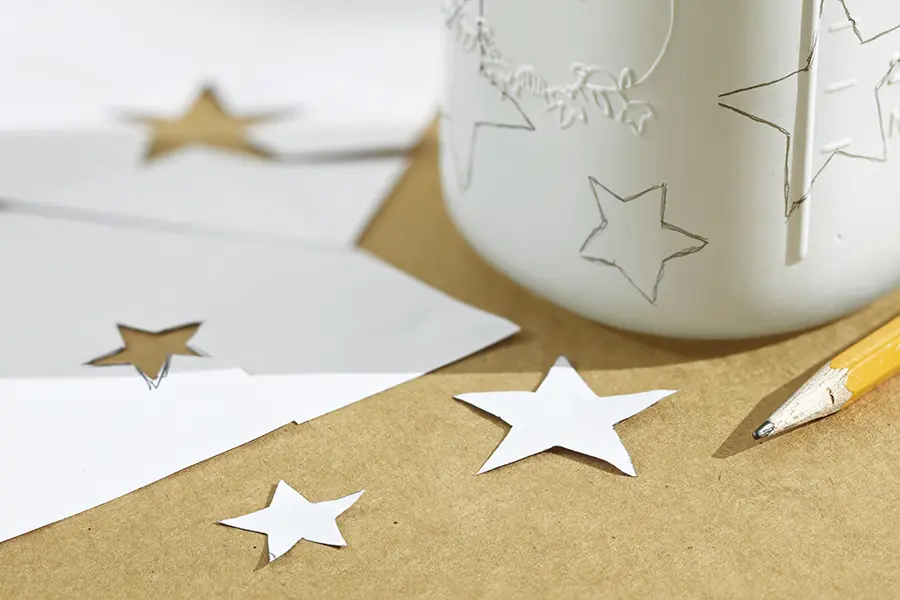 Using a pencil, draw stars all around the outside of one of the mason jars. You can do this free hand or make a template with a piece of paper first.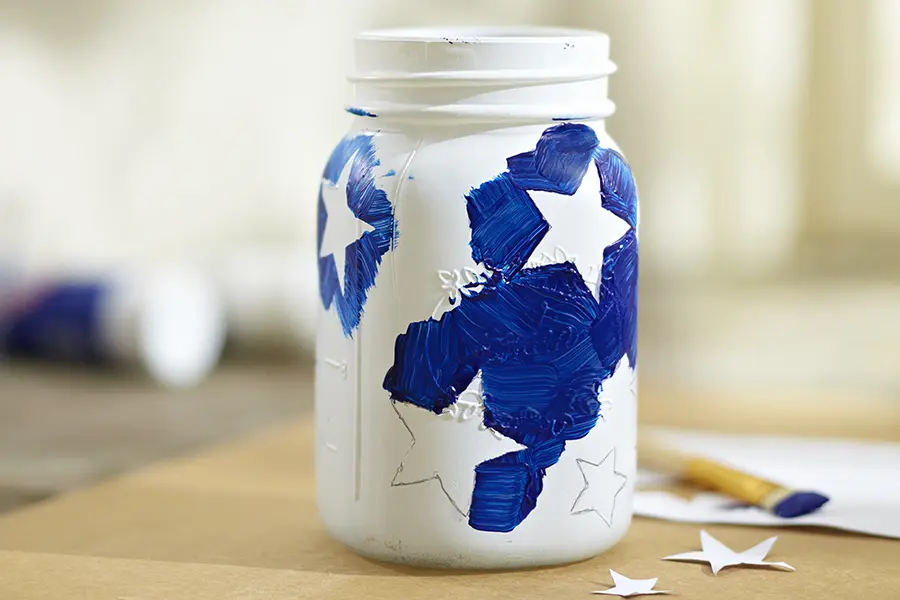 Paint the rest of the mason jar around the stars with blue paint. Remember, this is not a piece of fine art — it's a craft project, and imperfections should be embraced!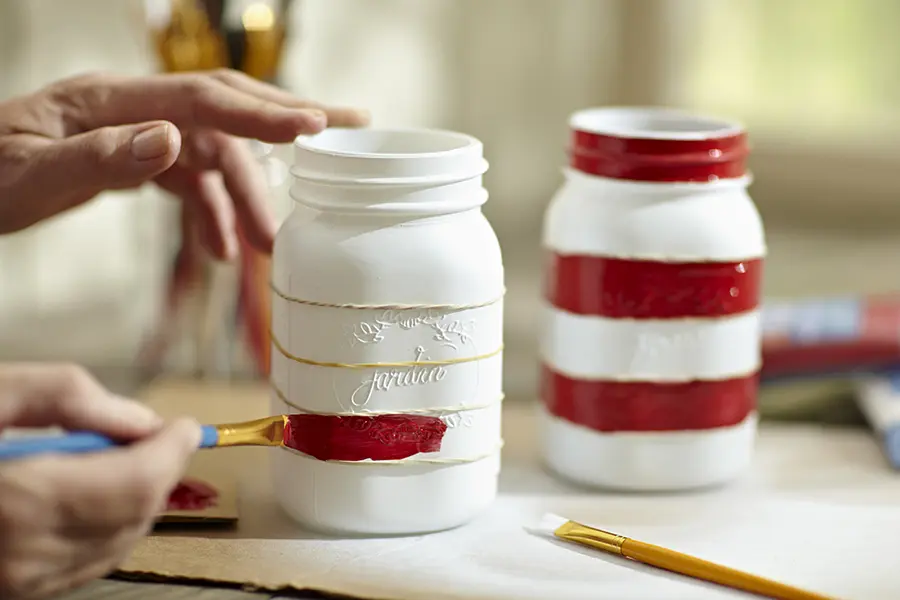 Use rubber bands to create guidelines for painting red stripes on the other two mason jars.
As soon as the paint is dry, fill with water and add your flowers.
4th of July craft No. 2: Upcycled glass bottles with red, white, & blue flowers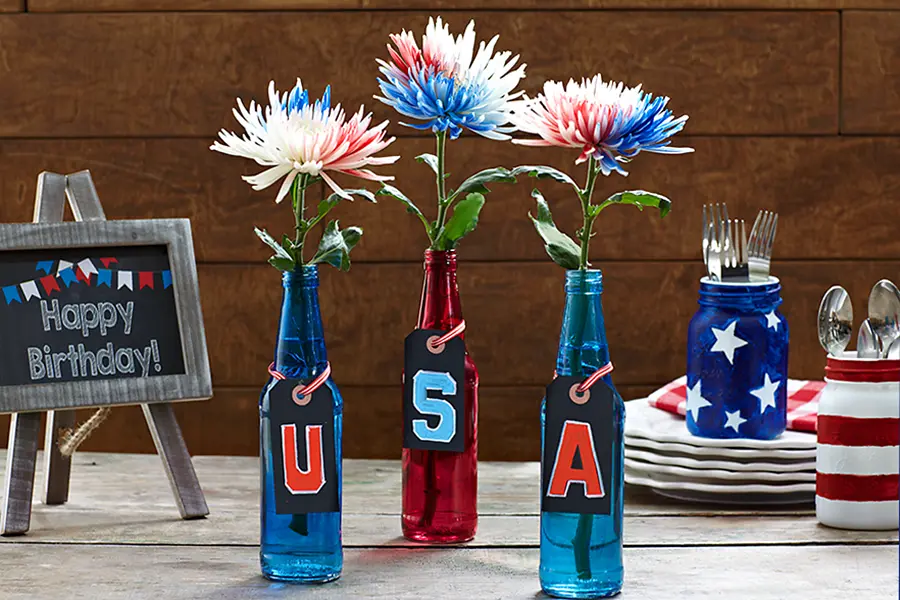 I picked up all three of these blue and red bottles for under $5. The finishing touch is the U.S.A. hangtags I made using small blackboard hangtags and chalkboard markers. Tie each one around the neck of the bottle with a thin, coordinating ribbon, such as the red and white striped one shown here.
But what I really love are these firework flowers. Don't the spider mums look like fireworks exploding in the night sky?!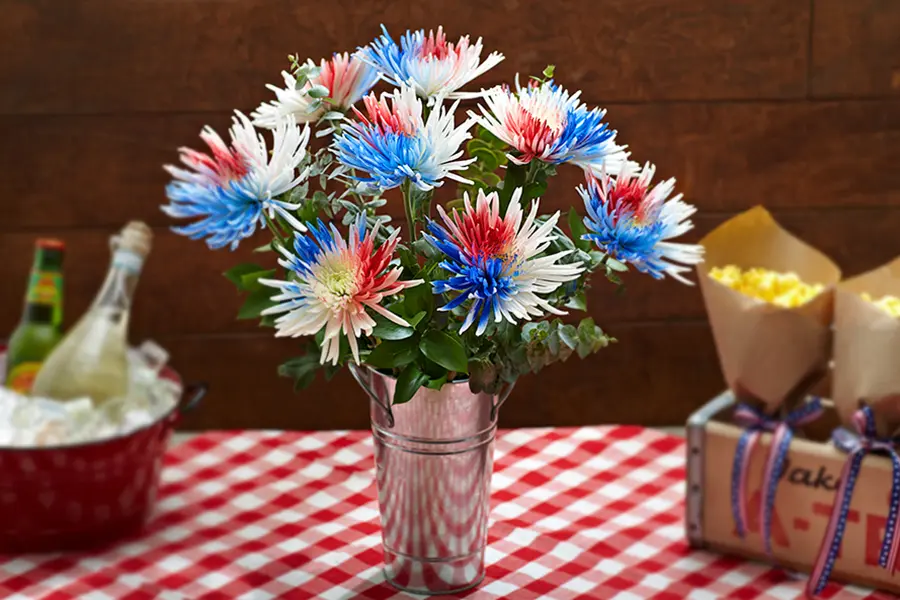 Look how fabulous they look in a simple galvanized French flower pail. What a perfect arrangement for a summer July 4th celebration!
4th of July craft No. 3: Red, white, & blue mini flag garland table decoration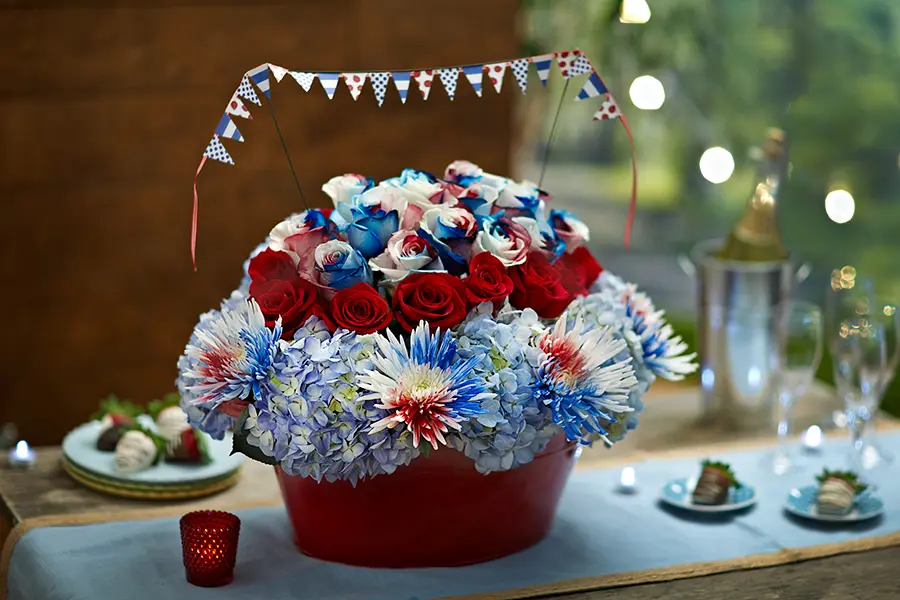 This is an all-out, spare-no-expense WOW of a Fourth of July floral arrangement. As beautiful as the red, white, and blue roses, blue hydrangea, and firework spider mums look in the oversized red enamel container, the mini flag garland really makes it pop!
What you need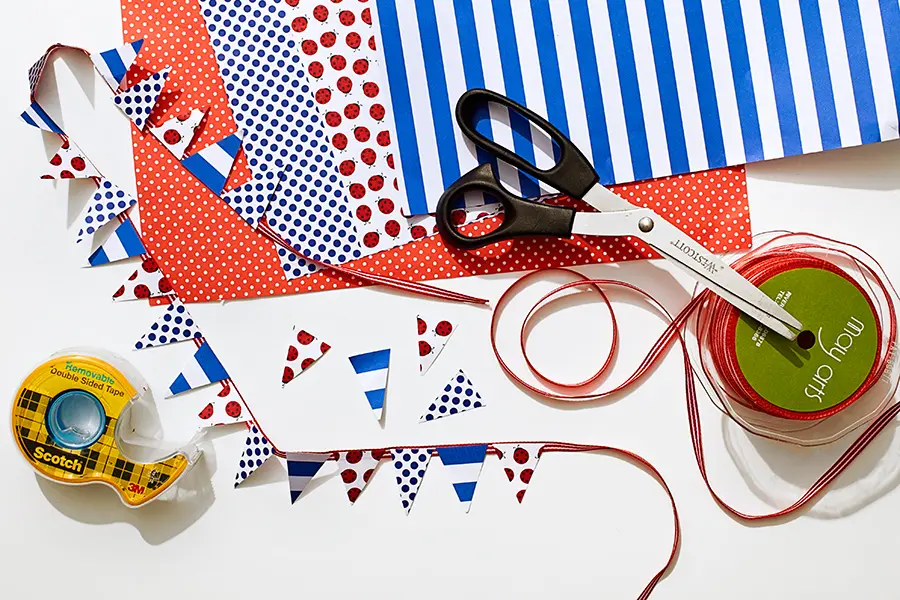 Decorative paper (Use at least three different patterns all in the same color way; in this case, I used red, white, and blue.)
Ribbon (I used red)
Scissors
Glue (two-sided tape, adhesives tape runner, glue dots, etc.)
Sticks or wires to hold the garland above your arrangement
Instructions
Measure a piece of ribbon to the size you want, and then add a few extra inches to each side.
Figure out how many flags you will need based on the size you want them to be. (My flags were 1 inch wide and the length of the ribbon where I attached the flags is 18 inches, so I needed 18 mini paper flags.)
Glue each flag to the ribbon. Use a ribbon that is narrow but has enough area to glue the flags to. (The ribbon I used was one-eighth inch wide.)
To raise the garland above the arrangement, glue the ribbon to heavy gauge wires or wooden skewers.
This garland can be made in any size that works for your applications. Just adjust accordingly.
Happy 4th of July to all!