As if a cupcake wasn't a great thing already, along comes Cupcakes for A Cause by CancerCare for Kids. I first learned about this wonderful cause from my friends at Cupcakes Take The Cake. We first met at the launch for the 1-800 FLOWERS.COM Cupcake in Bloom event, and then I caught up with them again at the Brooklyn Flea for the annual Cupcakes for A Cause Bake Sale. It was a delicious experience!
I will be at the bake sale again this year (Sunday, Sept. 19th), but this time I will be helping Cupcakes Takes the Cake, CancerCare for Kids and 1-800-FLOWERS.COM. We will be selling the popular 1-800-FLOWERS.COM Cupcake in Bloom and the best part is that 1-800-FLOWERS.COM will be donating 50 of their Cupcake in Bloom arrangements to be sold at the event. In addition, 100% of all Cupcake in Bloom sales will benefit CancerCare for Kids. It just doesn't get any better than that!! So stop by if you can and say "Hello!"
If you can't make it to the Brooklyn Flea you can still be a part of Cupcakes for a Cause. When you make a purchase from the Cupcakes for a Cause collection, 10% of the proceeds will be donated to CancerCare by 1-800-FLOWERS.COM to this worthy organization.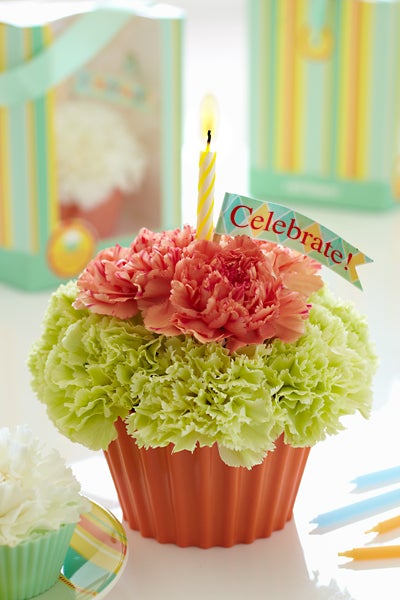 And to get you in the cupcake mood (as if that's a hard thing to do), here are some creative and fun ideas for using flowers to create cupcake inspired centerpieces and other designs.
Red Velvet
Take a traditional red velvet cupcake, with its delicious cream cheese frosting, and turn it upside down! These luscious red roses with their velvety soft petals look elegant and beautiful nestled in a crisp white ceramic pleated bowl.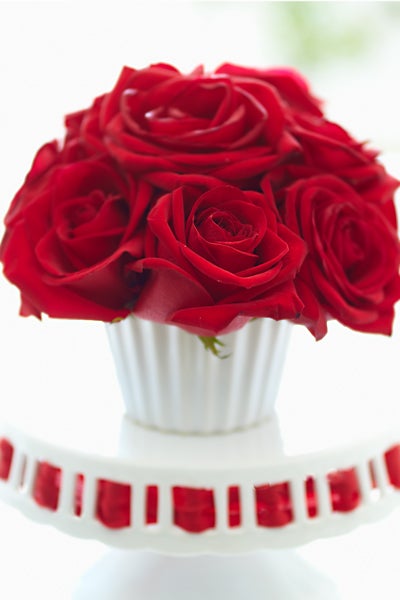 Dinner for Six
The black silicone cupcake holder was the inspiration for this trendy tablescape. I love a black and white decorating theme with a splash of lime green. It's such a fresh look! It was easy to create using prado carnations to create the "cupcakes" and topping them off with tall green candles.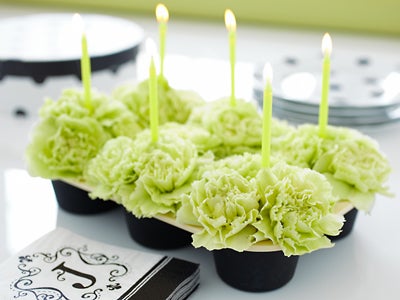 Celebration Centerpiece
Cupcakes for everyone! Creating a magical cupcake centerpiece is much easier then it may seem. By using a large cupcake pan as the base, fill each section with a white carnation, trim with wired ribbon and top it off with sprinkles and candles. It's a fun festive look for any celebration.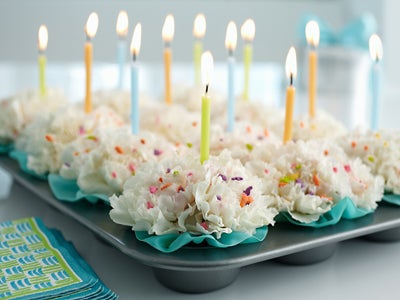 If you are looking for more fun ideas, take a look at my past cupcake posts!