There really isn't any easier way to preserve flowers then to just let them dry. I think flowers look beautiful when they are dry; they take on such a romantic vintage feel. And while the flowers that your loved one sent you were beautiful, the message that was sent with them is just as beautiful.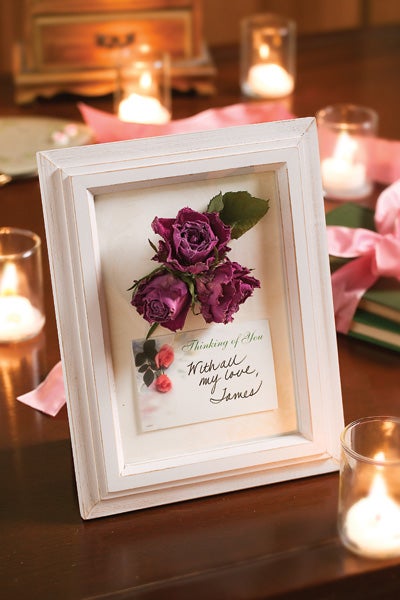 How to Air Dry Roses
• Select partially or fully opened roses for the best results. Keep in mind that lighter colors dry better than darker colors.
• Tie roses with raffia or ribbon in a bunch, layering the heads.
• Hang roses upside down keeping them out of sunlight and in moderate temperature.
• Make sure roses are thoroughly dry (about 2 weeks)
• Spray with hair spray to keep from shattering.
• Enjoy the roses as they are or use individually in your own personal creation.
Create Your Own Dried Flowers
Why not frame a few of the flowers that have dried and the sentimental card?
By framing the flowers and card, you are able to get the same good feeling that you had when you first received the gift!