Wreaths can be used in so many different ways to decorate your home and are very easy to make. Here are three options, in three different sizes, using three different bases. Which one are you going to create this Thanksgiving? Maybe you'll do them all!
Grapevine Chair Wreath
Here's an unexpected touch for your Thanksgiving table (or chair in this case).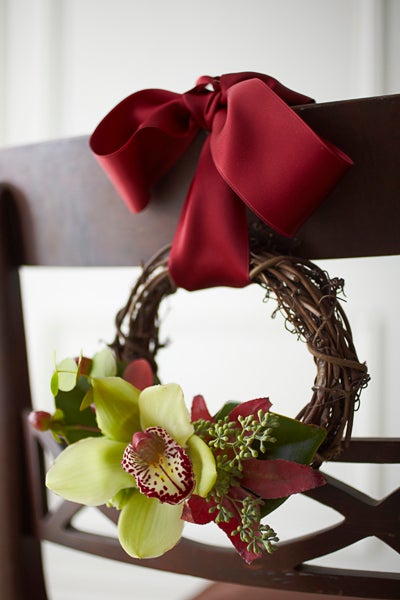 Start with a 5" grapevine wreath, which you can get at any craft store for under a dollar each.
Glue a base of autumn leaves, a bit of berries, and assorted foliage such as eucalyptus and magnolia leaves. I used a hot glue gun.
Attach a cymbidium orchid with a dab of floral adhesive.
Attach the finished wreath to the back of each chair with a beautiful ribbon that coordinates with table linens.
Magnolia Wreath
Magnolia wreaths have always been popular in the South. However, we northerners are being lured by the dark glossy beauty of the two-tone magnolia leaf (the back of each leaf is brown). Making a wreath using just the leaves with a simple ribbon creates a look that is fresh and sophisticated.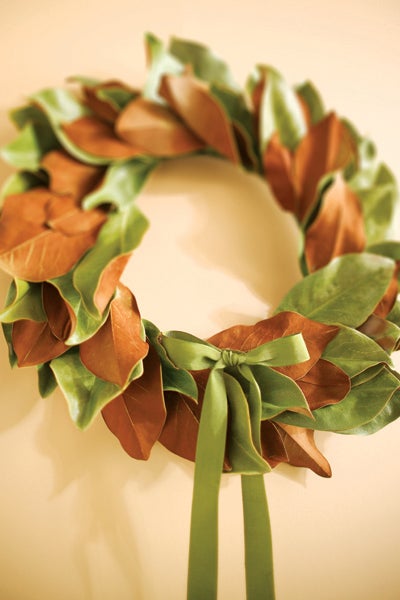 Start with a pre-made wire base or create your own using heavy-gauge wire.
Cut the magnolia leaves from the branch.
Wire small clusters of 3-4 leaves together.
Wire the individual bunches of leaves onto the wire wreath form, making sure to overlap them so that their stems don't show.
Spray your wreath with artist's fixative or hair spray, and hang it on a wall or door.
Fresh Sunflower Wreath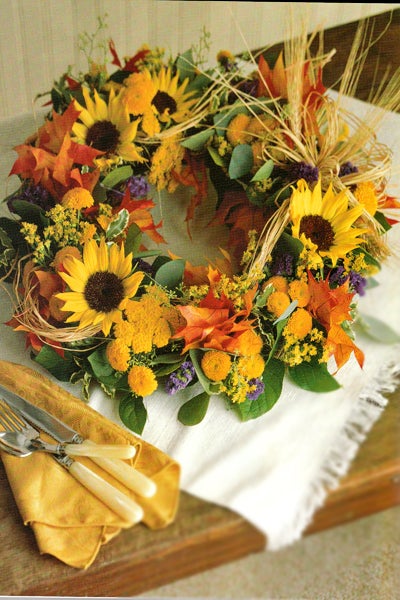 This wreath is made with a floral foam base and is designed entirely with fresh flowers and foliage. The focal flower is a sunflower, which is perfect this time of year with its chocolate brown center and golden yellow petals.
A fresh flower wreath makes a beautiful centerpiece with a pillar candle and hurricane lamp in the center. Follow these simple steps to create your own fresh flower wreath.
Thoroughly soak the wreath form.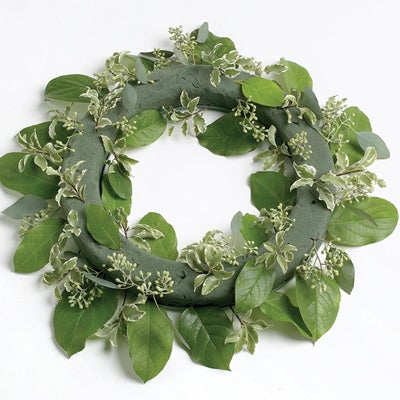 Create the initial shape by inserting short stems of foliage into the foam.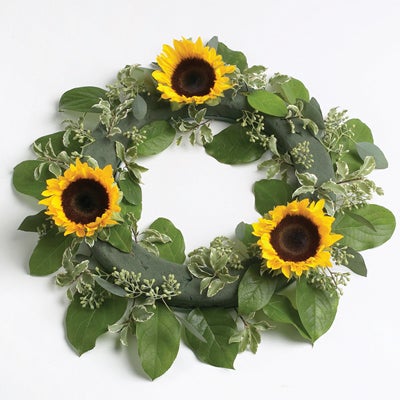 Add the sunflowers even spaced around the wreath.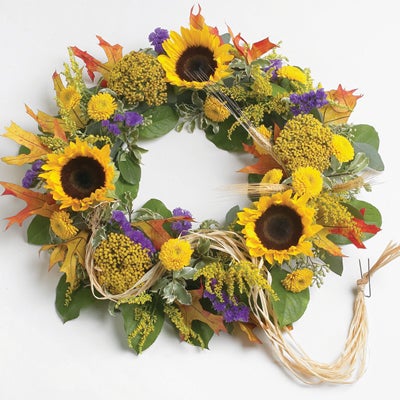 Fill in any gaps with the other flowers that you have chosen, oak leaves, raffia, and other assorted foliage such as salal leaves or pittisporum.