Love – That's What I'm Taco 'Bout!!
There are at least three reasons coming up to celebrate love & tacos or just your love for tacos – Valentine's Day, Galentine's Day, and Cinco de Mayo! And let's not forget Taco Tuesday! So, I put my thinking cap on and came up with some very easy and very inexpensive ideas that can take any one of your parties from just another reason to get together with friends and loved ones for tacos and tequila shots, all the way up to the next level! Trust me!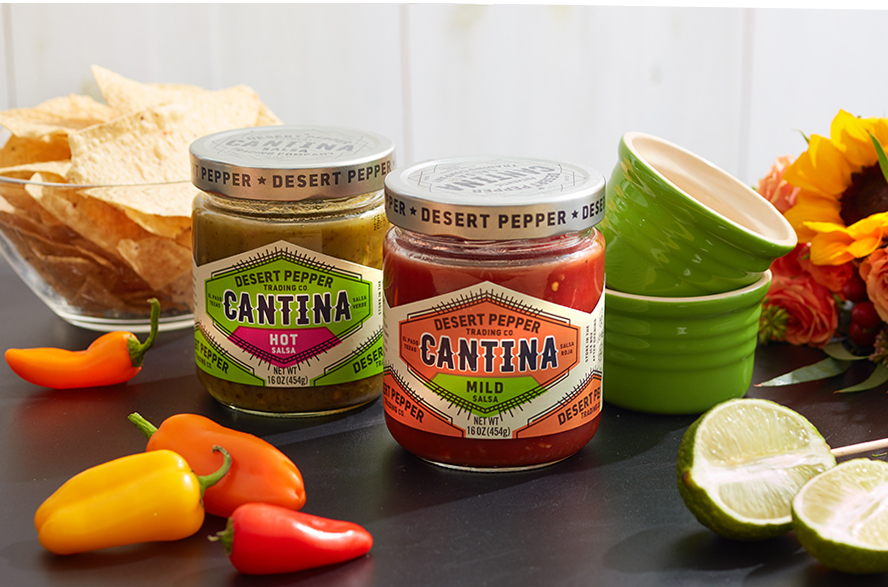 Almost everything you'll need to create these can be picked up with one quick trip to your local market – flowers, salsa, chips, peppers, tacos shells, etc.!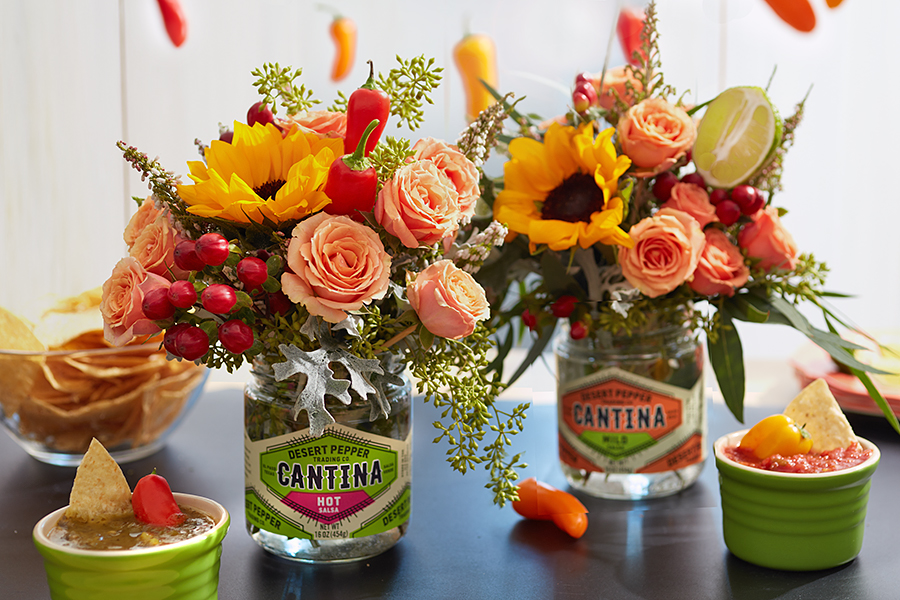 And didn't I say easy? But did I also mention ingenious? After pouring the salsa you bought into serving dishes use the glass jars as vases for the flowers! I purposely bought the Desert Pepper Cantina brand salsa for the cool labels (bonus – they taste great too). Then I placed the festive arrangement next to the coordinating salsa so that guests knew what heat level to expect!
Pepper your table with little pepper vases!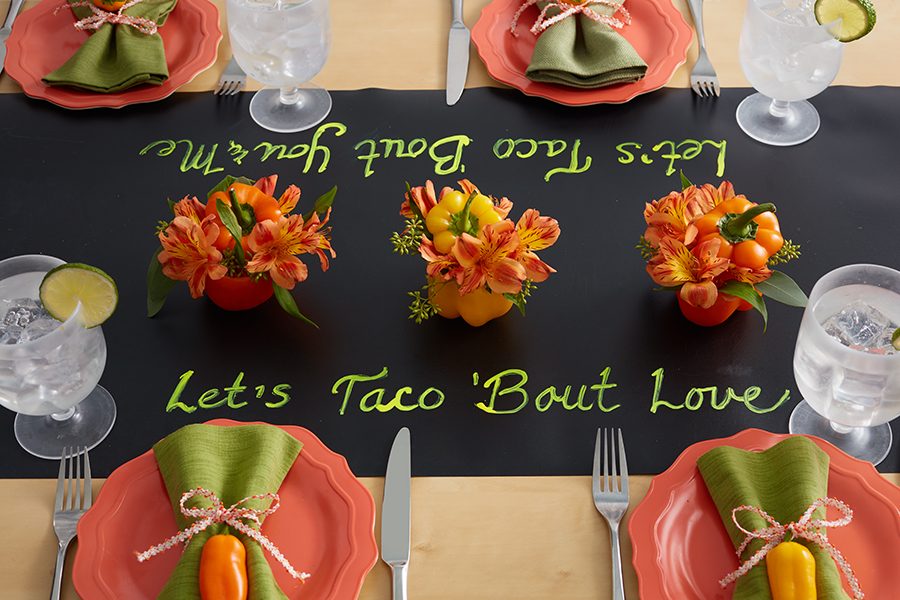 It's as easy as:
Everybody gets a flower taco!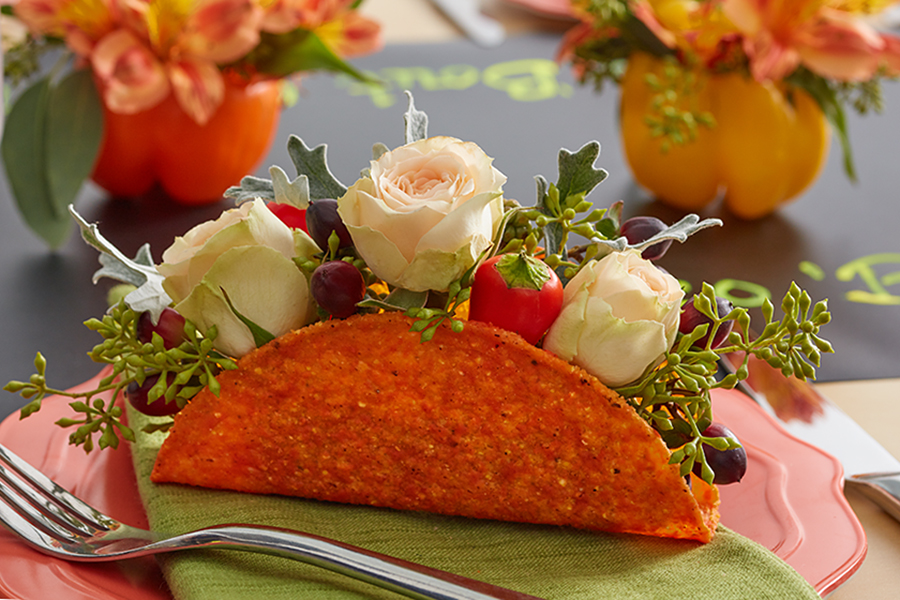 I like to challenge myself to think outside of the box when I am working on a project and then things like this happen!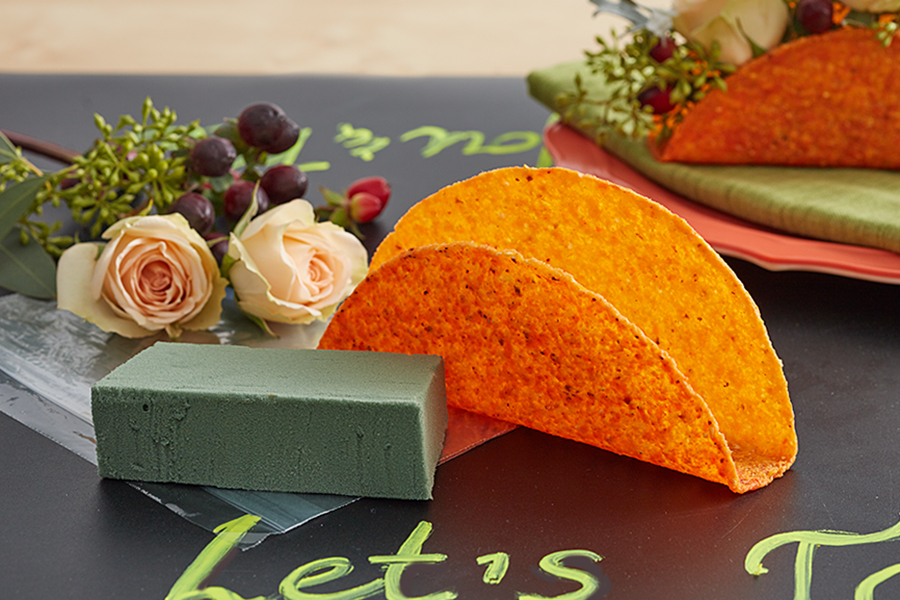 Here's how to make personal size taco bouquets:
Start with a stand-up taco shell.
Cut a small piece of floral foam to fit in the shell.
Soak the foam first and then put it into a small plastic sandwich bag.
Place in shell.
Add fresh cut flowers!
Maybe you prefer your tacos "supersized".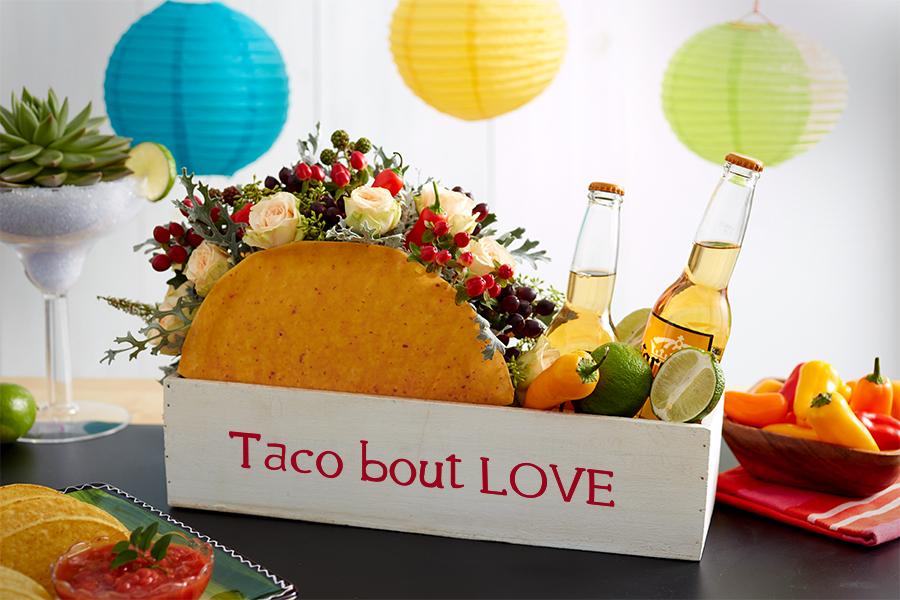 A super-sized flower taco nestled in a wooden planter and accented with a few Coronas, limes, and fresh peppers make a unique centerpiece for a buffet table or DIY Taco Bar.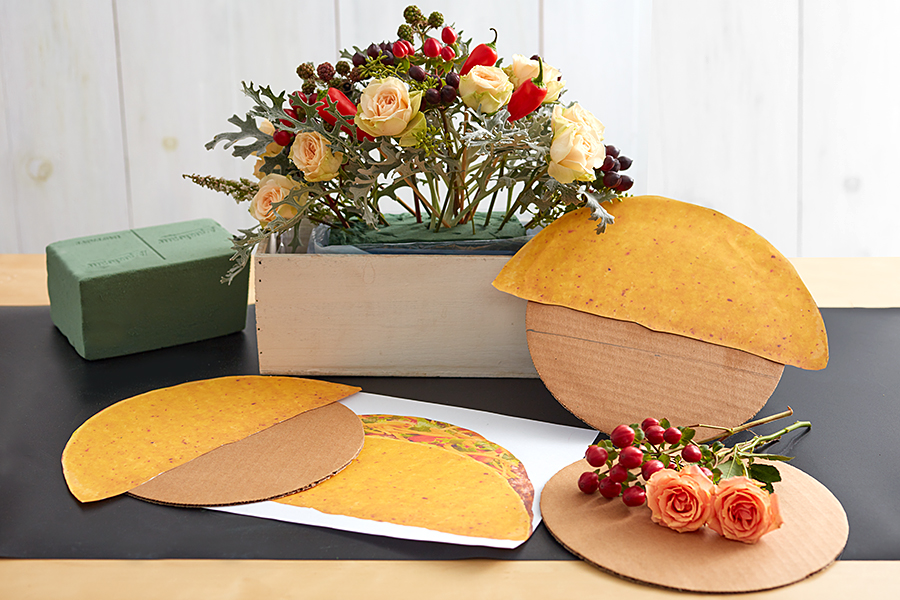 To make the large taco:
Print out 2 large images of a taco shell.
Cut out the taco shells and glue to pieces of cardboard.
Cut a piece of floral foam a little smaller than the width of your taco shell.
Soak floral and place into the liner of a wooden planter (or any container of your choice).
Add one image of the taco shell (facing out) to the one side of the foam and place the other one a little bit higher (facing the same direction as the first one) on the other side of the foam.
Cut fresh flowers so that they can be inserted into the foam and sit right at the top of the taco shell and arrange accordingly.
Add the additional elements to make it a complete "party in a box"!
Taco Jell-O® shots
I am so excited about this final idea! And you've probably been wondering when I am going to get to the tequila part! While I was putting this together I was thinking how perfectly these ideas would work for Galentine's Day. Which reminded me of the fun ideas that I shared last year for my gal's party. One of them was the waffle Jell-O® shots.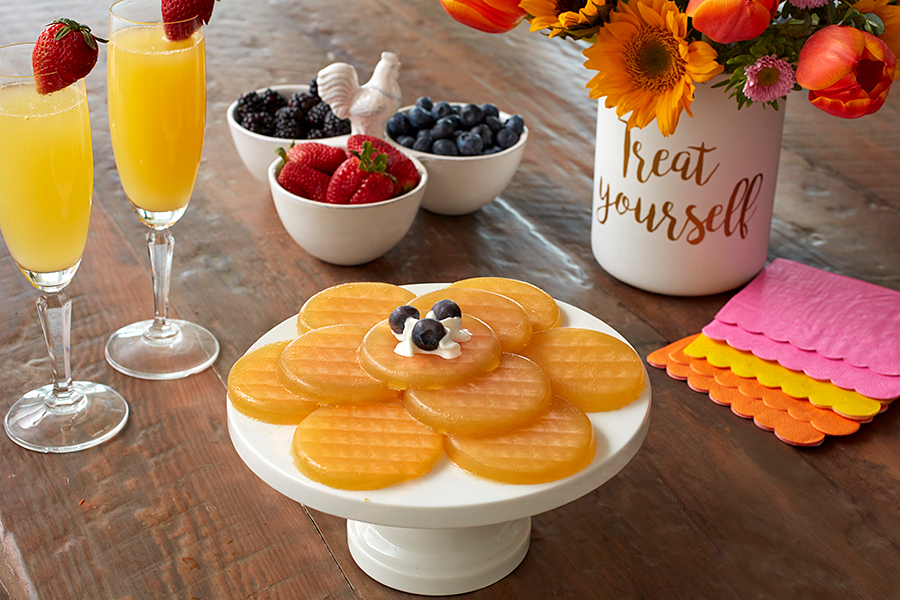 And a light bulb went off in my head – that pan would make perfect little taco shells!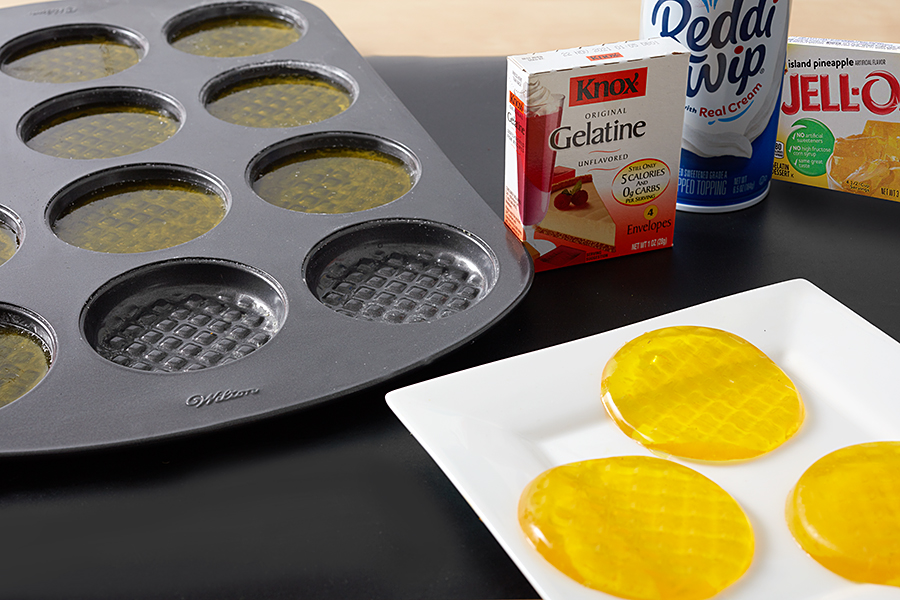 I changed the recipe up a little bit, combining a gummy and a jello shot recipe, to come up with this:
Add 2 packets of plain gelatin and one packet of Island Pineapple Jell-O® to a pot.
Slowing stir in a ½ cup of water until dissolved and let sit for 5 minutes.
Turn on heat and stir for about 5 more minutes.
Add ½ cup tequila and another ½ cup water and stir completely.
Dust the pan lightly with cornstarch.
Fill each opening half way up.
Place in refrigerator for 4 hours.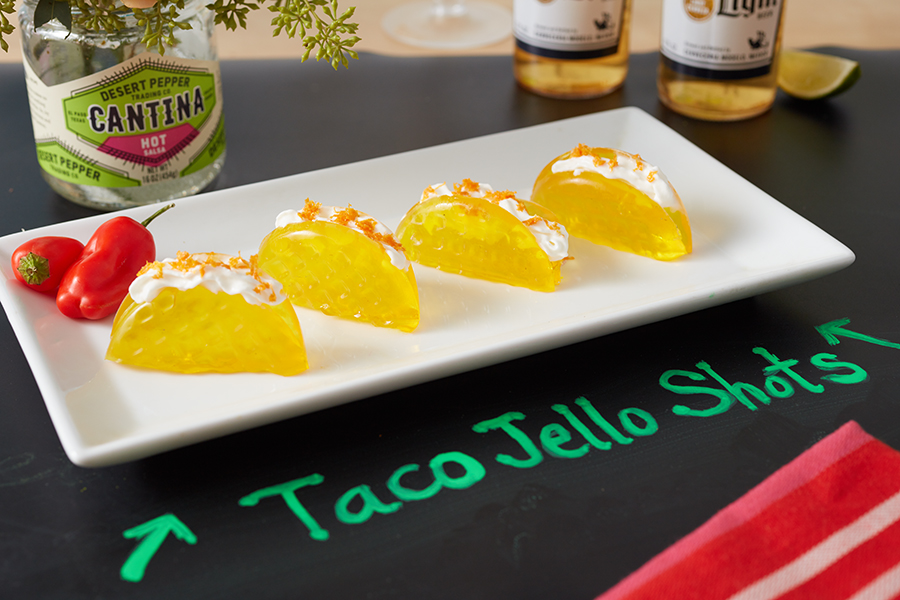 To serve fold each mini waffle in half and stand together on a plate.
Right before serving add whip cream and orange rinds or orange sprinkles!
Or set a DIY Taco Shot Bar! Just put the taco shell jello shots flat on a plate, along with bowls of small pieces of fruit and whip cream, and let everyone make their own!
If you like the direction these fun ideas are going in check out similar posts on my 1-800 Flowers.com blog with activities, how-to's, and recipes to help you celebrate all the LOVE you have to give!
How To Throw A Galentine's Day Party
Cinco De Mayo Decorations & Party Ideas
Or you can always say I Love You with a dozen roses. That's always a good thing!