You can carve more than just a happy faced Jack-o-Lantern into your pumpkins. Why not use these ubiquitous fall orange squash to spell out a special message? I set this vignette up to congratulate my niece and her then fiancé on their engagement.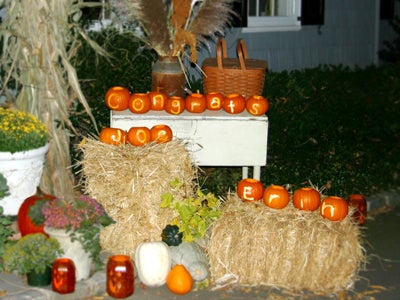 Not up to carving your own? Find a great alternative here.
Sweet Treat Indeed
Who says that a floral arrangement should be just a feast for the eyes? This arrangement not only looks great but satisfies your sweet tooth too. I placed a smaller vase inside of a larger vase and filled the space between the two vases with Halloween M&M's. Another great seasonal candy choice is candy corn. The arrangement features chartreuse speedier mums and purple statice.