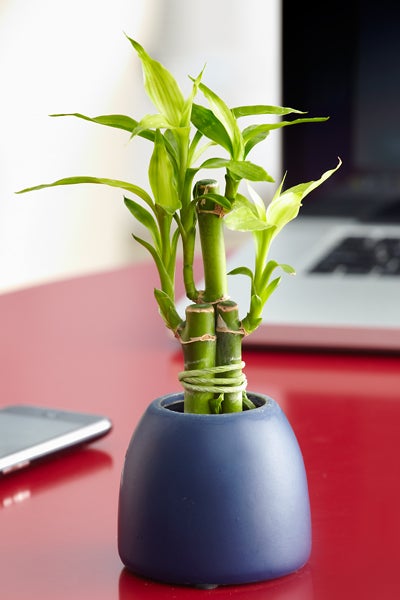 LUCKY BAMBOO
Known for centuries as Lucky Bamboo, the plant is not a bamboo at all (botanical name: Dracaena), but a resilient member of the lily family that grows in the dark, tropical rainforests of Southeast Asia and Africa.
Along with its ease of growth, Lucky Bamboo has long been associated with the Eastern practice of Feng Shui, or the bringing of natural elements of water, fire, earth, wood and metal into balance within the environment. Lucky Bamboo is believed to be an ideal example of the thriving wood and water element. Also, the addition of a red ribbon sometimes tied around the stalks is believed to "fire" the positive flow of energy or chi in the room.
The number of stalks also has meaning: three stalks for happiness; five stalks for wealth; six stalks for health.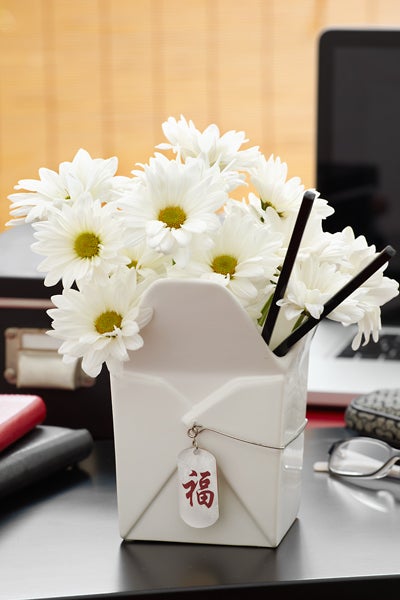 FLOWERS TOO – OF COURSE!
You've heard so many times from me about the power of flowers. It doesn't take a lot of flowers or expensive flowers to brighten a room and make someone feel good. At times, being away from home can be difficult for a college student. Surprising your special student with a simple bouquet, now and then, can really make a difference. Traditional vases aren't necessarily the way to go in a dorm room. Remember if it can hold water it can hold flowers. This ceramic Chinese "take-out" container is a fun unique vessel that can do double duty as a dinner plate or hold pens, pencils, hairbrushes, remotes, chargers, and of course flowers. The attached charm features the Chinese symbol for luck. And we all need a little luck!