I think every mom has an element of DIY in her. Some just have more of it than others! One of the most dominant traits of a true DIY Mom is resourcefulness. She knows where to get it, how to get it, and what to do with it. Today, I found the perfect blog for all DIY Moms.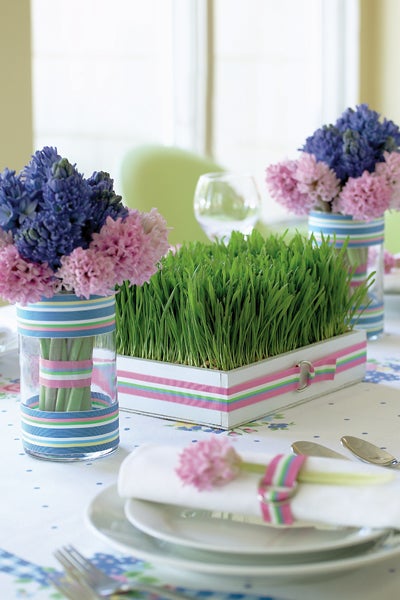 Amy from Resourceful Mommy, You've Been Spotted! Resourceful Mommy is a blog for the mom that does everything from planning the family trip to organizing her children's bedrooms. Check out Resourceful Mommy and you're sure to find unique and resourceful ways to sort out every day life.
A DIY Mom always has the "props" needed for any project whether it's making a costume, wrapping a gift, or setting a great table. Surprise your mom this Mother's Day with the perfect DIY spring-time brunch to say "thank you" for teaching by example. Being a DIY Mom myself, I always save the ribbons from my gifts and pick up remnants whenever I see them in a sale bin – you never know! The striped, grosgrain ribbons that you see here are what inspired this particular tablescape.
Hyacinth is just starting its season and the colors work perfectly. Pieces of ribbon can turn an everyday cylinder vase or drinking glass into a custom made coordinating vessel. Use belt buckles to make the napkin rings and the trim for the flat of wheatgrass. The wheatgrass is so fresh looking and fun. It can even be used to make wheat grass shots after the brunch!
Your mom will be so impressed and proud of the creative, resourceful person you have become. And I'm sure that she'll be re-using all of the decorative elements in new and interesting ways before long!
Tell 1-800-FLOWERS.COM about your DIY Mom! Visit www.spotlightamom.com and tell Mom's story & she could win a Beaches Vacation (pretty cool).