I tend to have "collections" of things. When I like something I usually pick up various pieces as I go along and tend to display them together. I love to pull the seasons into my collections. Most of the time I have my yellow pottery collection on a kitchen shelf, but on occasion I will pull a few pieces down and fill them with bunches of flowers from my garden, a local farmer's market or neighborhood florist. The smaller arrangements make a lovely vignette on a foyer table or in the middle of a luncheon buffet table. I use every pottery piece that I have and use them in different ways all of the time. It's fun to see new life in old cherished containers.
I will be showcasing different collections over the next week. Each one has a different vibe and a different story to tell.
USA POTTERY COLLECTION
I've been collecting USA pottery for quite awhile now. You can find pieces in so many different places from garage sales and flea markets to antique stores and online auctions. Prices vary dramatically from a few dollars to hundreds of dollars. There are many factors that go into determining value, but I have never collected for the value. I love the colors, shapes and history of pottery. The fact that they were all made in the USA is also very important to me. Some of the more well know brands are McCoy, Hull, Hall and Roseville, and Haeger. I also like the early connection to the floral industry. Haeger in particular produced many vases and planters that were staples in flower shops across the United States. I have been using the vases of Barbara Eigen in my collection for a few years. Barbara is a ceramist with a studio in Jersey City. Her collection is today's version of the USA pottery of years ago. I will be visiting her studio soon and will share with you a behind the scenes look at an artist at work. I currently have a product in my collection called Country Harvest that features a ceramic pitcher which is a reproduction of an original Hall pitcher that I found in an antique store last year.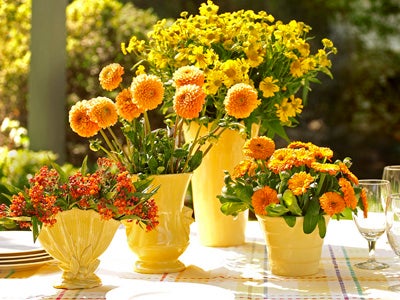 Here's an example of the simple beauty of seasonal flowers (asclepia, coreopsis, dahlias, and calendula) in yellow pottery. The other collections I'll be featuring are amber glass and copper. What collections do you have that can be used in new ways and add a new look to your autumn decorating?