If you are interested in having a coastal themed wedding, here are a few beach themed wedding ideas that can help you. You can go tropical and colorful or coastal and serene. Here I took the serene path and worked primarily with blues and greens.
Find a floral designer and/or event planner that can be a true partner throughout the process. Talk about your vision and your budget. Show them as many pictures as you can of things that you like. One way for you to make your décor unique and economical is for you to source and buy most of the hard goods (vases, candles, etc.) for the floral designer to use.
Beach Themed Wedding Centerpieces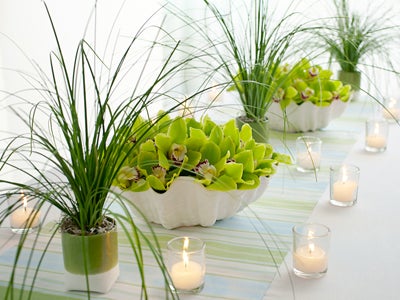 Linens can add a real customized feeling to the whole look. If the reception site doesn't have the choices that you are looking for then I recommend visiting a local large fabric store. That's where I found this perfect seaside stripe cotton material that I had a friend sew into a table runner.
Next stop was a large discount home goods store that has many options for vases, candles, etc. The retail prices in this type of store are unbelievably low (usually below typical wholesale pricing). The total cost of the 5 containers used for my tablescape is under $20!! I chose green cymbidium orchids for the oversized shell bowls and bear grass for the smaller green containers.
If you prefer to go with more of a Cape Cod/Nantucket coastal vibe then use Nantucket style baskets filled with hydrangea. Lots of candles and randomly placed shells complete the look.
Beach Themed Wedding Bouquets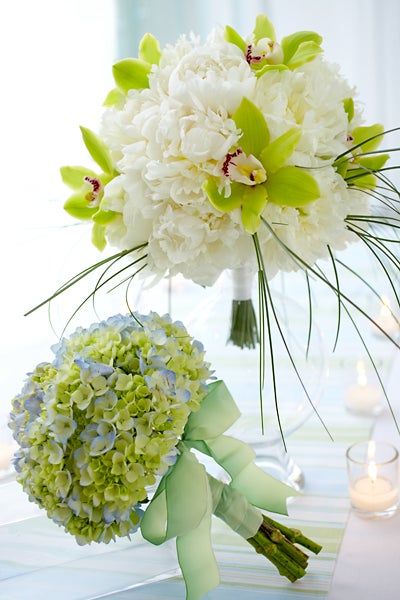 For the bridal bouquet I went with white peonies and green cymbidium orchids. Peonies are perfect wedding flowers – they're lush, romantic, and fragrant. Unfortunately, they have a relatively short growing season so I always try to use them when I can.
The bridesmaid's bouquets couldn't be simpler or more beautiful. A few stems of blue/green hydrangea tied with a ribbon and you're set to go!
Check back for the details on the Wedding Day Daisies – a fun and modern look for that special day. If you are in NY – look out for me on the PIX Morning News. I will be talking about wedding day flowers! Can't wait.