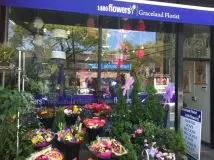 Local Westchester florist Joseph Edwards has operated Graceland Florist (located on 527 Gramatan Avenue in Mount Vernon, New York) for over 23 years!
As a 1-800-Flowers.com franchise shop, Joseph is partaking in the 1-800-Flowers.com Local Exclusive program where his unique designs can be ordered right online through 1800flowers.com when a gift giver is looking for flowers in the Mount Vernon, NY area.
Luckily for us, Joseph took the time to discuss some of his favorite Local Exclusive flower arrangements along with interesting florist experiences, to tell us what makes them so special!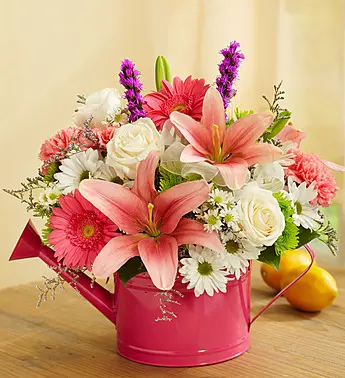 How did you get into the flower business and what do you love best about being a florist?
Ever since walking home after school at age eleven, I knew that I loved the flowers business. What I love most is bringing smiles to customer faces; everyone is always so happy to receive, plants, or a fruit bouquet.
Local Exclusive Product Names:
Our local exclusive product names are the Stunning Symphony Bouquet, the Delightful Daisy Bouquet and the Mystic Island Bouquet.
What inspired you to design your local exclusive arrangements?
I was inspired to design the Stunning Symphony Bouquet by the colors of the season; it has some lovely pink,white, and purple blooms which blend beautifully with the great keepsake watering can. The Delightful Daisy Bouquet was inspired to be a bright colorful and cheerful arrangement. The Mystic Island Bouquet was inspired from the tropics, I love the Caribbean. All the flowers in the arrangement remind me of the islands.
What is your favorite Local Exclusive design that you've made and why?
I would have to say my favorite local exclusive would be the Mystic Island bouquet. I love the tropics and this arrangement reminds me of being in the Caribbean in the islands.
What do you love most about your local community?
What I love most is the small town feel we have in our community. I've been in the same location for 23 years, it's always nice when customers come in and I know them on a first name basis.
What are your favorite flowers?
Peonies, French tulips and hydrangeas.
What has been the most rewarding experience during your florist tenure?
The most rewarding experience as a florist has been aligning myself with 1800Flowers.com, becoming a design center and incorporating a new wonderful line of fruit bouquets.
What is your favorite floral occasion?
My favorite floral occasion I would say would be Mother's Day. It's a very bittersweet holiday for me since I lost my mother 23 years ago. However, it's a great time to reflect her memory as well as give other Moms smiles on their faces when they receive their flowers from their loved ones.
What is the weirdest thing you have seen or experienced during your floral career?
I would have to say a customer coming into the store and requesting a box of all the dead flowers and delivering them to his ex girlfriend.
What are some "Fun Facts" that your customers don't know about you?
Fun facts that my customers don't know about me is I love karaoke as well as tennis.
What makes you smile?
Some of the highlights of my day include having a wonderful work environment as well as seeing my customers reaction when they receive their flowers!
In the New York area? Visit this Mount Vernon florist:
Graceland Florist
527 Gramatan Ave.
Mt. Vernon, NY 10552
914-664-3111
//www.gracelandflorist.com/