"The city that never sleeps" can be quite romantic and adventurous if you know where to go! Whether you're a local Manhattanite, live in the NYC metro area, or are traveling from out of town special for Valentine's Day, the city is filled with a never-ending array of date ideas for every type of couple. In fact, there is so much to do in New York that the amount of options can be overwhelming, even for the locals. So bundle up, grab your honey by the hand, and take a look at some of these brilliant suggestions for an unforgettable Valentine's Day in the "Big Apple."
Broadway Baby
When you think of New York City, you think of Broadway, and you can never go wrong with a Broadway show date! Okay, so you may not be able to see Hamilton unless you're willing to shell out the big bucks, but there are SO many fantastic shows to choose from. Playbill is a great resource for show discovery. Some hot ones out at the time this article was written to consider include: Wicked, Phantom of the Opera, Waitress, The Color Purple, Beautiful, Kinky Boots, Natasha, Pierre & The Great Comet of 1812, and The Book of Mormon. Money saving tip: TKTS discount booths are a great way to go if you have the time to wait online, and are looking to save some cash on your date. The show list is as available that day, and there are four different locations: Times Square, South Street Seaport, Lincoln Center, and Downtown Brooklyn. You may be better visiting the non-Times Square locations for *potentially* less people, but hey, it's New York, and the city is always crowded. TKTS has a downloadable app too that is helpful for knowing booth open and close times. The earlier you get there, there, the better the selection choice. There may be some Off-Broadway ones that interest you too, like Avenue Q.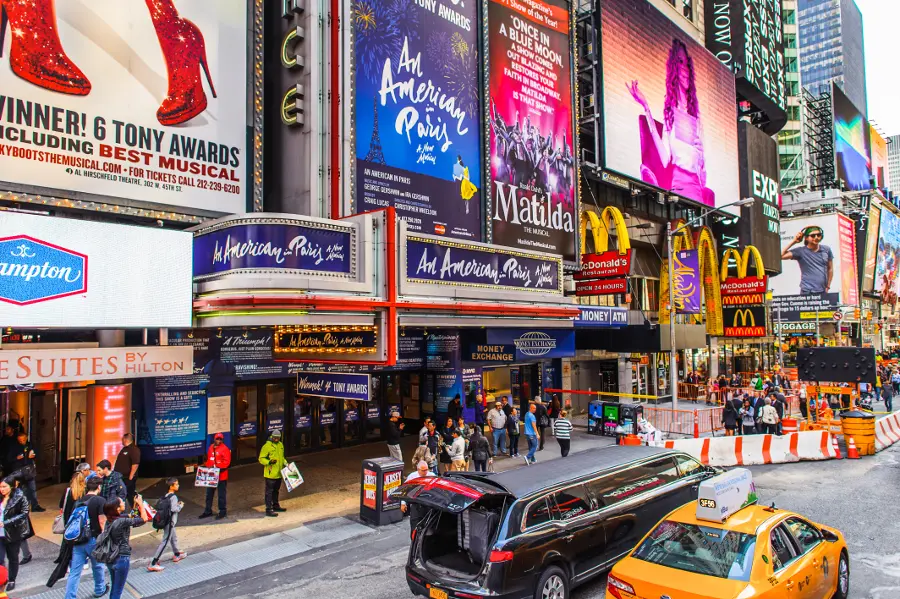 Explore Chinatown with Authentic Chinese Food
Chinatown is a great place if you and your sweetie love Chinese food and for some shopping, but you definitely want to make sure you pick a good place. Personally, I love Hop Kee (21 Mott Street) and have been going there for years. It's no frills but the food is fantastic every time. Personal favs: chow fun, sweet and pungent chicken, dumplings, and chicken and broccoli in black bean sauce. Other goodies from word of mouth: Shanghai Asian Manor, Shanghai Café Deluxe, Joe's Shanghai, and Red Farm. If you're looking for a little something sweet after, there are tea houses in the area as well. If you've never tried it, bubble tea is a traditional fav. Bubble tea recs: Vive Bubble Tea & Patea Bubble Tea. Little Italy is just a short walk away from Chinatown if you're feeling for some Italian desserts like cannolis and tiramisu instead.
Art Museums
Gosh, where to start with art museums in NYC!? There are so many good one depending on your taste.
3 Admissions for the Price of 1 at The Met Museum Family: While its massive size can be a bit overwhelming, The Metropolitan Museum of Art on the Upper East Side is a personal favorite of mine because there are so many different art types to see from Egyptian to contemporary. If you buy tickets at the box office (there is usually a line and high security), there is a suggested admission of $25, but since it is just suggested, you can donate whatever you feel comfortable with to visit the museum. Insider secret: admission includes entry into ALL The Met museums. The Frick Collection for modern and contemporary art opened recently in March 2016, is a little less overwhelming due to its smaller size, and is just a few blocks away from the 5th Avenue Met. If you have the time to trek up north and if it's nice out, The Met Cloisters is gorgeous for those who love architecture and medieval art.
Visit the Museum of Modern Art in midtown for contemporary art at it's finest. Advance tickets are recommended, especially if a hot exhibit is happening.
Explore American art in a beautiful building at the Whitney Museum of American Art. Advance tickets are recommended.
Absorb international 20th century art Guggenheim in a super cool circular museum design.
Gallery Hopping: If you're looking for something free and fun, in Chelsea and SoHo there are tons of art galleries to hop in and out of. It makes for a fun afternoon and helps with spontaneity.
A Romantic Walk Along the Highline
Even though it's chilly in New York, walking along the Westside of Manhattan from the Meatpacking to Chelsea, the High Line is a great way to spend a romantic day or night with your sweetie. From sculptures to plants, there are places to sit along the way if you want to take in the scenery.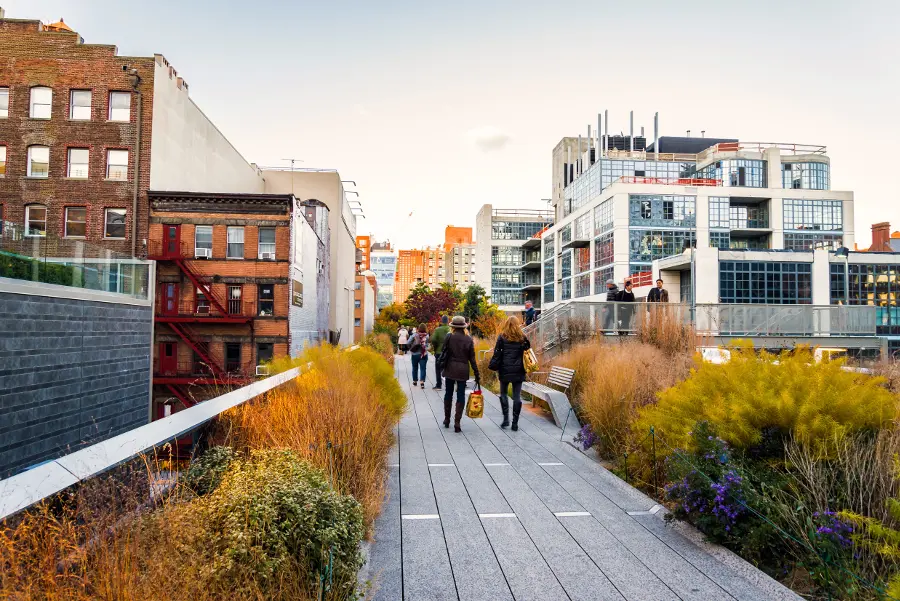 Rock Out at a Concert
We're talking about NYC here, so of course there is tons of live music with bands from the subway stations to huge venues. Sites to check out that may be of interest include to find a live music show near you include: Songkick, Time Out NY, Ticketmaster, Stubhub, Oh My Rockness & Brooklyn Vegan.
Have a Classy Night at Lincoln Center
A NYC landmark, Lincoln Center isn't only breathtaking, but it has so many different arts to choose from. Whether you're looking for dance, opera, or orchestra, there is a little something for every art lover, at all different prices.
Dine at a Celebrity Chef's Restaurant
Since the word "celebrity" is in this headline, a lot of the restaurants with celebrity chefs do tend to be pricey. There are some gems though that are more affordable. It is highly recommended to make a reservation. We're only going to list a few but there are SO many more to choose from if you do a little bit of hunting. Insider tip: lunch options where available may be more affordable.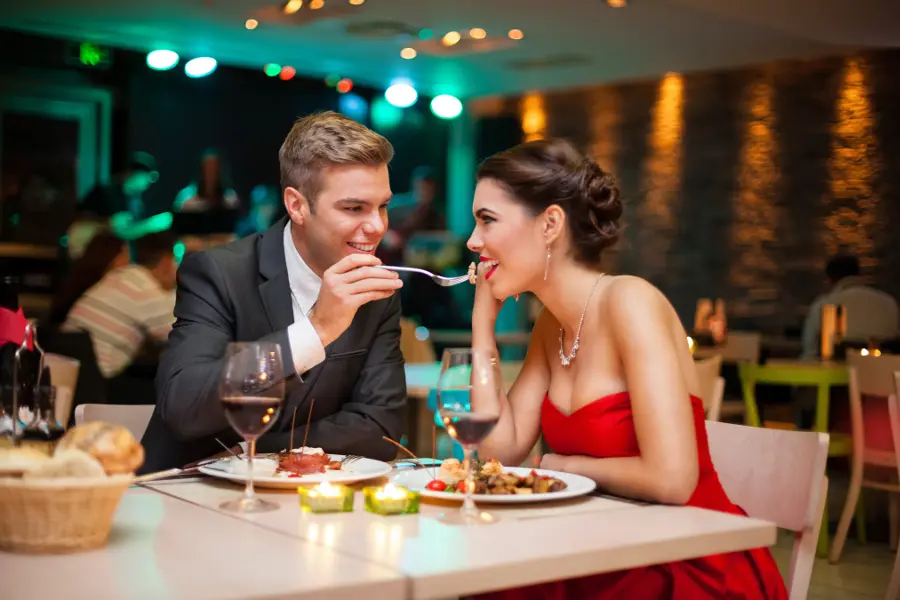 If It's Your Thang (of If You Want it to Be), Go Whiskey Tasting
There are a ton of bars with great whiskey selections, and many who offer flights. Some of our favorites include: The Flatiron Room (also usually has classy music and an unbeatable ambience), Maysville, The Whiskey Ward & Hudson Bar & Books.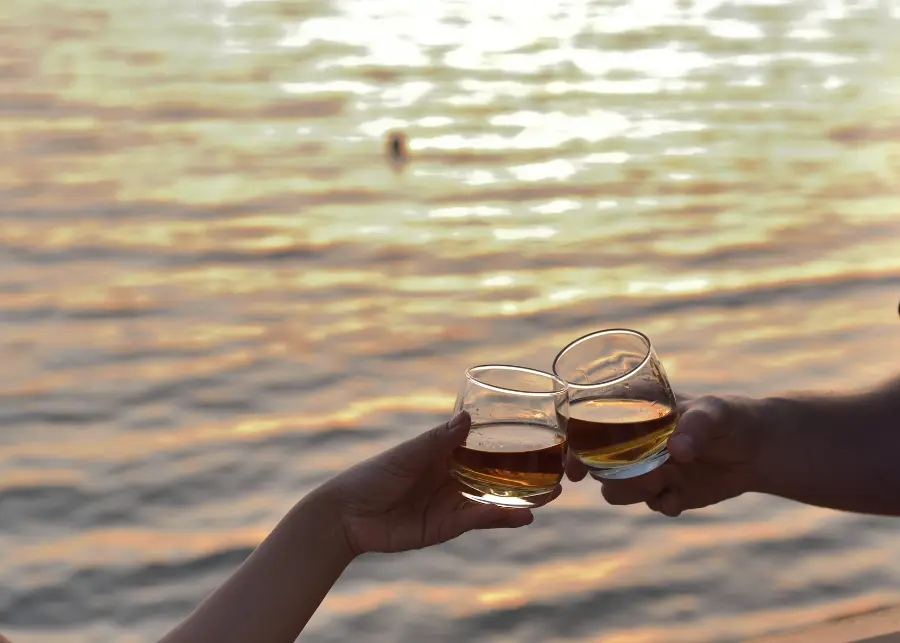 Laugh a Little at the UCB Theatre
Comedy shows can always be hit or miss but the Upright Citizens Brigade Theatre has some really awesome comedians to make you laugh and is the alma mater to some super famous folk. There are also improve classes you can take with your significant other if you're up to the challenge!
Cheer on a NY Team at an Indoor Sports Game
This is the perfect time of year to enjoy a basketball or hockey game indoors and away from the outdoor elements. Whether you like a fast-paced, edge-of-your-seat game like hockey, or a high-scoring, non-stop action game like basketball, you and your date are sure to have a blast. Head on over to Barclay's in Brooklyn for the Nets or the Islanders, or go to Madison Square Garden (MSG) for the Knicks or Rangers. While tickets at MSG are a bit pricier, we think it's worth it for the view and fan comradery. Both are easily accessible by train, so you can safely enjoy plenty of adult beverages (and snacks, of course!).
Karaoke and Korean Food
Enjoy Korean food at one of the many restaurants in the mid-30s. I always enjoy New Wonjo but there are tons to choose from. Then continue the evening with a little karaoke to sing like no one is watching… except your significant other in a private room. This also makes for a great double date. I always enjoy Radio Star Karaoke, but there are many in walking distance in the vicinity.
Sleep No More
REALLY get into Macbeth at Sleep No More #share, which has a complete hands-on theatre experience where you wear masks and get into character. We also hear there is a Valentine's Day special offer if it doesn't sell out. Advance tix are necessary if you're interested.
Couples Spa Day
If you both enjoy a day of rest and relaxation, there are so many spas all over Manhattan, but it's tough to find one that allows for couples. Faina European Day Spa has a couples massage package for a unique experience to enjoy with your significant other.
BYOB Art Classes
You don't have to be a masterful artist to have an amazing date night at one of the city's bring your own bottle art classes. Bring your date, your favorite bottle(s) of wine, and an open mind. You'll be supplied with paint, brushes, canvases, a qualified instructor, and all of the corkscrews that you'll need to have an eventful night. You'll have a great time that will leave you with a masterpiece of your own making. There are a bunch of different ones to choose from (including some that are not BYOB), but Paint Along NYC is cool BYOB one to check out.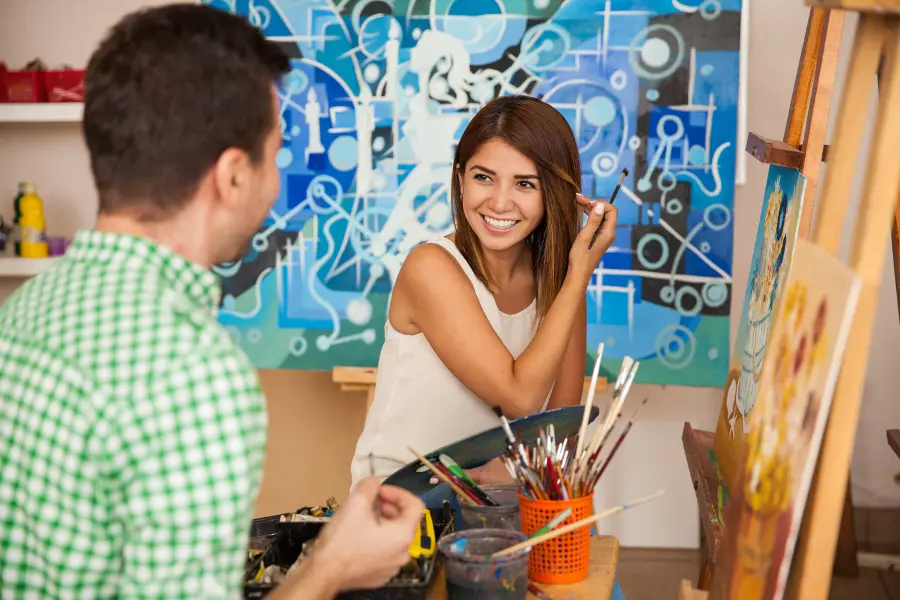 "Flip a Coin" Date Night & See Where the Night Takes You in NYC
If you and your significant other enjoy spontaneity, this may be an interesting date night for you! Simply choose a starting point in the city, we prefer Union Square or Central Park, and flip a coin to decide where the night will take you. Choose heads to make your way over to a bar around the corner or tails to take a stroll throughout Central Park. This date night is completely unplanned and that's what makes it so exciting. Your night could begin in the Upper East Side and somehow lead you to an art gallery in the Lower East Side.
Take a Tango Class
Learning something new is a great way to spend a cold February day together, so why not take up a tango class? Triangulo in Chelsea offers basic Argentine tango classes for beginners and more advanced classes for tango lovers. Watch your dance moves steadily improve as you and your date live it up! Tango is all about getting close and moving in sync with your partner making it the perfect Valentine's date.
If You Can Snag Tix, a "Night Under the Stars" at the Museum of Natural History
It's sold out but we're including it anyway in case you can snag tix some other way. There's nothing more romantic than gazing up at the stars with the one you love. This Valentine's Day, head over to the Hayden Planetarium at the Rose Center for Earth and Space for a "Night Under the Stars." Enjoy an open bar complete with drinks, hors d'oeuvres, and chocolates with your date while a jazz quartet performs in the background. Inside the planetarium you'll be able to admire the constellations while an astronomer recites ancient mythological love tales based around the universe.
Updated Dinner & a Movie Combo
The dinner and a movie date has been a classic for years and with good reason. Nothing beats watching one of the best new releases and then grabbing a bite to eat. But, what if you could somehow combine the two? Well that's exactly the experience you'll get at the Nitehawk Cinema in Williamsburg, Brooklyn. Showcasing the top rated films from the indie and mainstream genres, you'll be able to enjoy the film and order food right to your seat. With signature popcorn dishes, alcoholic beverages, and a multitude of entrees to choose from you'll enjoy this unique viewing experience.