Get Inspired by These Fall Wedding Ideas From a Real 1-800-Flowers Bride!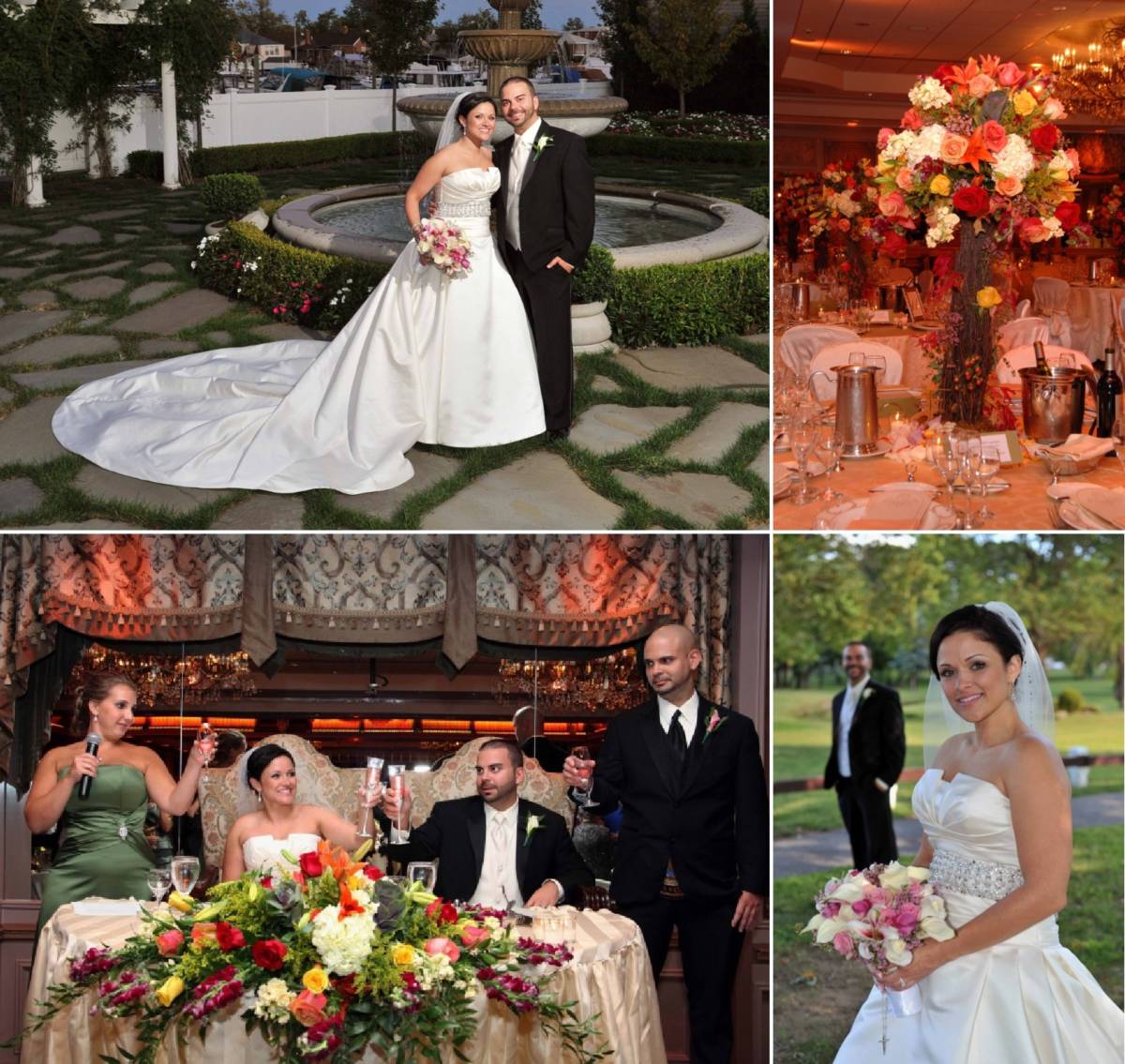 When our Online Marketing Manager, Kerri, married her prince charming on September 15, 2012, it was only fitting that they have an enchanting fairy tale wedding. And with the rich, charming hues and woodsy, natural beauty of autumn, deciding to have a fall wedding was a no-brainer for Kerri:
"I picked fall because the weather was cooler, and we didn't want to inconvenience our guests' summer plans," says Kerri. "Plus, I love fall colors, so it was easy finding a color scheme I loved!"
Read on to find out how this real bride brought her forest-inspired wedding vision to life with the help of 1-800-Flowers floral designer Michael George, and snag some ideas for your very own fall wedding!
The Wedding Color Scheme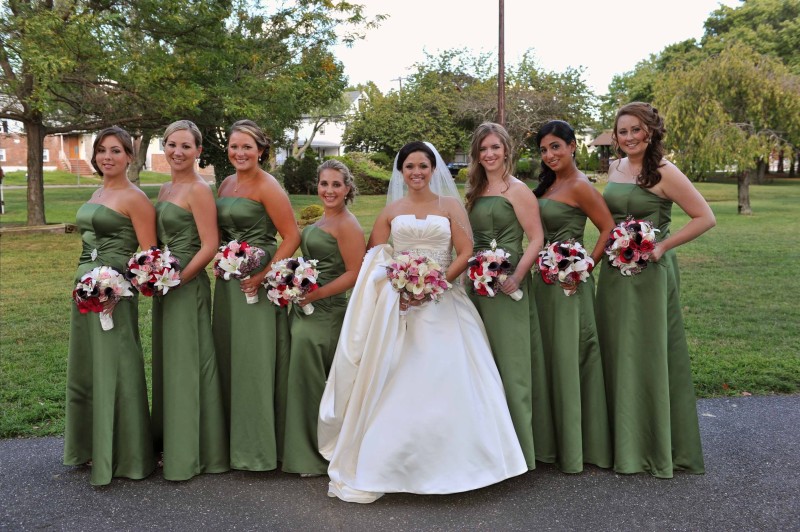 To set the stage for her woodland wedding, Kerri picked a beautiful and whimsical shade of green for her bridesmaids' dresses. Not only did the color fit her magical autumn theme perfectly, but it was also very practical:
"I love the color green," says Kerri. "I picked it because I felt it wasn't too girly, and it really complemented my bridesmaids' complexions. On my darker-complexion girls it looked amazing and exotic; on my fairer girls it brought out their fair eyes and made them shine. It really made everyone look beautiful."
The Wedding Centerpieces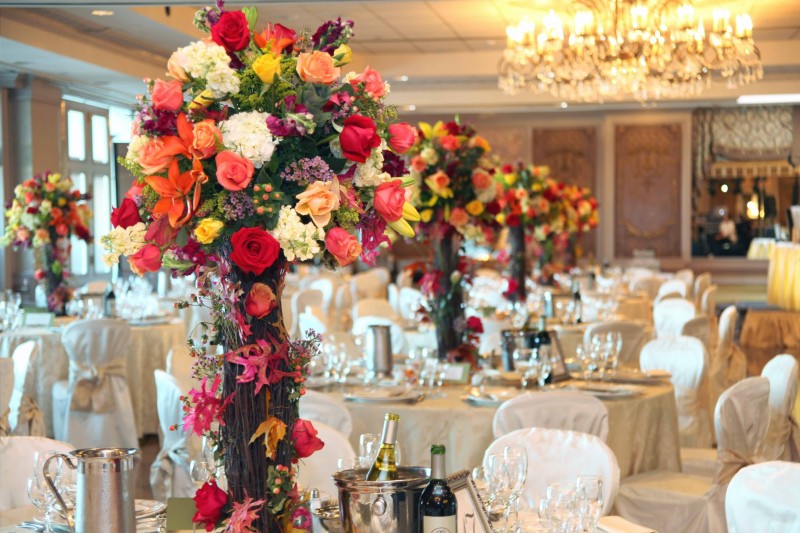 The calm and neutral tone of the bridesmaids' dresses was the perfect backdrop to make her bright, dramatic flower arrangements really pop. And there's no question that Kerri's centerpieces were the showstoppers of her fall wedding décor.
Forgoing the traditional floral centerpiece, Kerri and her designer blended natural wood elements with vibrant autumn-colored blooms to create a one-of-a-kind enchanted forest of flowers. Overflowing with deep red, royal purple, electric yellow and fiery orange blossoms, and set atop tall stands laced with real tree branches, these arrangements were a fall bride's dream come true.
"I didn't want something that everyone else had. 1-800-Flowers was one of the only floral places that had these stands that looked like real trees. It was very unique yet simple at the same time. All of our guests remarked how they had never seen centerpieces that looked like that. They were in awe," says Kerri.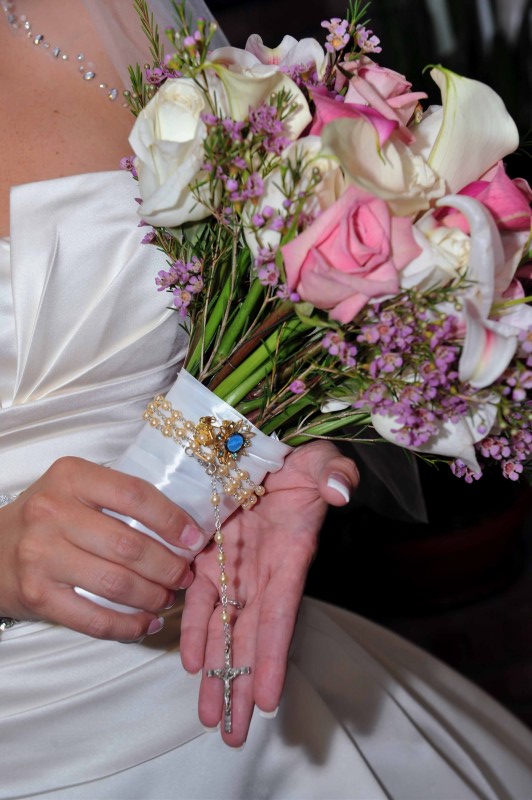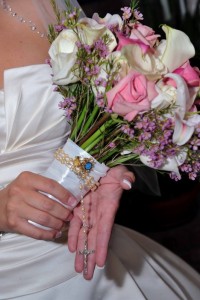 The Bridal Bouquet
Kerri chose to skip the traditional all-white bridal bouquet and go with something a little more colorful—a great way to express her dazzling personality! Using mini white calla lilies and white roses as a base, Kerri mixed in garnet calla lilies, hot pink roses, and red-striped stargazer lilies (her favorite flowers) to add a breathtaking burst of fall color to her bouquet. To make her arrangement even more personal, she wrapped golden-hued family heirlooms around the stem of her bouquet.
"I wanted to follow the 'something old, something borrowed, something blue' tradition, so I borrowed the blue religious pin from my grandmother and the gold pin from my mother. The rosary was my something old: It belonged to my great-grandmother, and it's been used for religious events in our family ever since," says Kerri.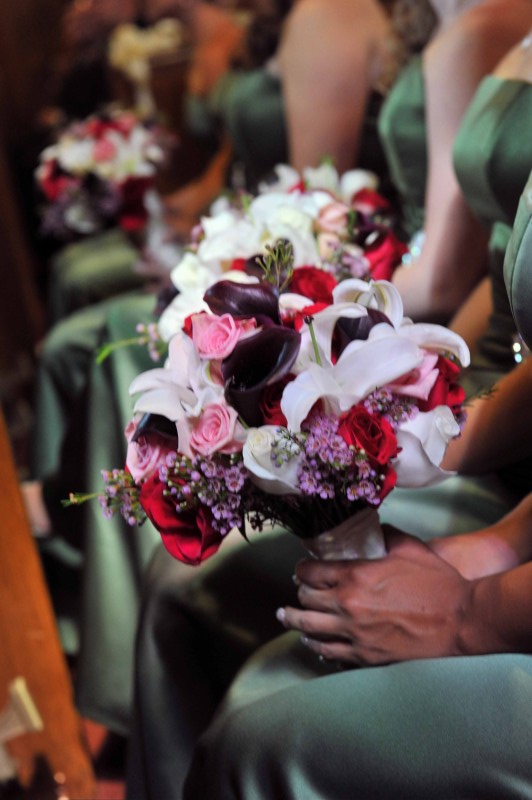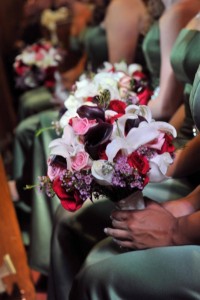 The Bridesmaid Bouquets
To complement both her own floral arrangement and the enchanting green color of the bridesmaids' dresses, Kerri chose flowers with similar bold pops of autumn color for her bridal party. The girls' bouquets were featured a bounty of white Casablanca lilies; mini purple calla lilies; white, light pink, and hot pink roses; and light pink wax flowers. The groomsmen looked dashing with their garnet glow mini calla lily boutonnieres.
Are you planning a forest-inspired wedding too? Tell us which part of Kerri's storybook fall wedding is your favorite!