Kaylin Jensen started A Blonde and Her Bag from a single birthday gift she made for a friend and has grown it into one whose products are available in boutiques across the country and shipped all over the world.
But the thing she's most proud of is the fact that her handmade jewelry business is staffed exclusively by women.
"It just brings me so much joy," says Jensen, whose employees include a manager, a marketing and promotions manager, and two bench jewelers. "There's this very famous quote by Madeleine Albright: 'There is a special place in hell for women who don't help other women.' That always resonated with me so much. There's enough business and enough jobs out there for every single woman, and we should really be bringing each other up."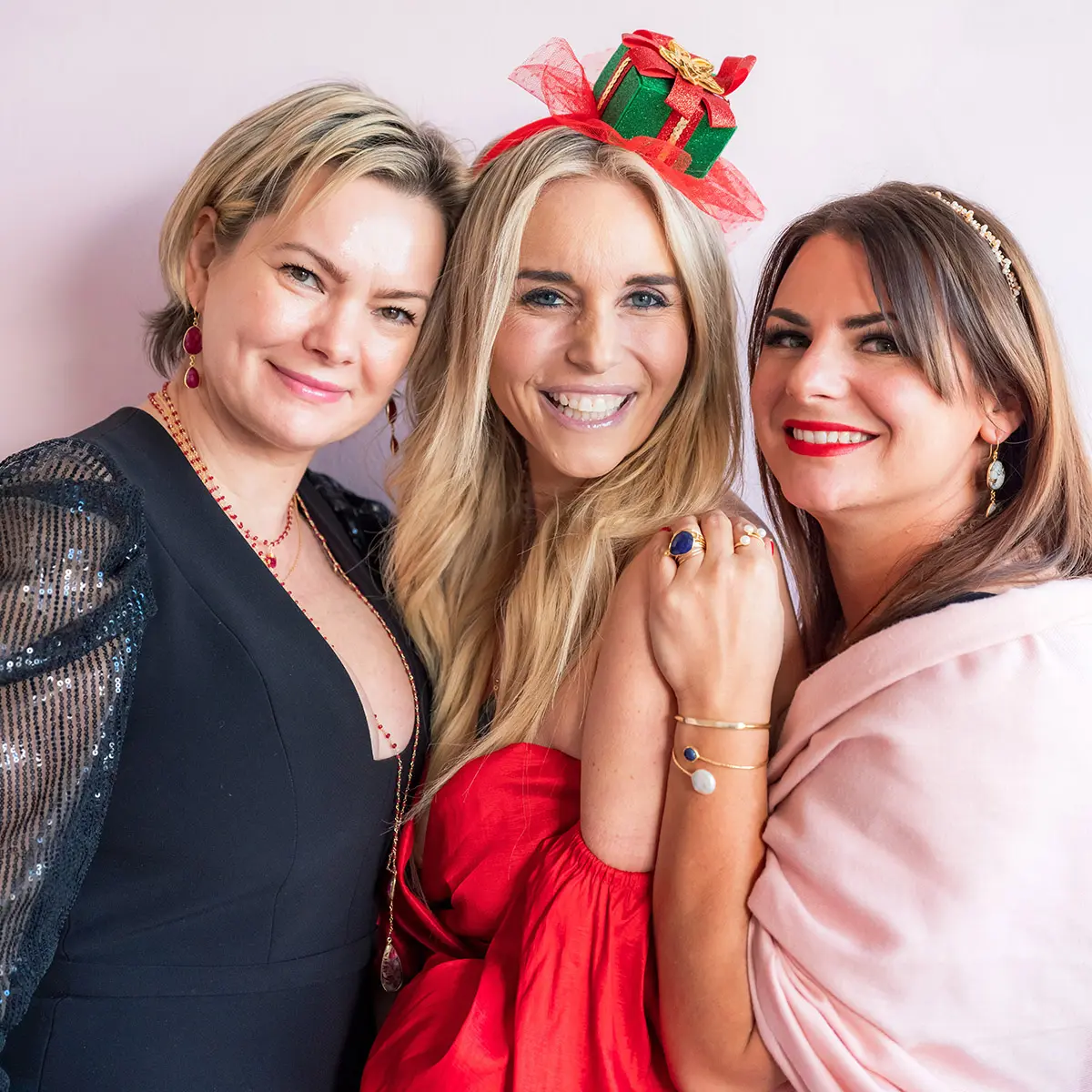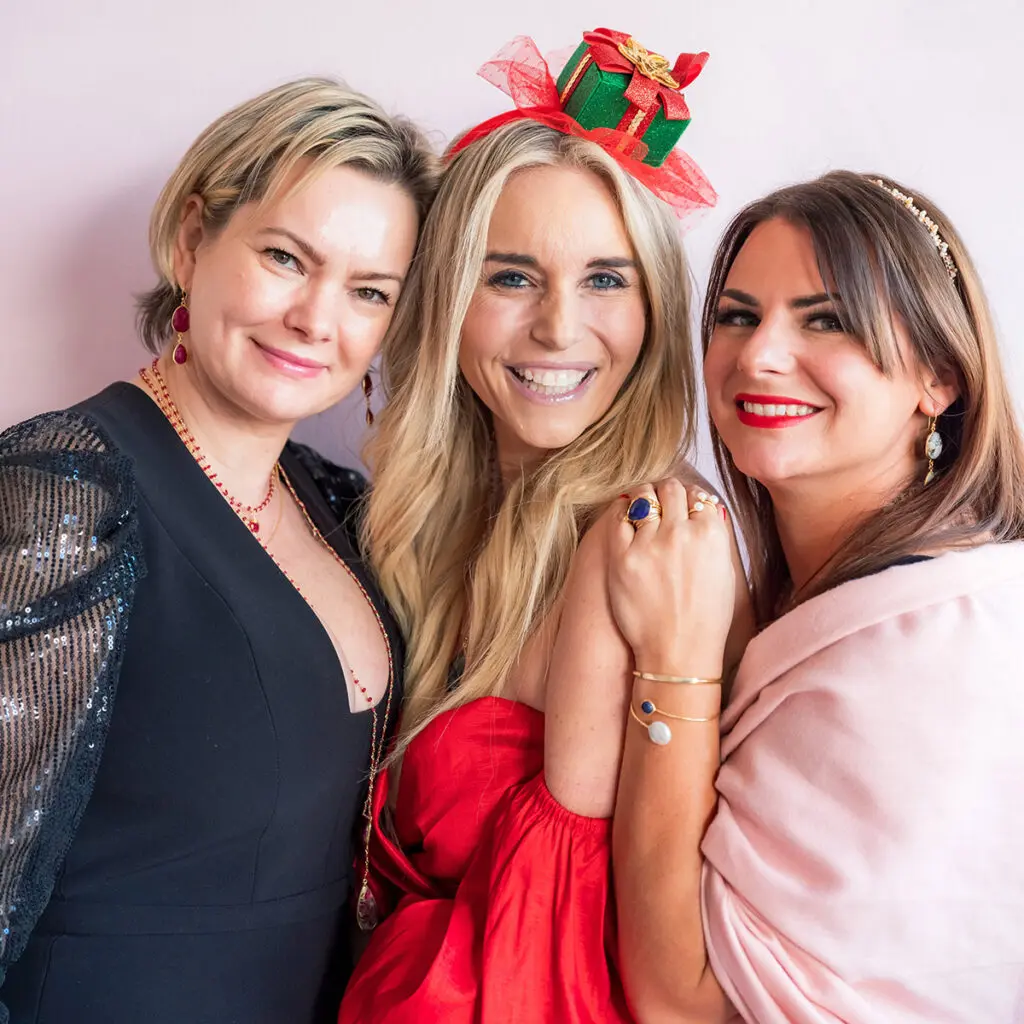 The offices of A Blonde and Her Bag, which are in Sausalito, California, have a definite woman's touch, and the culture is all about girl power. They have Champagne Fridays. They do Pink Wig Wednesdays. The company's showroom is awash in pink.
The former U.S. secretary of state would be proud.
"I just adore all the women that work for me. We have a lot of fun together, and always celebrate every little milestone in such a big way," Jensen says. "It's all about the company you keep and the women you keep around you — and that's part of the growth."
Desperate times…
The growth of A Blonde and Her Bag has been slow and steady, and undeniable — and is something Jensen, 37, never could have envisioned back in 2008 when she was working in commercial real estate.
That year, of course, is when the housing market crashed, sending Jensen into unemployment. After being let go, she struggled to find her niche, and to make ends meet. Five years later, a friend of hers was celebrating a birthday, and Jensen couldn't find an affordable gift — "I went to boutiques, and a small necklace would be three, four hundred dollars" — so, mostly out of desperation, she decided to make one herself. After spending hours watching YouTube videos, she had something that resembled a necklace — but she was less than confident her friend would like it.
Gift ideas from A Blonde and Her Bag
"To my surprise, she actually loved it," Jensen says. "And she not only wanted more for herself but for her friends and family."
A Blonde and Her Bag was born.
The next level
Jensen credits her boyfriend at the time, Phillip Evangelatos, with encouraging her to turn her hobby into a business. Evangelatos steered her to WEV (Women's Economic Ventures), a business network that provides a range of resources for women entrepreneurs in Santa Barbara and Ventura counties.
Through WEV, Jensen enrolled in a 14-week crash course, and she came out of it with a comprehensive business plan.
Her biggest piece of advice for other aspiring businesswomen? "Write a business plan that allows you to look, plan, and think about every aspect of the business before you put a single cent into the idea," Jensen says. "For that, the WEV program set me up for success from the very beginning."
With a plan in hand, Jensen took to the streets — literally — selling her wares at craft fairs and the like. She debuted A Blonde and Her Bag the Santa Barbara Arts and Crafts Show on April 7, 2013 — and it was a rousing success.
"That first Sunday, I made $5,000. I even got a wholesale account," Jensen remembers. "And I was like, gosh, maybe there is something here and maybe we can bring this to the next level."
More wholesale accounts followed, mostly with small boutiques, and soon Jensen was doing street shows up and down the California coast.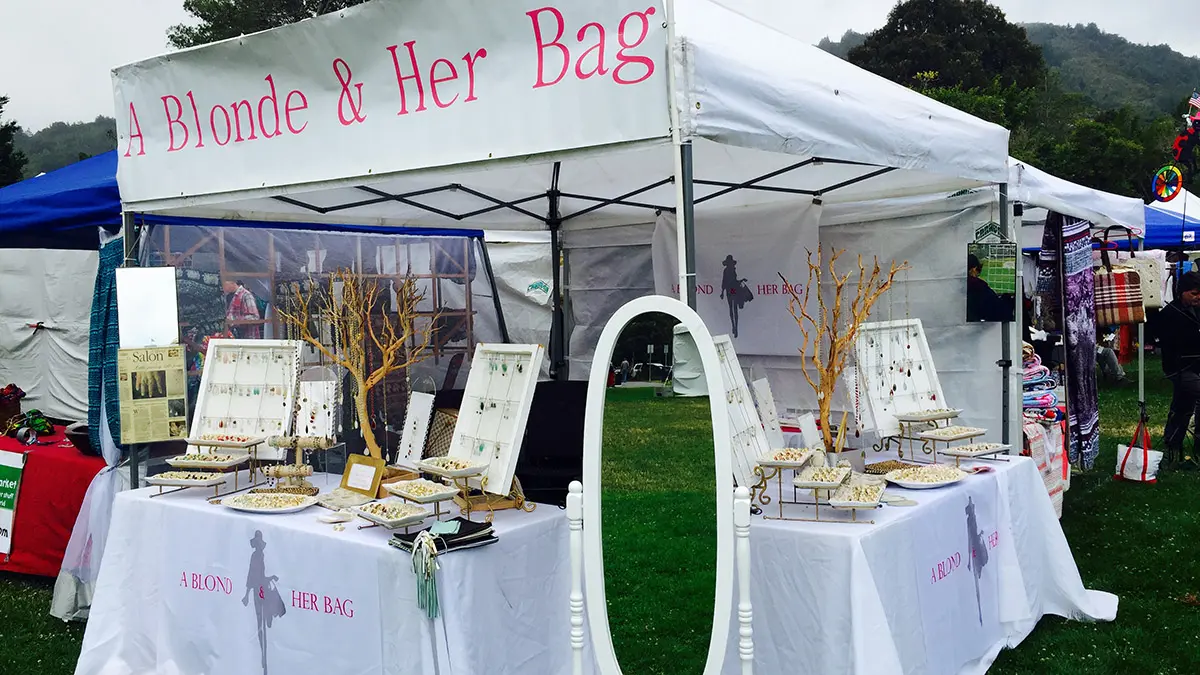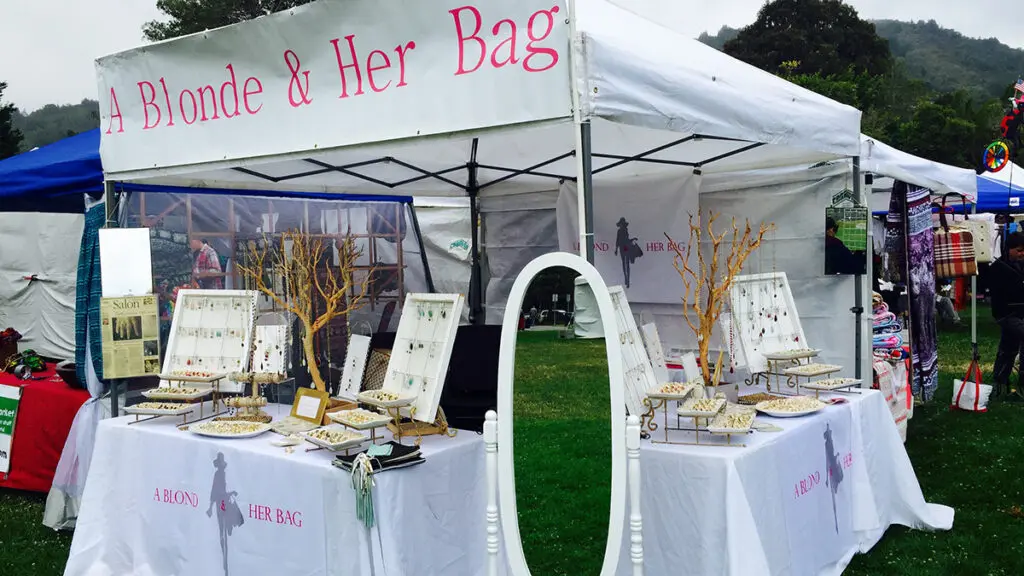 With her business starting to take off, Jensen sought guidance from someone who had carved a similar path. She found it from Clare Briglio, an interior and jewelry designer. The two met through Briglio's role as a consultant with a local mentorship program called the Small Business Development Center.
"Clare was instrumental in my business growth from 2013 to 2017," Jensen says. "She by far helped me thrive in wholesale above and beyond anyone else."
Jensen met her future husband, Eric, in 2016, and he urged her to go searching for bigger accounts, so she jumped into the large wholesale circuit. Not long after, she reached agreements with retailers like 1-800-Flowers.com and Belk to buy and sell her merchandise in bulk.
Now, it was official: Jensen had taken A Blonde and Her Bag to the next level.
Global inspiration
A Blonde and Her Bag makes handmade rings, bracelets, earrings, anklets, and necklaces, many of which are adorned with beads, Swarovski crystals, and semi-precious stones. The pieces can be worn, as the website states, "to lunch with the ladies or into the evening for a special occasion."
The inspiration for many of Jensen's designs comes from one of two main sources: her travels and her mom, Cyndie Fox.
Regarding the former, she says she's visited at least 64 countries, and the impact many of them have had on her and her design aesthetic is hard to measure.
"Going into different boutiques in all these different countries, there's so many different materials and ways of thinking," Jensen explains. "And if you're traveling for leisure, you're in a different state of mind. You're relaxed, and then you come back and you're not only refreshed, but you have all this inspiration of new colors and new things."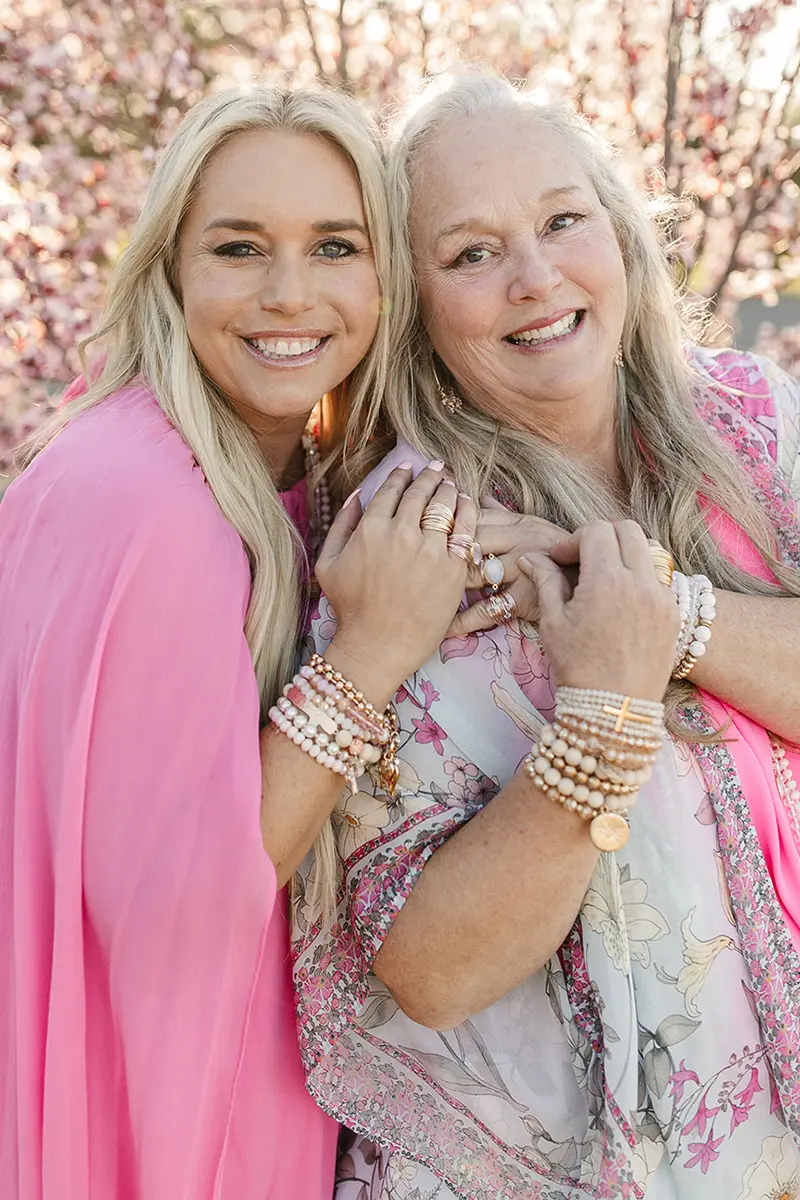 Of all the places she's been, Jensen singles out five in particular that have influenced her work the most: Cannes, France ("I just love the style there"); Berlin ("very sophisticated and simple"); Vietnam ("lots of beads and crystals"); Rio de Janeiro ("I love how they incorporate metals with semiprecious stones"); and Spain ("very delicate and dainty…jewelry you could wear all day and into the night").
Mother knows best
Then there's Cyndie, whom Jensen cites as her greatest creative influence. She was a stay-at-home mom, and one of the things Jensen treasures most about her is how she passed her love for crafting on to her daughter.
"We were always making things. If we had a birthday, it was all about the DIY," Jensen recalls. "I wouldn't have the ability to DIY and have the brain to come up with new things [without her]."
Looked at a certain way, it's an example of a woman helping another woman — in this case, a mother mentoring a daughter. That is something that is very near and dear to Kaylin Jensen's heart, and is a big reason why A Blonde and Her Bag is the thriving business it is.
Because, on the flip side of Thatcher's quote, there's a special place in heaven for women who support other women.