The series "Unboxing the Holidays" is all about bringing you top-notch advice and creative ideas to make the most of the season's special moments. In this article, we offer creative holiday gift wrapping ideas with pro tips.
A gift that's creatively wrapped can be as delightful to the recipient for what's on the outside as what's inside the box. In fact, the notion that it's the thought that counts not only applies to the gift but also to how it's wrapped. And we're not talking about the precision paper folds from a store's gift-wrapping department. Gifts wrapped with personal handiwork will be remembered because it shows time spent, care, and creativity. For this year's gifts, be inspired by everyday items and Christmas flair. You just may put an elf out of work.
Julie Mulligan, farmhouse Christmas
Julie Mulligan, 1-800-Flowers.com's lifestyle and crafting expert, shares her current favorite holiday trend: farmhouse Christmas. The style goes hand in hand with the organic and sustainable trends — and nothing says farmhouse like a good buffalo check. Also called buffalo plaid, it's everywhere right now. Just search Instagram or Pinterest, and you'll be inspired.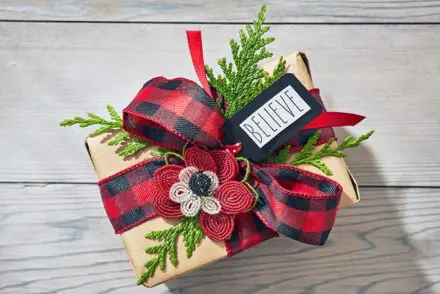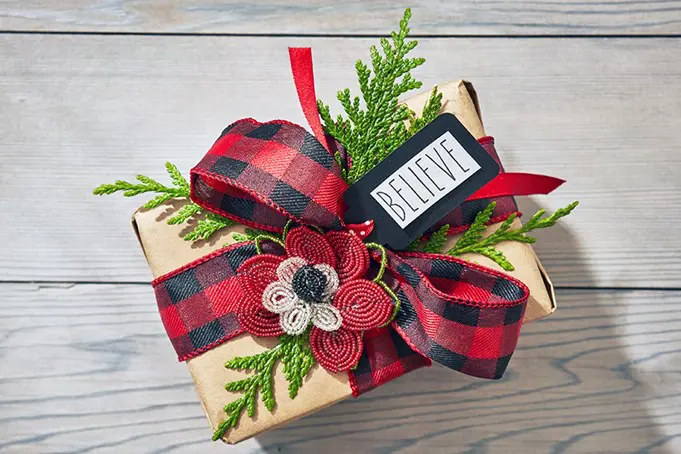 A few ideas to get you started
You can't go wrong with simple kraft paper and a red and black buffalo plaid ribbon.
Add a vintage beaded flower, some evergreens, and a chalkboard-style tag, and you've just entered the realm of "super gift wrapper."
Mulligan saved two favorite ideas for last, which is what happens when you put out all your materials and just have fun with them.
This long, narrow box is ideal for a garland stretched from one tree to another. "I realized I had everything I needed right in my bag of reusable tricks," says Mulligan. "I am in love with the way it turned out!"
Black gift wrapping style
Mulligan also loves the black wrapping paper trend. "You can do so much with it, and it makes whatever elements you embellish it with really pop."
She downloaded a free clip-art image of a station wagon and printed it to the size needed for her gift box. Then, cut it out and glue it on the wrapping paper.
Chalkboard art is still very popular, and you can decorate and write messages right on paper using a white marker.
"I tied a sprig of boxwood to the top of the station wagon, wrapped some red and white twine around the package, and added a cute little holiday gift tag to complete this vintage-looking farmhouse holiday present," she says.
Perfect farmhouse chic gifts
You can also find great gifts celebrating this trend, such as Cheryl's Cookies Holiday Bakery Tub or the Moose Munch® Premium Popcorn Holiday Drum. These gifts check all the boxes: Not only do the containers embody the farmhouse décor motif but they can also be recycled.
Steve Doss, The Candy Wrapper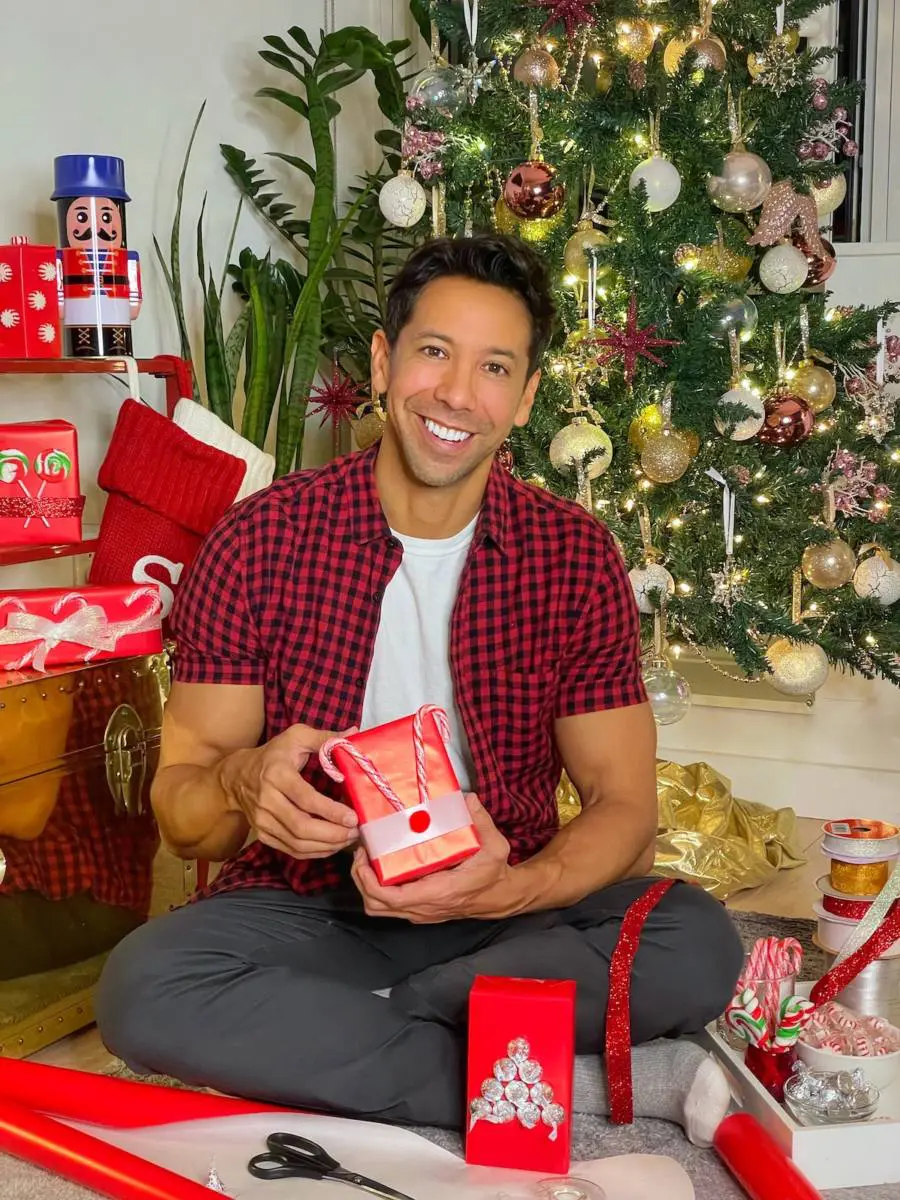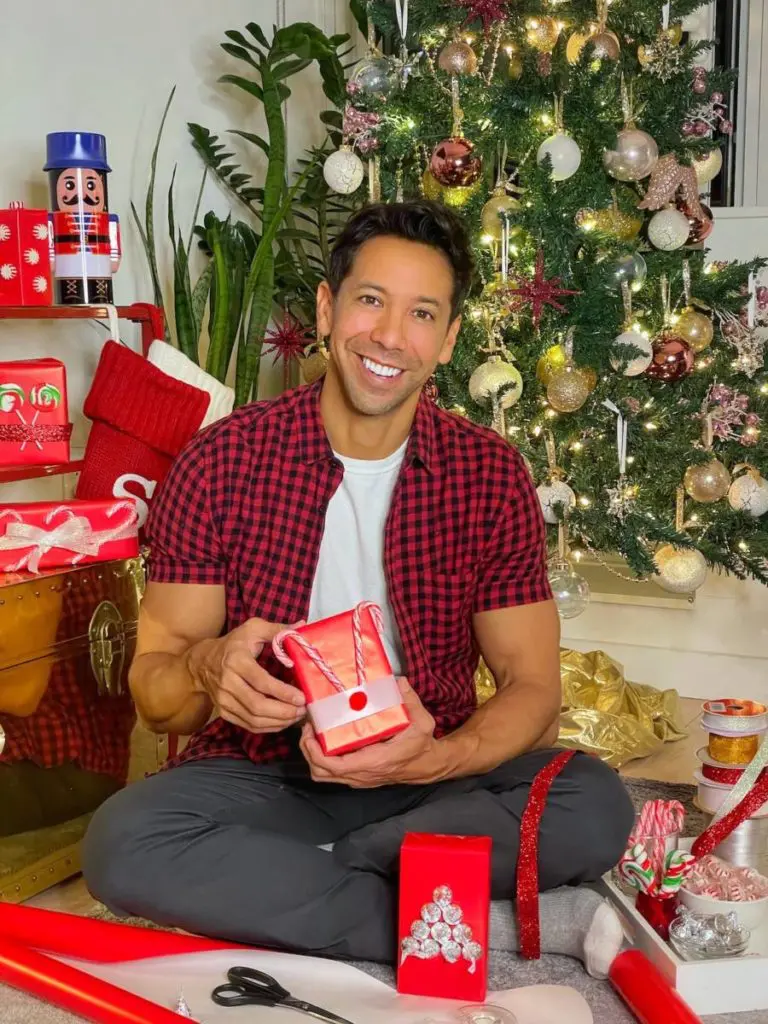 For Steve Doss, it's not the music, food, or festivities he looks forward to the most during the holidays. "My favorite part of the holiday season is wrapping presents," he says. Doss began his gift wrapping tradition with his mother as a child, a talent that has taken him into adulthood. "I like to pick a theme and roll with it in all of my package presentations." One year, for example, he tied a bunch of candy canes to his nephew's gift after learning about his passion for crunchy candies. "He was beyond excited. "
Beautiful gift-wrapping extends the recipient's time with the present, perhaps prompting questions on the inspiration. It also elevates delight. Doss's nephew didn't even care what was inside the wrapped boxes. "Adorning your gifts with candy not only adds a bit of whimsy to your package but also provides the sweetest touch to the holiday season," Doss says.
Doss' pro tips:
Make sure you pick individually wrapped sweets so your adhesive doesn't touch the candy itself.
Reusable chic
No need to break the budget with pricey holiday papers and bows that are destined to get marked down after Christmas. Use what you have. Everyday items can be the basis of your gift wrapping.
Here's a list of items that can be used for gift wrapping:
Give shabby clothes a second life. The denim from torn jeans, dated dresses, and other remnants can be used for the wrapping. Cut into long strips for ribbons.
Handles from gift bags are handy gift ties.
Newspaper and shopping bags can be made into wrapping paper for an authentic look with a nod to practicing sustainable gift-giving.
Christmas tree clippings are not only seasonal, they smell pretty great too.
Cookies look and taste great. Assemble in a gossamer bag and latch on to the bow. It's like two gifts in one.
Ever wonder what to do with vintage Christmas ornaments and bells? Slip ornaments through a ribbon for a unique gift.
Saved holiday cards can be cut and repurposed.
Tape vintage pictures on the wrapper for a hybrid photo album and clever wrapping.
Remnants of wallpaper are attractive, sturdy papers that will add designer style under the tree.