On Valentine's Day, people come together to celebrate love in all its forms. In A Dozen Reasons, we explore special relationships that are on full display — and their life-affirming benefits. #NoLimitsOnLove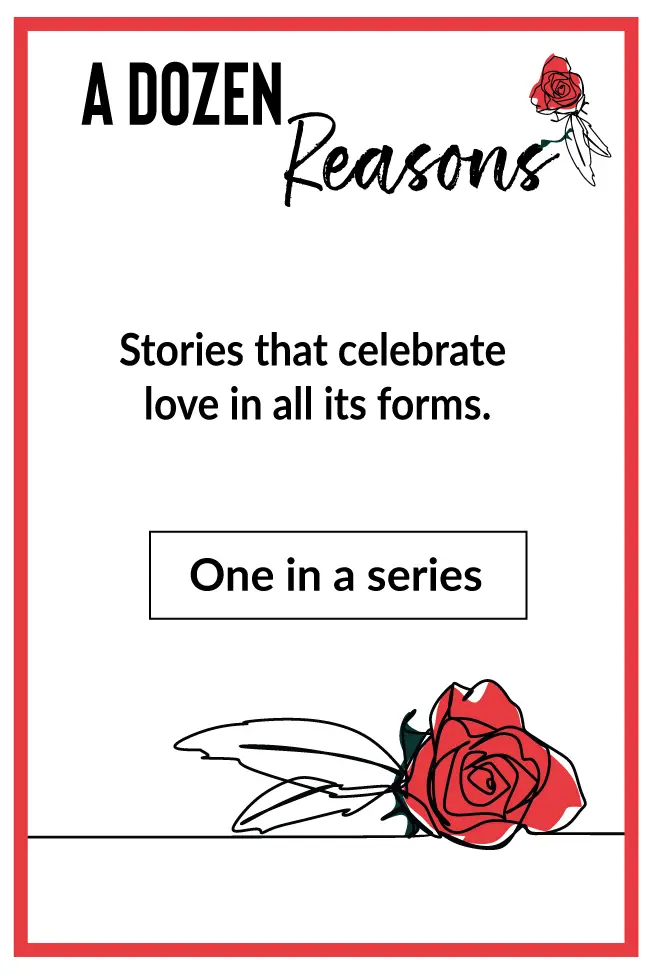 Like many married couples, Brandon and Lori Richardson plan to celebrate their relationship and shared passions on Valentine's Day. They might play board games as they did on their early dates, hang out with their dogs, or enjoy a romantic dinner.
But there's a chance they'll instead be stabilizing a broken leg, responding to a heart attack, or transporting a COVID-19 patient to the hospital. The Richardsons, it turns out, love not only each other but also the community they serve as emergency medical technicians.
The couple grew up, met, and put down roots in the small town of Marianna, Arkansas (pop. 4,115), about an hour southwest of Memphis. There, they work together in their ambulance and oversee two bases of EMTs who cover their region of Arkansas.
"We grew up in the community we work in, and people know us and know that when we respond, we'll take good care of them," Lori says. "When they realize we are married, this brings a new tone to any situation. We can show our patients a relationship others can't. We can handle any situation — we bring calm and peace just by people knowing we are married."
Going the extra mile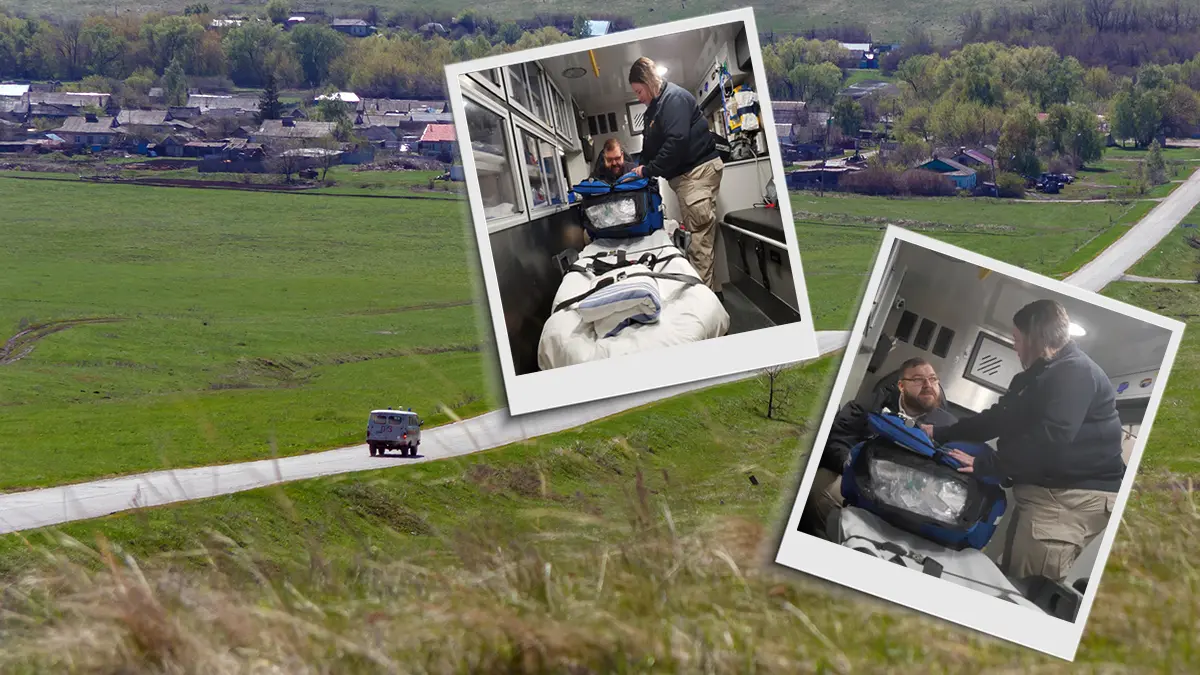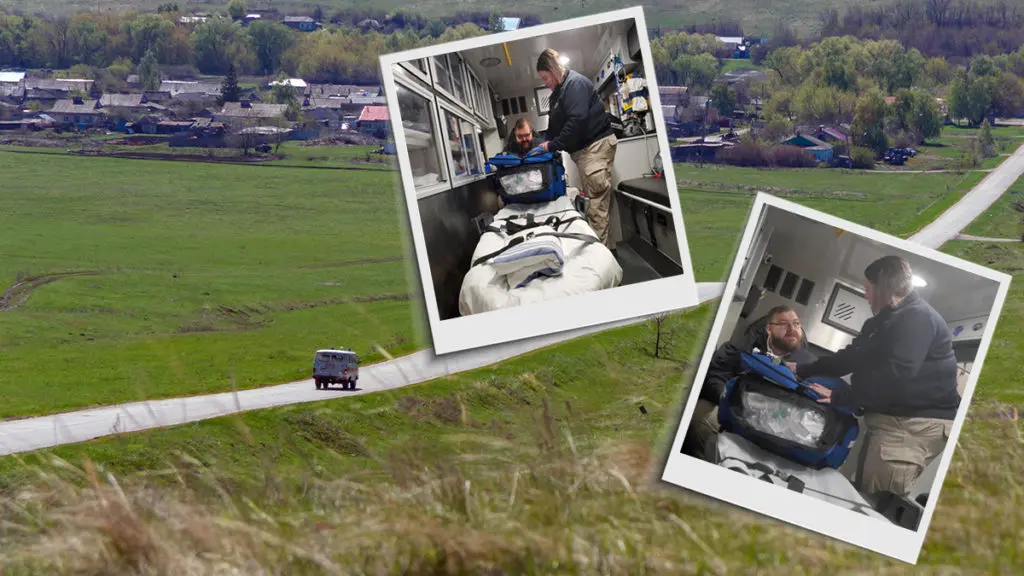 The couple often go the extra mile for their patients. That care might be emergency calls, but Brandon and Lori also deliver meals to patients and drop off toys for children after a difficult call — once they took care of a patient's dog for three weeks while he was in the hospital.
Right now, like most first responders, they are struggling to meet the demands of the COVID-19 pandemic, both at work and personally.
"These are difficult times," Lori says. "We are being pulled in different directions with meetings and calls. There's a lot of added work, and we rely on each other to see who needs to do what." She coordinates with local hospitals and dispatch to make sure patients have coverage.
We can show our patients a relationship others can't. We can handle any situation — we bring calm and peace just by people knowing we are married.
Lori Richardson
EMT
Brandon notes the pressure of transporting patients with severe COVID symptoms — the usual hospitals two hours away are full, so now ambulance crews have to take people five or six hours away. "It's wearing our crews down," he says.
He and Lori have cooked dinner for the region's EMTs a few times to give them support, as well as turning out to cover some calls themselves. COVID numbers have rocketed between local nursing homes and a nearby prison.
Caring for each other and others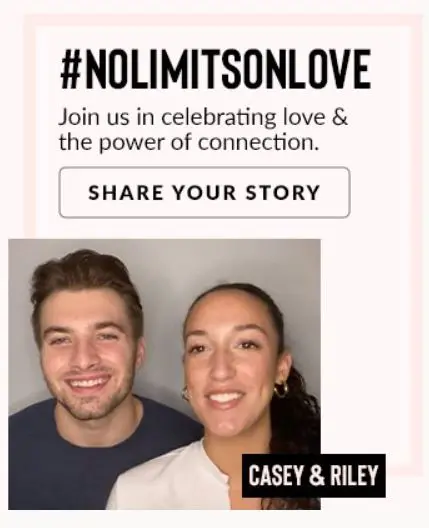 From the moment she met Brandon, "I knew we were meant to be together," Lori says. "We had only been dating a couple of weeks in 2004, when I told my aunt I was going to marry him." Sure enough, three months later Brandon proposed, and they got married the next year.
Back then, Brandon was already an EMT for Pafford Medical Services, having begun training when he was a senior in high school. Lori became an EMT, too, after first studying to be a nurse.
"I saw how Brandon enjoyed EMT and knew I could have a steady paycheck and spend time with him at work," she says.
They share many interests that have evolved over their years together.
"When we first started dating, we played cards and board games together. Later, we started raising dogs and going to dog shows," says Lori. "Now we use our ranch on our free time, planning for the future, growing our dream. We have always been a team since day one."
Teamwork on the ambulance
The Richardsons clearly love each other, but their community comes a close second. When you ask them how they separate their work life from their home life, there's a perplexed silence. Turns out they are happy being together 24/7, and they thrive working together in the ambulance.
While many couples finish each other's sentences, the Richardsons take it a step further and anticipate each other's needs on emergency calls. "It's really easy for us to do calls with patients," Lori explains, "because we each know what the other needs at any moment."
A few years into Lori's career, she and Brandon got a call that a baby was not breathing. "We met the family on the side of the road, and they handed me a limp, lifeless 10-day-old baby girl," Loris recalls. "I was crying."
Brandon reassured me and told me to do CPR. I did, while Brandon was getting the things he needed to care for her. Brandon was by my side then, doing his part as a paramedic. I jumped in the driver seat, and we raced to the hospital. Brandon held her in his arms the entire way to the ER."
Brandon and Lori remember that call like it was yesterday. "Having someone experience the same things with you, it makes it easier to move forward," Lori says. "We know what the other saw and felt."
I'd go crazy working shifts behind a desk.
Brandon Richardson
EMT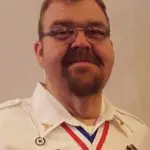 The baby is now a teenager. "This call will forever be a part of my story as an EMT, and one we will always share as a victory together," Lori says. "Since this call we have had many others where we have leaned on each other to get the job done in the moment. We are a team – in all things."
Even though they now manage two EMS bases and 30 employees, they still take an ambulance home at night so they're ready to help their team by responding to calls. While they want to share the burden when a shift gets busy, it's crystal-clear that they are passionate about working with people and being there for them at the toughest moments. That compassion and dedication earned both Brandon and Lori awards from the American Ambulance Association for going above and beyond the call of duty in service to their community.
Brandon, 39, plans to become a nurse and has completed the prerequisite courses, though he has no intention of giving up his role on the ambulance: "I'd go crazy working shifts behind a desk," he says with a chuckle. For her part, Lori, 35, is taking veterinary technician classes.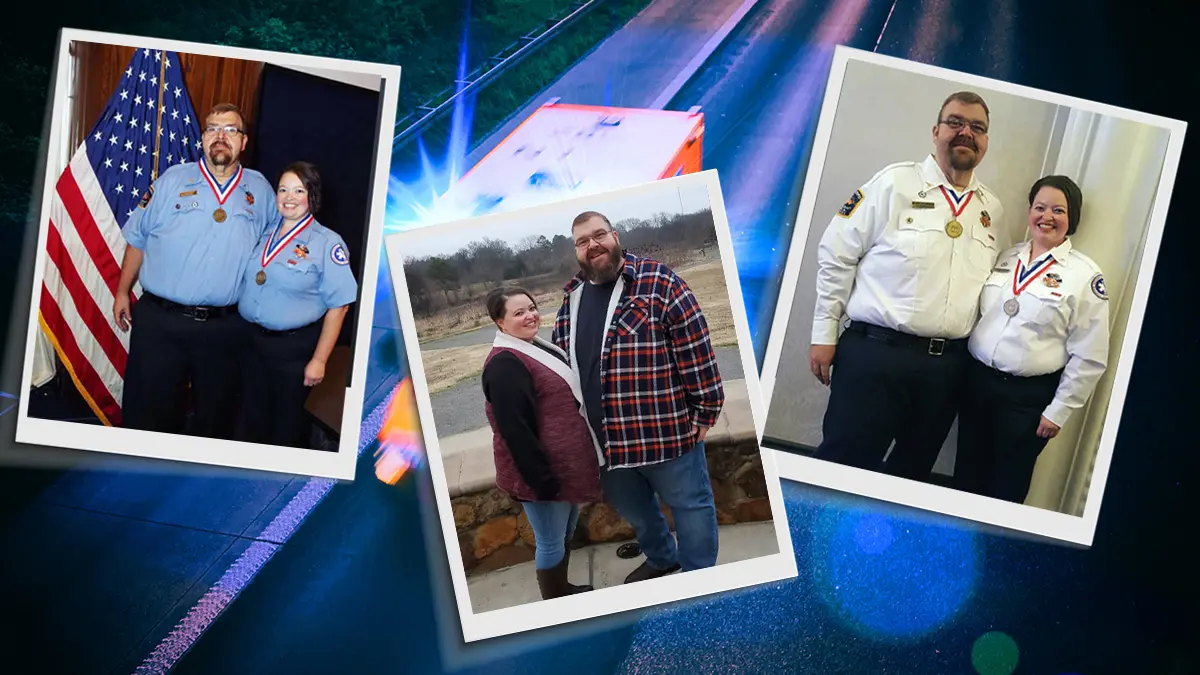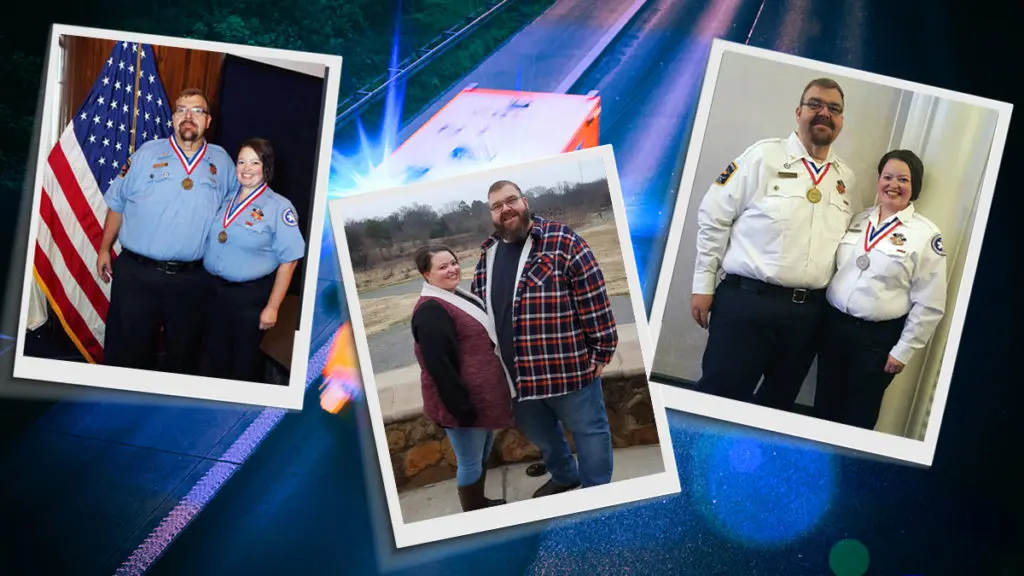 A Valentine's Day Like No Other
Valentine's Day this year will be a little different, of course. "In the past we would go to dinner, maybe go bowling or to see a movie," Lori says. "This year we will probably cook a steak on our new grill and maybe rent a movie. I've ordered some homemade goodies from a local friend who bakes on holidays."
They do see brighter days ahead, though, when they can enjoy the 10-acre property they moved to in June. "We have a garden, and we plan to raise chickens and keep bees," Lori says. No doubt family and friend get-togethers will be on the cards when it's safe to gather again.
Their plans for this Valentine's Day are up in the air. "Well, we can't really plan for that yet," Lori explains. "We'll have to see if we're needed for work."
---