The series "Unboxing the Holidays" is all about bringing you top-notch advice and creative ideas to make the most of the season's special moments. Here, we teach you how to make a wreath in five simple steps.
A staple of Christmas decorating since the 19th century, wreaths come in all shapes, sizes, and styles. And throughout the month of December, you're sure to spot them everywhere — from traditional colonial homes and shop windows to semi-trailer truck grilles. Wreaths are a warm, inviting decoration rich with meaning. "Wreaths symbolize hospitality, seasonal bounty, and optimism for a prosperous New Year," says Debra Prinzing, creative director of Slow Flowers Society.
A wreath for every occasion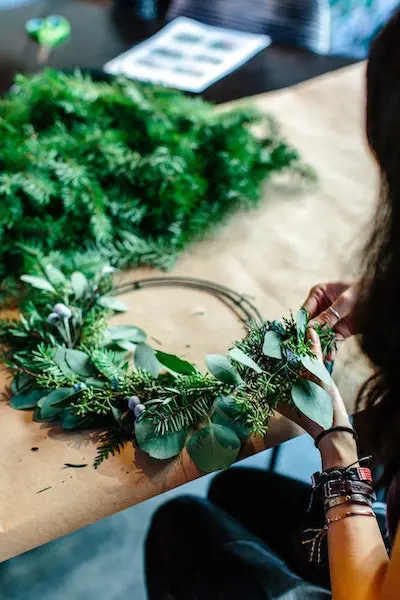 In fact, your wreath doesn't have to come down when the holidays are over. "We're seeing wreaths displayed year-round, inside and outside," says Prinzing. "This shift opens up a world of possibilities for integrating all sorts of fresh and dried botanical ingredients into your design — including foraged elements."
Easy peasy basic wreath project
If you're looking for an easy way to add a dash of seasonal style into your space for the other 11 months of the year, you've come to the right place. This small wreath with homespun flair is easy to customize for any occasion. Start with the basic wreath design, described below, and then add your favorite seasonal embellishments, such as dried fruit, berries, cinnamon sticks, wheat stems, twigs, or anything else you like!
This simple project requires few supplies. Best of all, you can make a wreath in less than an hour.
Supplies:
Wire wreath form (8-10 inches max)
Green floral wire, 22 gauge (on a paddle or spool)
Scissors or pruning shears
Wire cutters
Two to three types of greenery, divided into separate piles (eucalyptus, Ficus, magnolia and lemon leaves are good options for smaller wreaths). You will create mini bundles of greenery to decorate your wreath, so make sure you have enough to go around the entire form.
Steps:
1. Pull about 6-8 inches of gauge wire away from the spool or paddle, but do not cut it. Starting with the end piece, wrap about 2 inches of wire in place around the form, tightly, until secure.
2. Select one piece of greenery from each pile; then layer the pieces on top of each other from smallest to largest to create a visually pleasing bundle. Hold the bundle in place and trim the stems, leaving about 2 inches.
3. Place your bundle face-up on the form, positioning the stems on top of where you started the gauge wire. If the stems are still too long for the form, trim them again, but leave enough in place to attach the wire. Tilt the bundle slightly outward from the middle of the form until you are happy with the placement. Wrap the gauge wire around the stems tightly several times until secure.
4. Repeat steps 2 and 3, slightly overlapping and tilting the bundles outward, until all are securely attached, and conceal the form. After your last bundle is secured, cut the wire and tuck the end into the back of the wreath. Fill in any gaps or holes with extra greens. Don't forget to add your seasonal elements!
5. Loop a piece of twine or ribbon through the back of the wreath and hang.