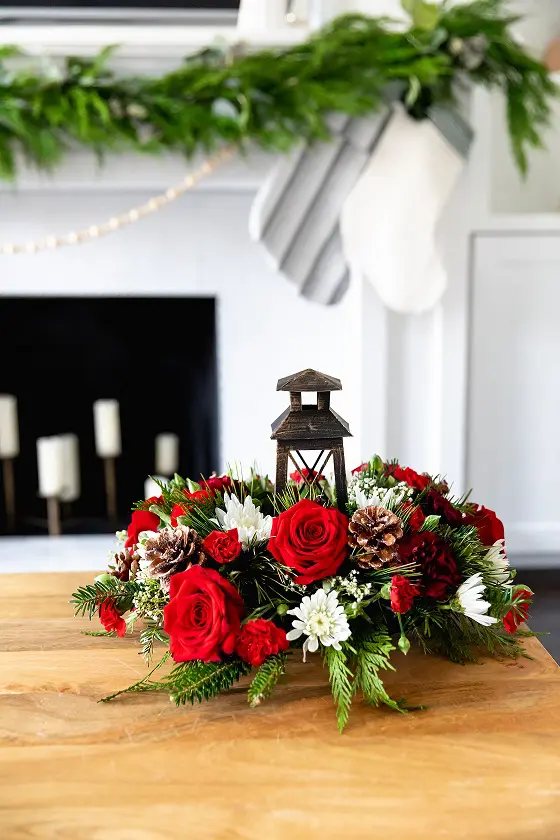 It's that magical time of year when families and friends gather to celebrate the holiday season. Guests of all ages converge for the festivities, transporting gifts and exchanging hugs. No doubt, the joyous chatter will eclipse any sound coming from the holiday movie on television. Chaos aside, these are unforgettable moments when memories are chiseled into our minds to be treasured for many generations; they trigger memories of Christmases past and set ablaze a sense of wonder that only happens once a year.
Holiday centerpieces that delight the senses
Arriving guests will notice a mélange of sights and sounds, but it's the sense of smell that commands center stage. Although aromas from the kitchen may be heavenly, there is a breathtaking scent from the realm of nature that is unrivaled. Yet, in December, with most activities restricted to indoors, engaging with nature requires more effort. The sun wraps itself in a cloak a little earlier each day and slips behind the curtain, taking its shafts of golden beams with it. In these light-deprived days, Mother Nature spends more time painting the night sky with stardust, but she does not neglect ripening her soul-caressing flowers for Christmas. She has adorned them with grandeur and explosive bursts of color, as evidenced by her magnificent crimson Christmas poinsettia. This is the ideal time of year to bring nature's masterpieces indoors — in a resplendent Christmas centerpiece.
Set the mood; Spruce up your Christmas table talk
A Christmas centerpiece should be the focal point of not only the table but the entire dining area. One that is carefully arranged will offer guests a generous invitation to drink in its beauty. To make the evening an unforgettable celebration — one that is to be savored and not rushed — add a touch of winter wonder to enhance the atmosphere. A fragrant Christmas table centerpiece can usher in a hint of vintage from yesteryear that is reminiscent of a Dickens tale.
For those who wish to add a dash of elegance, ravishing Asiatic lilies make a striking regal centerpiece. Velvety red roses drenched in beauty are the traditional favorites, commanding attention and admiration. Roses artistically arranged in a centerpiece, accentuated with white cushion poms and a mixture of forest greenery, will be the talk of the table.
Santa's sleigh may be free to soar above guests' heads, but a centerpiece should be grounded; keep it at a low profile to ensure guests can engage in conversation and enjoy eye-to-eye contact.
Add blossoms that shimmer and lights that sparkle
Rudolph's nose shouldn't be the only luminescent object this Christmas. A holiday centerpiece featuring red taper candles can complete the ambiance, casting a cozy warm glow over guests. Fragrant aromas, delicate petals, and show-stopping blooms are a far superior way to beckon guests than ringing a dinner bell.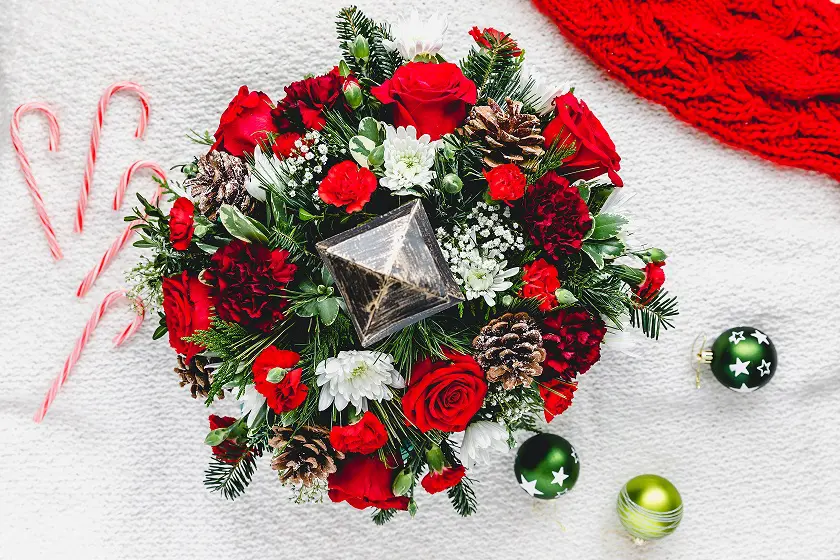 North Pole table of treats
A tall winter arrangement has its own unique place when entertaining; it can brighten an entryway or adorn a sideboard. When it graces the dessert table, it stands like a sentinel, watching over the sugar cookies, gingerbread men, and other tasty delights. Youngsters aren't the only ones who will be thrilled by the jolly North Pole Delivery Holiday Train; it appeals to the child in everyone.
Sharing a meal with friends and loved ones around your table is an immeasurable gift. Captivate them this year with a spectacular Christmas centerpiece and give them a rockin' good holiday to remember.