Springtime Sprouted Bulbs
Spring is finally here! Bulbs like tulips, daffodils, hyacinths, and crocuses burst into bloom and bring gardens to life this time of year. You can enjoy these springtime flowers right in your own home. All it takes is a sunny room, some water, and warmth, and your bulbs will blossom into a cheerful display. As a bonus, you will be able to plant them in your garden after the flowers have faded. Here are some tips for growing your delightful spring bulbs.
Get the Dirt on Bulbs
Popular Types of Sprouted Bulbs
Tulips
Daffodils
Crocus
Hyacinths
Paperwhite
Amaryllis
Bulbs Types
True Bulbs
Rings of leaf scales, shoot, tunic, and basal plate with grow roots.
i.e. Tulips, Daffodil, Hyacinth
Corms
Solid inside with growing point, tunic, and basal plate with roots.
i.e. Crocus, Gladiola
Tubers
Solid inside with several growing points.
i.e. Dahlia, Cyclamen
Rhizomes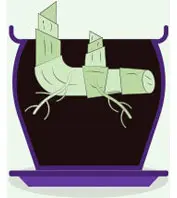 Stems with roots and shoots that grow sideways underground.
i.e. Iris, Lily of the Valley
Sprouted Bulbs
Sprouted bulbs are bulbs that have already begun to grow. Many bulbs are planted in the fall but sprouted bulbs can be planted in the spring.
Smallest Bulbs &
Earliest Bloomers
Crocuses & Dwarf Iris
Most only grow 4-6 inches tall!
Longest Lasting and
Hardiest Bulbs
Tallest Bulbs
Lilies
Easily reaching heights of 8 feet, with some varieties reaching heights of 20 feet tall.
Most Common Bulb
Plants are Perennials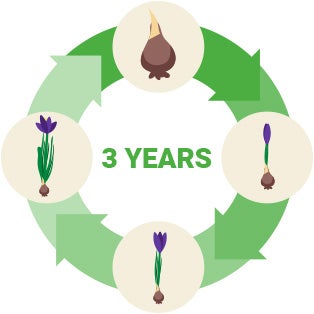 Perennial bulbs will continue to bloom every year for three years or more without repeated planting, as opposed to annuals which need to be replanted every year.
Hardiness
Hardy bulbs like crocus, daffodils, tulips, and hyacinth can be left in the ground year-round, while tender bulbs like Iris must be dug up and stored in cold climates.
Caring for Sprouted Bulbs
Sprouted bulbs have a 1-to-2-inch tip of growth visible when they arrive. They should bloom in two to four weeks and continue to bloom every year for three or more years.

Before planting, sprouted bulbs should be watered and placed in a bright location at room temperature to encourage growth.

Bulbs can be planted outdoors in the spring after they have bloomed, as long as the soil is easily worked and the last frost has passed. Large bulbs like tulips are planted 6 to 8 inches down in the soil, and small bulbs like crocuses are planted 1 to 2 inches down.

Bulbs will do best in soil that is well drained, particularly in bright or sunny locations.

Smaller sprouted bulbs are usually kept in pots, such as the Paperwhite.

Bulbs will go dormant in temperatures less than 40 degrees Fahrenheit, and will sprout slowly around 50 degrees F.