The series "MVP Moms" explore the critical role moms play at the heart of families — and how they run the world. In this article, Rachel Ashwell dives into her experiences as a mother and how she hopes to celebrate Mother's Day this year with advice on relationships and décor.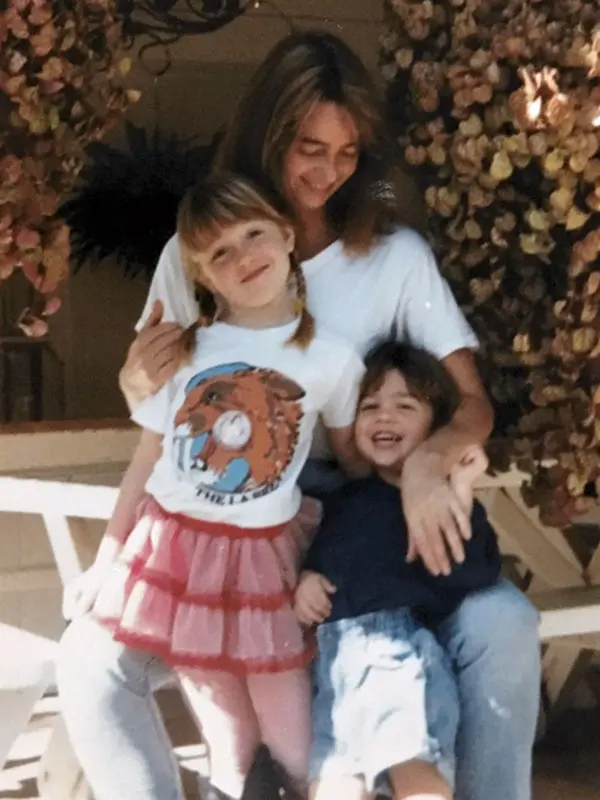 When Rachel Ashwell opened her Shabby Chic® store on Montana Avenue in Los Angeles 33 years ago, her daughter was 2, and her son was just a few weeks old. She didn't know at the time what a mega-empire she would go on to build, or how the very idea of Shabby Chic® — an aesthetic she created that involves soft, floral upholstery fabrics, weather-worn furniture, and vintage pieces — would become not only a part of the design lexicon but of our culture.
She also wasn't thinking about how being a divorced working mom would affect her ability to raise her children. She just wanted to open a little shop that would allow her to arrange her own schedule so she could be with her kids.
Her children are adults now — she also has a stepdaughter with whom she's close — and her business is mature, with her original store moving up the California coast to Summerland, near Montecito. Mother's Day can be an unexpected holiday for Ashwell since she and her kids are often scattered around the globe. "Someone's always 6,000 miles away," she says.
Her own mother, when she was alive, lived in England while Ashwell was in California. Today, she still gets to celebrate twice because Mother's Day falls on a different day in the UK than in the U.S. Her son recently called to wish her a happy Mother's Day, taking her by surprise. It was, unbeknownst to Ashwell, Mother's Day across the pond.
We spoke with Ashwell about how she balanced raising a family while running a business, what advice she would give herself as a young mom, and how she celebrates Mother's Day now. She also tossed in some advice for all moms on this special day.
How was it being a single working mom while building an empire?
Of course, there are things I know now I wish I knew then. But, at that time, I had my formula of how to balance everything. I wanted to be as present as possible, with my work and with my "mommy hat" on. It was very important for me to drop my kids at school and pick them up; between those hours, I compartmentalized how to get things done for work. I don't recall being overwhelmed or stressed out — I just recall being very organized.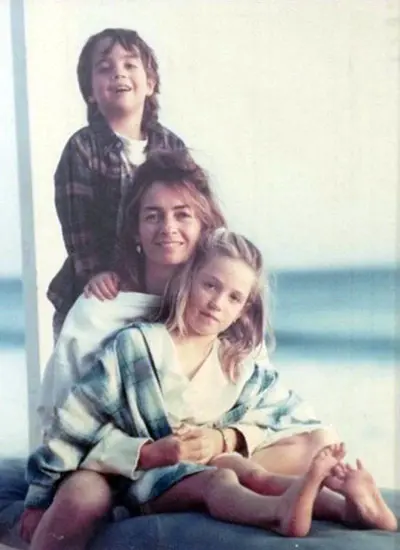 Do you have any advice you would give yourself as a young mom?
My children grew up seeing me work really hard. Maybe I wish I had more "fun" time. I was like, "I'll do that then," and a lifetime has gone by. It's a double-edged sword because the bulk of what I do is my creative escape, and it's lovely. But I would say — speaking to myself — do make sure to find time to do nothing. Doing nothing has its own value.
Do you have advice for other moms or for anyone balancing a creative business with life?
Check back in with yourself, especially when you have the good fortune of a lot of success. Is your life in alignment with your dream? Not the outside dream of what looks good on paper but the inside dream. Don't put a square peg in a round hole.
For me, I had the opportunity to open 50 stores with investors, and I went along with that, enthusiastically. But, in actuality, I'm a flea market girl. It's better for me to have Shabby Chic® in unique places on great funky streets, in Malibu, in Soho, in artisan places. So, make sure to choose your paths and opportunities in alignment with who you are.
What was the best part about your relationship with your mom?
Her gentleness and being non-judgmental about anyone or anything, even when I was 15 and I said I was leaving school. I always felt safe to share things with her. She was also ahead of her time. She exposed me to color therapy, reiki, and meditation, all in the '80s. My parents were flea market people; I would learn at flea markets with them. That was lovely. There's just something very simple about my mom I really treasure.
How can all we find meaning in Mother's Day, whether we have a mother or children, or not?
It's important not to stay in the literal classification of what a mother is. Take care of all mamas, and there are a million different ways to do that. Unless you are a complete hermit, chances are there's an older female person you look to for their motherly qualities — see them or reach out to them. Maybe there are other children you've taken on a motherly role for; just kind of acknowledge it. Put a little spotlight on those relationships. I don't underestimate the value of being a mother to pets either!
The more time we can just learn who our mothers were and are is of fantastic value. Anyone who's got a mother out there, find a way to really find out who this wonderful person is who brought you into this world.
Rachel Ashwell
How do you celebrate Mother's Day now?
It's been years since my kids and I have lived in the same place, so I tend to value every second I have with them. My daughter is very good at self-care, she'll say, "Let's have a mani-pedi or massage that's all about you." And then, of course, she comes along for the ride. We tend to go for very nurturing activities I always really enjoy.
With my son, we communicate differently. He knows I love nothing more than just sitting and talking. That's a gift unto itself. Plus, he always sends me an orchid. He knows I'm so picky about flowers, he can't go really wrong with an orchid.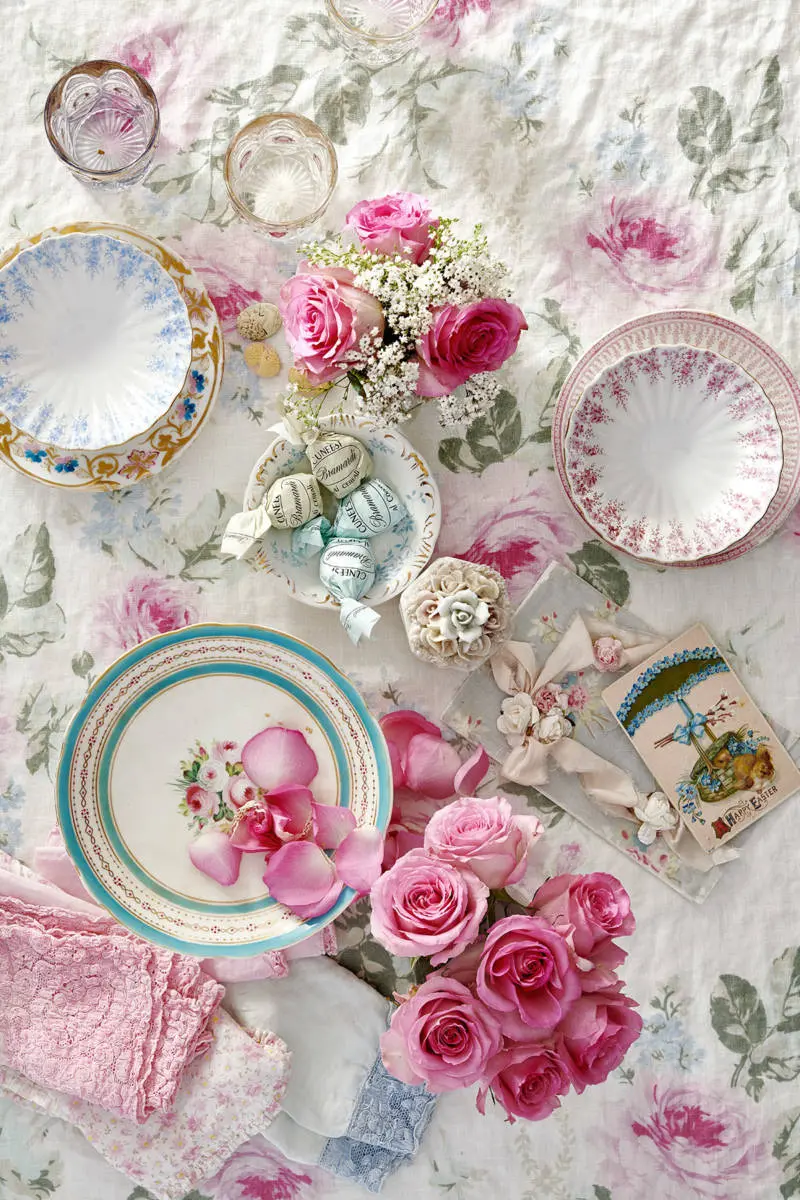 What do you do special for a Mother's Day tablescape?
I pull out some of my little trinkets, delicate details of things I have in my world — that's how I enhance my table. Beautiful flowers are always my anchors, and then beautiful china and beautiful napkins. If a mom is there, so is a wrapped gift. I have lots of leftover beautiful wrapping paper. I keep paper from gifts I receive and reuse it, or I use pieces of vintage wallpaper; there are lots of wonderful sources of vintage paper online. I also have a big box of fabulous vintage ribbons and another box of vintage velvet and silk flowers. It's not like I buy horrible gifts for people, but often my gift wrapping supersedes the gift.
What gift ideas do you have for Mother's Day? I'm sure flowers is on your list.
The whole world of flowers is a metaphor for all kinds of relationships. It reminds us whatever the season is there's a rhythm to relationships. Flowers are beautiful, of course, but sending them on an occasion just feels like the right thing to do. Also, a lovely gift is a plant to plant in a garden, something to be nurtured and grow.
Mothers often put themselves last on their list of who to take care of, so a nurturing, self-indulgent gift, like a luxurious soap, a beautiful candle, or a really yummy throw, is a good idea. Mother's Day is more about indulgence, not practicality. It's nice to indulge your mother, and it's really lovely to be indulged.
What advice would you give to someone who has a mom on Mother's Day?
It's a tremendously valuable relationship. The more time we can just learn who our mothers were and are is of fantastic value. Anyone who's got a mother out there, find a way to really find out who this wonderful person is who brought you into this world.