The saying "Everybody's Irish on St. Patrick's Day" is really just an excuse for everyone to party like an Irishman on March 17! Whether you're hosting a party or have been invited to one, here's a helpful three-step guide to decorations, refreshments, and great — and green — gift ideas.
Step 1: Setting and décor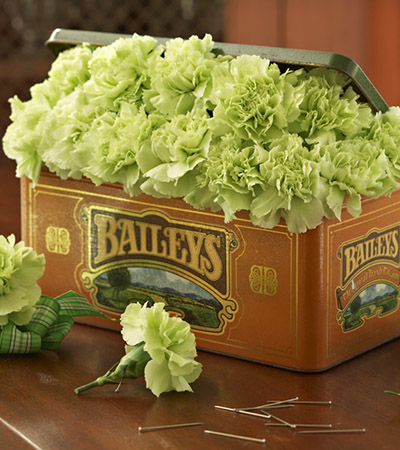 Green Carnation Boutonnieres
For whatever reason, and for so many reasons, beer is a major part of St. Patrick's Day. Ireland consistently ranks in the top 10 of per capita beer consumption. So why not have a little fun and honor this hoppy beverage with a beer mug-inspired floral arrangement? The Beer Mug o'Blooms will make your St. Patrick's Day celebration go down smooth.
I like having a few special décor items that I keep from year to year for seasonal holidays and celebrations, and this shamrock green personalized table runner fits the bill perfectly. It is compact, so it doesn't take up much storage space when not in use, and if green is already part of your home décor, you can use it year-round. It also makes for a great hostess gift.
Green ribbons and shamrocks were worn to celebrate St. Patrick's Day as early as the 17th century. Keep the tradition alive by having green carnation boutonnieres available for your guests to pin on themselves as they arrive. Simply order some green carnations, cut the stems short — about 1 to 2 inches — and have straight pins available for pinning. Display them in a fun novelty container, such as the above vintage tin or an upcycled gift basket. You can add ribbon to some and leave some plain.
If green carnations aren't available, you can dye or spray paint white ones green, or leave them white and add a green ribbon. As long as you order fresh flowers for St. Patrick's Day in advance, though, you shouldn't have any issues with availability.
Step 2: Food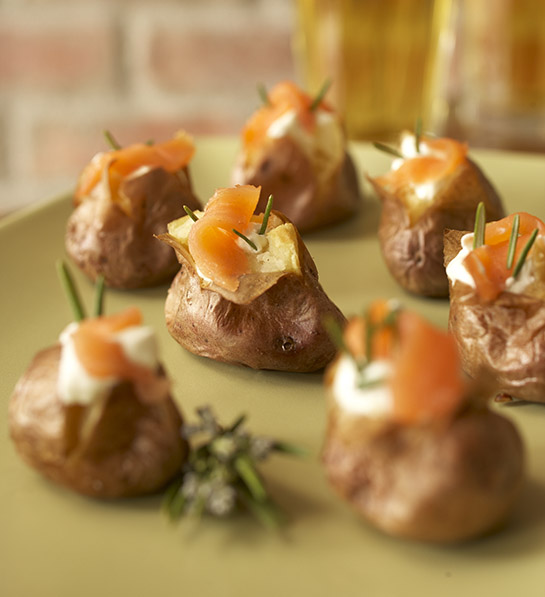 Smoked Salmon Potato Bites
Corned beef and cabbage is traditionally served at St. Patrick's Day celebrations in America. However, this isn't a traditional Irish meal. Salmon is one of the most common fish in Ireland and a staple ingredient of the Irish kitchen, and the potato has long been synonymous with the Emerald Isle. So, take these two truly Irish food staples and create a dish that seems much fancier than it really is — smoked salmon potato bites.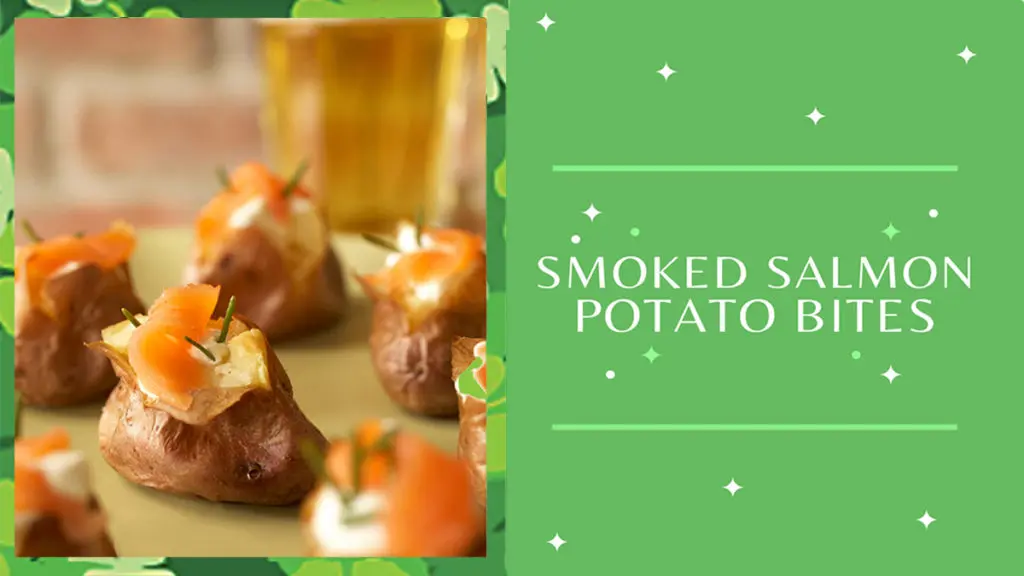 Smoked Salmon Potato Bites
Ingredients:
Mini potatoes, washed

(do not peel)

Smoked salmon, sliced into thin strips

Olive oil

Salt and pepper

Fresh or dried dill, chopped

Sour cream
Instructions:
Coat the potatoes with olive oil, and salt and pepper. Place on a baking sheet.

Place the sheet on the bottom rack and bake until done, about 25 minutes.

To make the dill dip, add chopped fresh or dry dill to sour cream to taste.

Remove potatoes from oven and pinch each one to open.

Top each potato with salmon strips.

Serve with sour cream dill dip (or put a dollop on each potato).
Another traditional Irish food is the scone. The Irish version is a close relative of the English one. I love mine slathered with butter, cream, and jam, and you can create your own with cream and strawberry preserves. Order yours today and then invite your friends over for a quick breakfast before the parade. Top o' the morning to ya!
Everyone wants to find the pot of gold at the end of the rainbow. However, finding a leprechaun to help you locate this treasure can be challenging. I have an easier way: Order a St. Patrick's Day Good Luck Pot. When you bite into one of these delicious buttercream frosted shamrock cookies, you will think you've struck gold!
Step 3: Drinks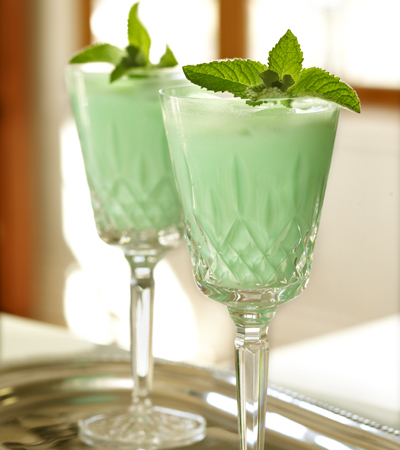 Irish Eyes Cocktail
Of course, a St. Patrick's Day party has to have beer. Don't quote me on this, but it might be a law, at least in the lower 48. But if you want to add an Irish whiskey cocktail to the menu, Irish Eyes, pictured above in Waterford goblets, is an easy one to concoct. And it's pretty, too!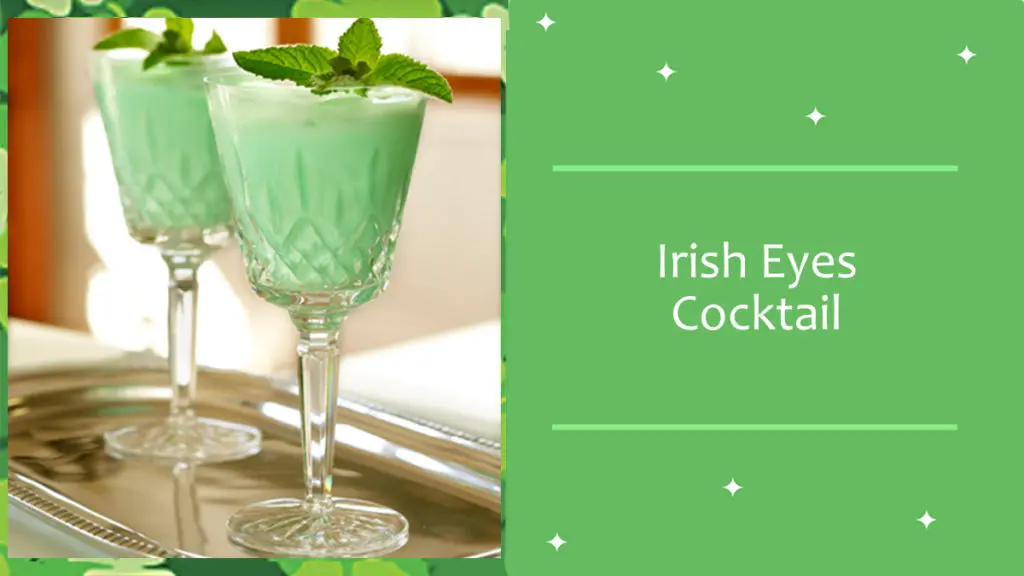 Irish Eyes Cocktail
Ingredients:
1

ounce

Irish whiskey

¼

ounce

green crème de menthe liqueur

2

ounces

cream

Fresh mint for garnish
Instructions:
Pour whiskey, crème de menthe, and cream into a cocktail shaker with ice. Shake well, pour into a glass, and top with a sprig of fresh mint.
Personalized themed bar accessories, from koozies to coasters, are a great way to set your party apart. They also make great gifts to send to your favorite lads and lasses both near and far.
Sláinte!