Every day, people have the ability to save lives by donating blood. With one pint of blood having the potential to save up to three lives, donors rightfully earn acknowledgement for their actions and selflessness.
On June 14, World Blood Donor Day, the caring team at 1-800-FLOWERS.COM paid a visit to their local New York Blood Center in New Hyde Park, NY, delivering smiles and cookies to blood donors. With the help of Cheryl's, a sister company of 1-800-FLOWERS.COM, cookies were handed out to blood donors as a way to refuel post donation.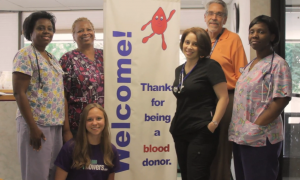 With all the good that people do, a small sign of appreciation can mean a lot. Be it a cookie or a smile, a little can go a long way.