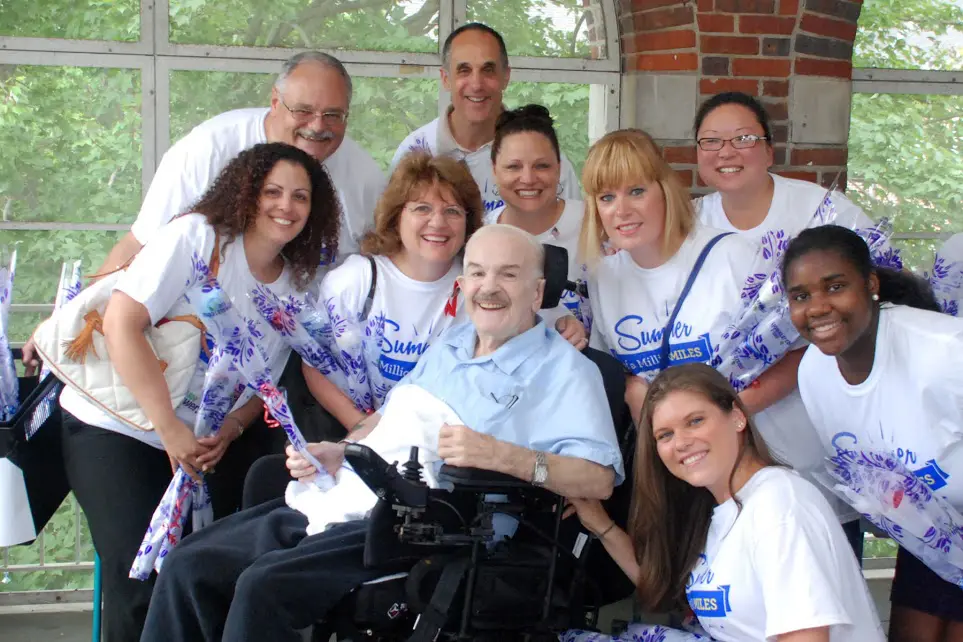 On Monday July 1, 2013, the 1-800-Flowers.com Summer of a Million Smiles program gave a special 4th of July salute to the war veterans at Northport Veterans Affairs Medical Center in Northport, N.Y. To show our heroes appreciation and gratitude for their service, we delivered star-spangled smiles to the nursing home with dozens of patriotic flowers!
Smile Squad team leader and 1-800-Flowers.com employee Maureen Paradine headed to the Northport VA Medical Center with her co-workers Kelly Trench, John Sharkey, Marc Cole, Christine Brooks, Cynthia Thompson, Pam Sciala, Tina Finnochiaro, Jalisa Clark and Rachel Armendariz to pay homage to the nursing home veterans, who live there year-round. Each veteran living at the Northport VA Medical Center was injured in the line of duty while serving in the military.
To help make the nursing home extra-festive in time for its annual 4th of July dinner, the Smile Squad decorated the halls with an Americana Heart Preserved Wreath and adorned the dining room with 35 beautiful patriotic arrangements and brightly lit candles. Once the decorations were ready, the team also hand-delivered red, white and blue carnations—and big smiles to match—to 119 patients.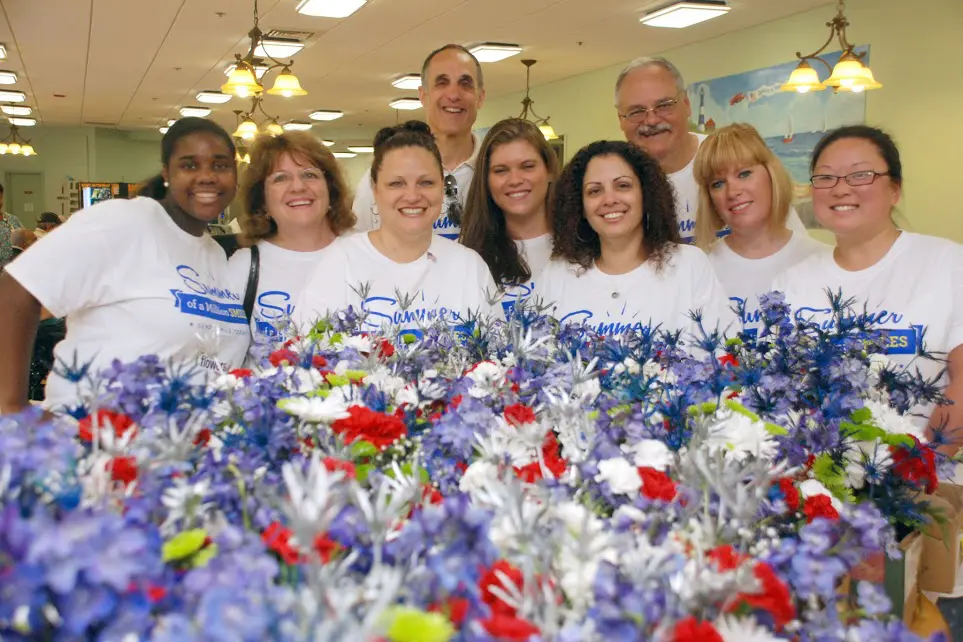 At the end of the day, Smile Squad members were fortunate enough to enjoy a private luncheon with the vets, during which they presented a beautiful bouquet to a WWII and Korean War veteran and his lovely wife of 57 years. The 4th of July Summer of a Million Smiles event team was also most fortunate to receive product donations from 1-800-Flowers.com's supplier partners: Pavilion Gift Company, Infinite Rose, Floral Treasure, Pacific Bouquet and DelawareValley. Their thoughtful and generous contributions brought smiles to everyone's faces!
After meeting so many amazing heroes—such as a POW Commander and a D-Day Beach Lander—and listening to their touching military stories, the 1-800-Flowers.com Smile Squad thanked each one for their service and wished them a happy 4th of July. The day was emotionally charged and unforgettable for the team members, who were all so happy to be a part of such a special day.
"My Summer of a Million Smiles team had the best day visiting with the Vets at the Northport VA Hospital," says Smile Squad member and 1-800-Flowers.com employee Rachel Armendariz. "Paying tribute to these brave and honorable soldiers makes me proud to be an American. Thank you to 1-800-Flowers.com for putting the program together!"