After the past 2 1/2 years, we're all looking for activities to satisfy our hunger for community and connection. We human beings are, after all, social creatures. And relationships matter.
With pandemic restrictions largely in the rear-view mirror, there's no shortage of things to do and experience. But get-togethers require planning and coordination. Everyone wants to go someplace interesting and do something fun – the only questions are "what?" and "where?"
Thousands of people have answered those questions by attending Paint Nite® workshops, which are "paint and sip" events in which an instructor walks you and your friends through how to create your own work of art. People of all ages and skill levels come together for an evening of fun, drinks, and painting.
From painting to plants, and a whole lot more
Dan Hermann cofounded PaintNite.com in 2012 after taking part in a social painting event. "It took me back to some of that childhood joy — being creative, doing something purely for fun, and being at play with other people," he says. "I saw a path to bringing this alive for people everywhere."
Since then, Paint Nite has sold more than 10 million event tickets across the U.S. and Canada. It also launched its sister brand, Yaymaker — now the corporate umbrella for Paint Nite — which offers more than 100 customizable corporate and private events across multiple categories.
Like many businesses, Paint Nite experienced challenges when the world shut down during the pandemic; however, it was agile in its response to the situation. "We pivoted into virtual in just a few weeks," says Hermann, noting that the company grew its online corporate team-building events during the pandemic. "We made it through and kept people connected."
Although ticketed virtual and on-demand events are still available, the company is refocusing its efforts on in-person creative experiences that include its signature Paint Nite, as well as Plant Nite, Create a Ukulele, chunky blanket making, and much more. "We're excited to reconnect in person," Hermann says.
From pandemic emerges partnership
Paint Nite and 1-800-FLOWERS.COM, Inc. are collaborating on organizing in-person events.
"We want to foster community among our customers and introduce them to our products in a tangible way through experiences," says Chris McCann, CEO of 1-800-FLOWERS.COM, Inc.
When the pandemic hit, 1-800-FLOWERS.COM, Inc., had just partnered with Alice's Table (now part of the 1-800-FLOWERS.COM, Inc. family of brands) to facilitate in-person floral-arranging events. Like Paint Nite, Alice's Table was forced to pivot to a virtual model quickly and continues to successfully deliver virtual and on-demand events to customers nationwide.
"Paint Nite's in-person offerings are a great complement to the wide array of virtual and on-demand offerings popular with our customers through Alice's Table," McCann says.
"We share similar values and philosophies," Hermann says. "1-800-FLOWERS.COM, Inc., looks at celebrations and giving; it occupies peoples' lives, where they are spreading joy and connection. 1-800-FLOWERS.COM, Inc., is such a successful company with so much reach and experience. For us, it's very attractive to partner with an organization that has such a large and engaged community."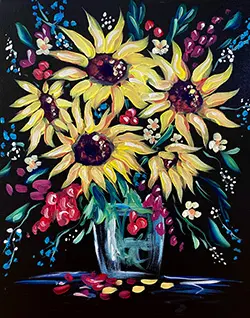 Having fun and making memories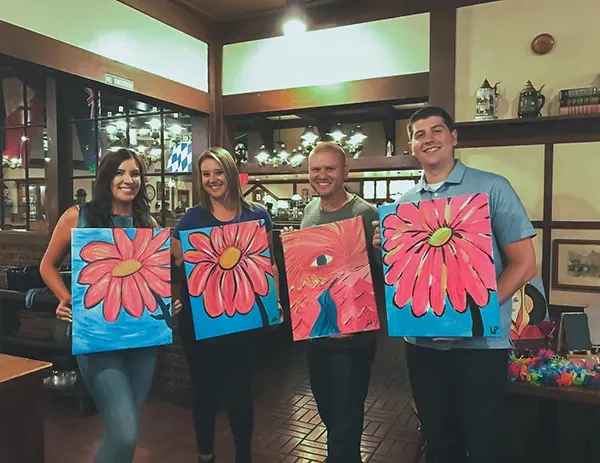 Paint Nite attendees routinely praise their experiences as "fun," "upbeat," "awesome," and other such glowing adjectives.
"I strongly recommend going — no matter age or skill level. You will not regret it!" says Dennis Casto of the Paint Nite event that he attended at Jake Rooney's Restaurant in Harwich Port, Massachusetts. "It was a diverse group, and we all had fun and laughed."
Amber says of the Paint Nite event she attended with friends at Durty Nellie's Gastropub in Palatine, Illinois: "We had a great time. The host was helpful and friendly, making it easy for a beginner."
For other Paint Nite enthusiasts, such as Leeyan from Tillsonburg, Ontario, these events hold deeper meaning, serving as vehicles for creating lasting memories. "I have terminal cancer. When my best friend asked me what I wanted for Christmas, I told her that all I wanted was more time — time to spend with my loved ones, time to make memories, time to laugh. That year she gave me our first Paint Nite experience. It was just what I wanted and needed."
Recently, Leeyan went to a paint-pouring experience held by Paint Nite with her friend.
"Even though our efforts may not result in great works of art, we have always had fun, which is why we have become repeat customers," she says.
A win-win experience
Attendees aren't the only people who benefit from Paint Nite events. All experiences are run by local host artists, known as event owners. Event owners get to organize and run their own events, and they also benefit monetarily through Paint Nite's revenue-share program.
Tammy Tavarone-Bishop, the owner of Makers Craft Events, has been hosting live Paint Nites on Long Island and in New Jersey since 2015.
"Being a part of the Paint Nite family is the best place to build a business as a freelance artist," Tavarone-Bishop says. "It's a win for everyone involved: a win for the artist, the customer, and the venue!"