Golden birthdays are a unique milestone in everyone's life, but they've only recently taken on party-worthy status. If golden birthdays have been filling up your social feed and you're curious to learn what the buzz is about, this fully gilded guide will teach you everything you need to know about these monumental moments.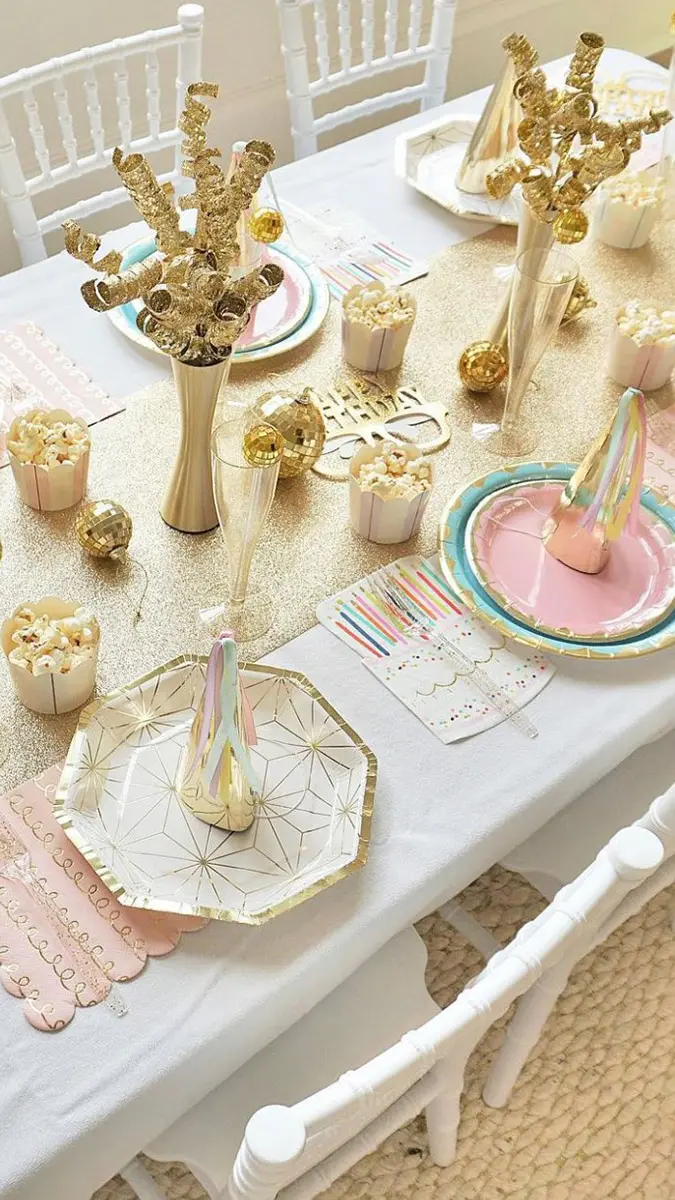 What is a golden birthday?
What even is a golden birthday, you might ask. Good question! Simply put, it is when your birthday date matches your age. For instance, if your birthday is Feb. 21, your golden birthday is the day you turn 21. If your birthday is May 15, then your 15th birthday is your golden birthday. Pretty simple, right?
If your birthday falls at the beginning of the month, you'll have to ask your parents if they celebrated your golden birthday, since you probably would have been too young to remember it. As you can see, golden birthdays are limited to the 31-and-under crowd. But even if you're older than that, you can still get in on the golden fun — you just have to get a little creative with it.
What's the backstory on golden birthdays?
Although golden birthdays have recently become a social media trend and parties seem to be popping up all over the place, the concept of golden birthdays actually dates back decades. Back in the 1950s, before Instagram influencers set the tone for trendy parties, romance novelist and mom Joan Bramsch started celebrating the golden birthdays of her five kids.
In the decades that followed, the appeal of this festivity fizzled to the point that many of us never enjoyed a golden birthday party of our own. But, like so many reasons to host a special party (gender reveals and cake smashes and alt bashes), social media has brought the concept into prominence.
Why celebrate a golden birthday?
Every birthday offers a great reason to celebrate and honor someone special in your life, and a golden birthday year is no different. The best reason to make a golden birthday special is that it's a day that happens only once in someone's lifetime. Plus, who doesn't love being awash in golden balloons and decorations, and hopefully getting an extra piece of birthday cake for the occasion?!
For kids, when every birthday already feels like a big milestone, adding in a golden birthday aspect is easy, says party planner Jane Sheriff, creative director of Darling Celebrations and a mom of three. When you get a little older, and birthdays tend to take on less significance, the act of recognizing the uniqueness of the day can make the occasion feel a bit more momentous. "For adults, a golden birthday is the opportunity to throw a big celebration in a year they might not otherwise really celebrate," she says. And that's reason enough to embrace the golden glory of this special year.
Glowing party ideas
Making a golden birthday extra special is easy — you just need to add a few dazzling touches. Sheriff says to think gold and sparkly. That's what mom Kelly Willis Rodgers of Nashville, Tennessee, did for her daughter Poppy's golden (seventh) birthday. Pairing white and pastels with gold touches, she went with gold mini disco balls throughout the tablescapes along with starburst balloons and plenty of gold tinsel for the "Golden Girl" party theme.
"Balloons, banners, streamers, and tableware are all good, cost-effective ways to bring the gold theme to life," Sheriff says. You can quickly gild your party space with gold touches, from party plates and napkins to tablecloth and utensils. "A gold balloon arch makes a great statement piece," Sheriff says. You can also make a big impression with a golden balloon drop, which would be especially memorable at a golden birthday surprise party for an unsuspecting guest of honor.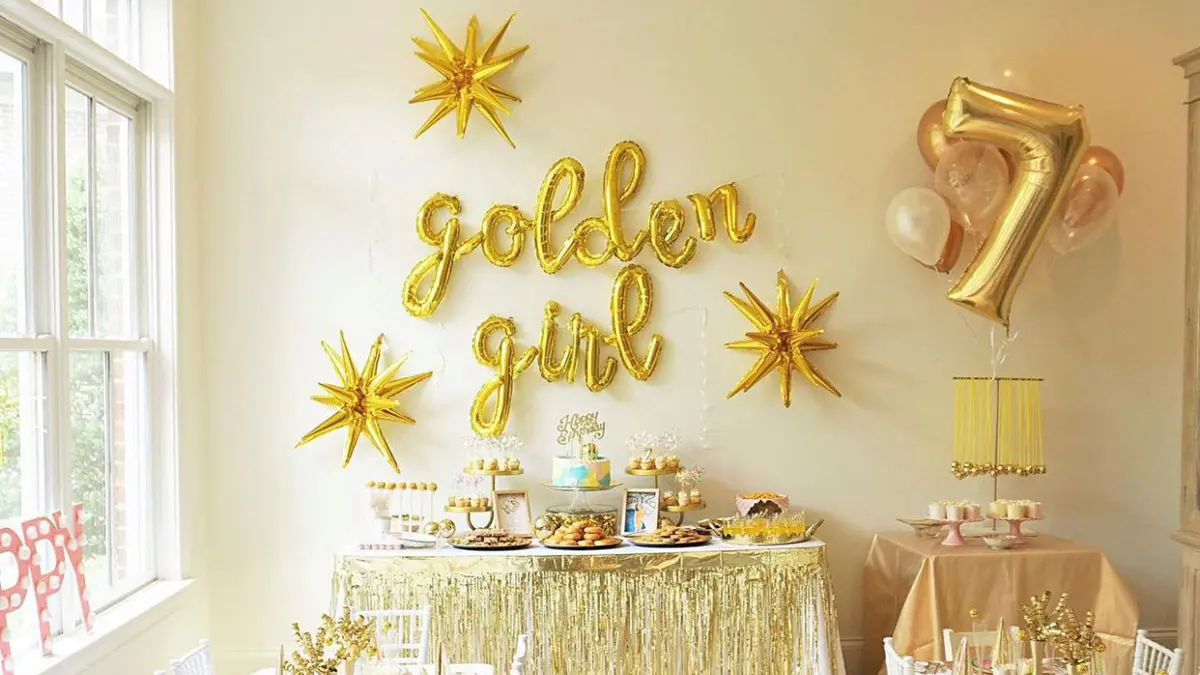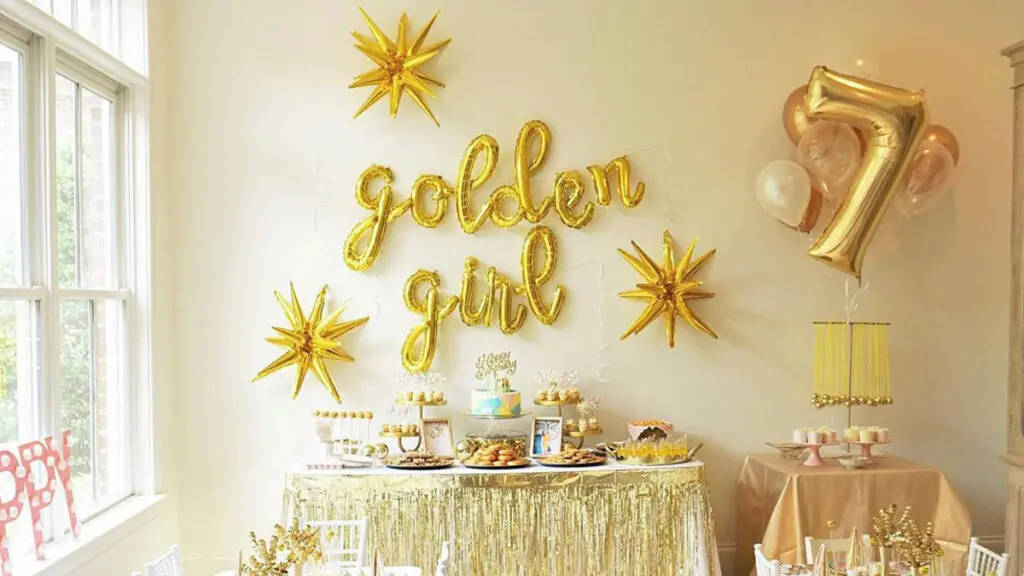 Fun golden birthday activities
Enhance the gold theme of any party with a round of trivia in which all the questions and answers relate to something gold. With regard to music, compile a playlist of all "gold" songs (think "24K Magic"). Ask guests to dress in gold attire from head to toe and pile on as much bling as they can. Sheriff says she recently celebrated a family friend's golden (18th) birthday with a gold-themed dance party. "We asked all the guests to wear gold. We had a gold dance floor and a gold glitter ball."
Here are four other dazzling party activity ideas.
Golden treasure hunt: Hide gold items or use clues with a golden theme to add a fun, physical activity to either an indoor or outdoor party setting. Prizes, of course, can be made "golden" by simply wrapping them in gold foil.
DIY golden crafts: Keep with the gleaming theme by offering guests glittering craft projects, such as painting gold picture frames, making "gold" jewelry, or covering cardboard trinket boxes in gold foil for a chic look.
Make your own photo booth: Set up a ring light tripod with a phone and outfit guests with plenty of gold-themed props, from oversized gold "jewelry" to giant faux gold bars.
Go for the gold: Give young party guests with plenty of energy the chance to compete in a mini version of the Olympics. Everyone gets a gold medal for participating!
Golden delicious party fare
From golden beets and butternut squash to yellow curry and golden honey cakes, menu options that match a gold theme abound. And what party is complete without a scrumptious dessert bar? Fancy it up by using edible gold dust or spray to give a glow to cupcakes, cookies, and doughnuts. For grown-ups, a champagne toast will add the necessary touch of glam a golden birthday deserves.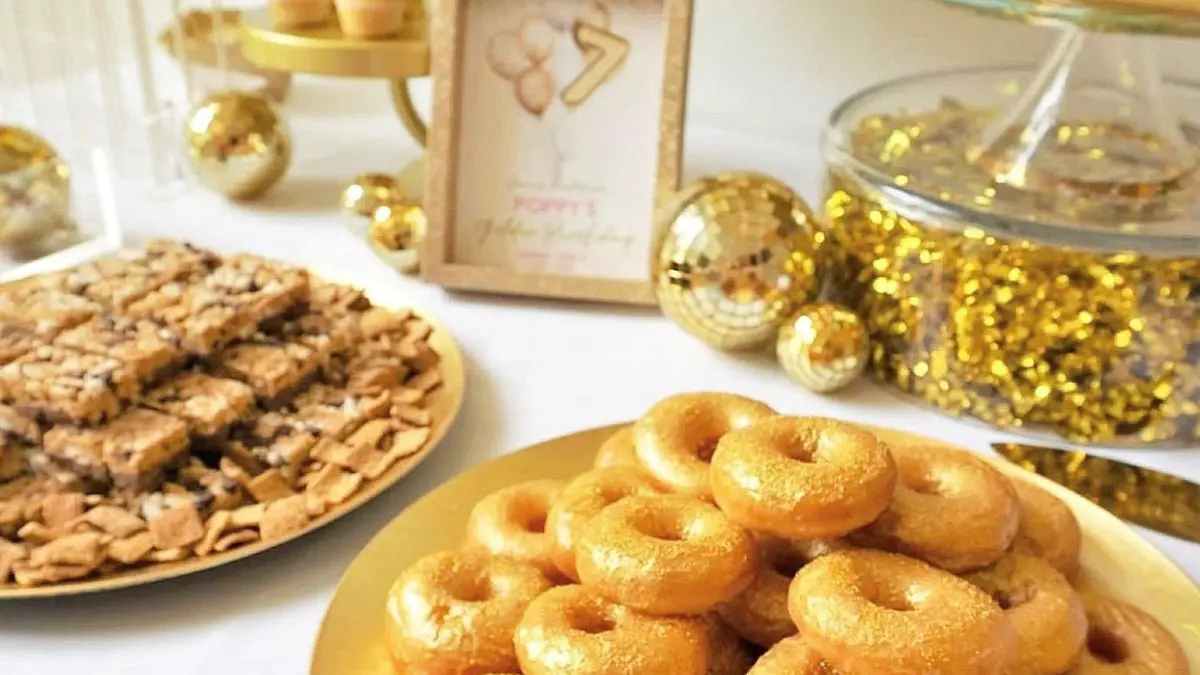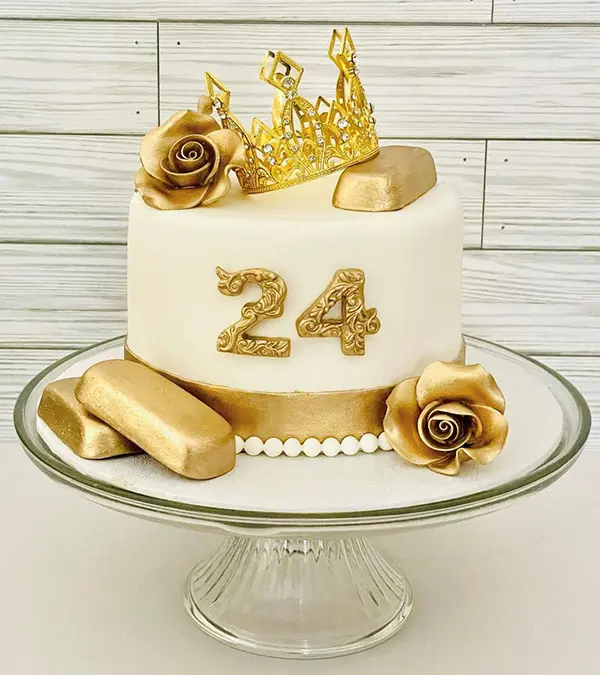 All that glitters: A special golden birthday cake
One of the best ways to enhance the spirit of the celebration, Sheriff says, is with a gorgeous golden birthday cake. "Go for a tiered or layered cake for a special birthday like a golden birthday. You can decorate with gold leaf or edible glitter, or add gold food coloring to your icing to make something really special."
Many bakeries now offer golden birthday cakes, such as So Sweet Cakes in Northridge, California. This one (pictured above) is fit for a king or queen, complete with gold bars, gold roses, and, of course, the number cake topper all decked out in gold.
Gracious gift ideas
"If your budget allows, then the perfect golden birthday gift would be solid gold jewelry!" Sheriff exclaims. "A gold initial necklace or gold bracelet are both great ideas, or anything that the recipient could keep as a keepsake gift would be a good choice." For any lover of chocolate, the classic gold ballotin box of Godiva chocolates matches the theme perfectly. And don't forget to wrap your gift in gold wrapping paper, Sheriff reminds.
Miss your golden birthday? Try these glowing milestones instead
If you're like most of us, you're probably bummed that you missed out on your golden birthday. But take heart…you have options! Check out these variations on the golden birthday.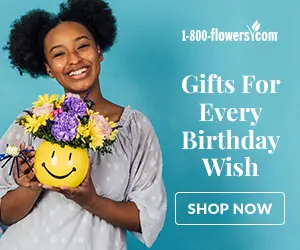 Double golden birthday: Double the date of your birthday and you'll have the age when you're ready to celebrate. Example: For a March 20 birthday, celebrate when you turn 40.
Triple golden birthday: Same math applies here as with a double golden birthday. Just multiply your birthdate by three and you'll know when it's triple golden birthday time.
Platinum birthday: Think of this as the reverse of your golden birthday. It's the birthday that corresponds to the date you were born, only inverted. Example: Your birthday is June 24, so your platinum birthday is held when you turn 42.