You drive through a lovely neighborhood and catch a glimpse of cascading roses through a wrought iron gate. A long bluestone driveway curves away under a canopy of flowering dogwoods and disappears. The scent of lilacs drifts over a dry-stacked stone wall.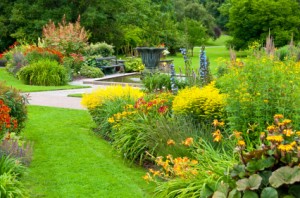 What gorgeous gardens are concealed behind those tall walls and closed gates? Every year you have one day—or maybe two—to find out. That's because on those days the members and supporters of the Garden Conservancy open the gates of their private gardens to visitors.
The Garden Conservancy, a nonprofit organization devoted to the preservation of extraordinary gardens in the United States, organizes the annual Open Days as both a fundraiser and a way of spreading the word about its mission. How better to discover that mission than by strolling through a 50-year-old garden that is the pride of its owner and creator? As a result, thousands of visitors have a chance to visit hundreds of private gardens throughout the nation. Click here to see schedule.

Founded in 1989, the conservancy has assumed responsibility for preserving 16 remarkable gardens in locations that range from Alcatraz to New Orleans, from Washington State to Washington, Connecticut. The organization has helped another 90 gardens survive various challenges. The goal is to keep these special places safe and growing and make them available to the public—for more than one day a year.
May, naturally, is a prime season for gardens, and some spectacular ones will be open throughout the month. Some of the past featured gardens include a 1926 garden pavilion that was photographed by Julius Schulman not too many years ago in Pasadena, California; a white garden in Lynwood, New York, which comes complete with a nymphaeum and a labyrinth, as well as acres of "Ice Follies" daffodils; and a Knoxville, Tennessee, hilltop estate that is listed in the Smithsonian's Archives of American Gardens.
This year, you can visit one of the conservancy's conservation projects in Valatie, New York. The Victorian Woodland Garden, created by Kevin Lee Jacobs, the founder of AGardenForTheHouse.com, is a testament to how even the plainest piece of land can be turned into a magical landscape. Jacobs transformed an asphalt parking lot into an extravagantly lush rose garden complete with boxwoods, yews, heirloom bulbs, flowering perennials and a Serpantine Garden. A little farther south in Wappinger's Falls, New York, climb the all-natural cliffs and ledges in Anne Spiegel's dreamy rock garden. If you're inspired by Asian design, be sure to tour the Sakonnet Garden in Little Compton, Rhode Island, where you can see a mass of Asian species rhododendrons, azaleas, orchids, anemonies, poppies and more. The Harland Hand Memorial Garden in El Cerrito, California, offers breathtaking views of the San Francisco Bay, while the Garden at George Mathews House in Charleston, South Carolina, warmly welcomes visitors with its southern charm.
Whether you live in Texas or North Carolina, in Northern California or Illinois, for five dollars a garden, you can open the gate and walk along the paths of someone's private Eden. At the same time, you can help make sure beautiful gardens remain for another generation to enjoy.
For more information, visit www.gardenconservancy.org/opendays.